The knitting community became fit to be tied after an Instagram knitting influencer mocked social progressives in her new yarn giveaway.

Yarn guru Maria Tusken introduced a line of dyed yarn called "Polarizing Knits"—and as the collection's name indicates, she has woven quite the tangled web.
---
The names of the yarn in her new collection uses what she refers to as, "social justice warrior (SJW) lingo," with colors "inspired by current culture and polarization of ideas."
Samples include: "Echo Chamber" (Dark Teal), "Gaslight" (lime),"Purity Spiral" (lavender), "Problematic" (bright orange) and "Microaggression" (pale blue with olive and rust speckles).
Take a look at the post from her "tuskenknits" Instagram page, below.

Tusken – who lives in Seattle with her husband and their two cats and two dogs – indicated in her post that the giveaway was a collaboration with Unsafe Space, a YouTube channel that is committed to the truth, respecting freedom of speech, and known to ridicule SJW ideology.
Polarizing Knits was a reactionary response to online hatred that her friend and fellow knitting blogger Karen endured after expressing her fascination with India in a blog.
According to the blog from a few months ago, Karen recalled being ecstatic after being offered a visit to India when she was a child.
At the time, she compared the special trip to being offered "a seat on a flight to Mars."
Some people did not appreciate Karen's retrospective fascination with Indian culture, and severe condemnation ensued.
According to Tusken, one person wrote on Karen's blog:
"You really need to think about this Karen. You compared India to Mars and you exoticized these people. You're just exuding the typical peak Whiteness and you're supporting this idea of White colonization."
Others agreed and demanded an apology from Karen "for all the Indian people she has hurt."
Tusken thought the negative responses were getting out of hand and defended Karen, but her involvement contributed to her becoming "the most hated person in the knitting community."
Bullies publicly announced on Twitter that Tusken was a liability and threatened designers to stop using her brand of yarn.

She left Instagram from the resulting stress and anxiety but eventually responded to "social justice issues" in the form of Polarizing Knits.
She said in the YouTube clip:
"I am naming yarns after SJW lingo."
You can watch her interview with "Unsafe Space," here.
Tusken told Buzzfeed News that she is open to "learning and listening from all sides."

"I am using words that people from both sides of this 'debate' use."
"For example, some people use words like 'woke' and 'purity spiral' and 'virtue signal' to describe the actions of those they oppose."
"And then the other side uses words and phrases like 'problematic,' 'emotional labor,' and 'sitting with my discomfort.' No one owns any of these words."
Many admonished her take on social commentary.




But loyal supporters rushed to her side and gave high marks for her fortitude.

@tuskeknits/Instagram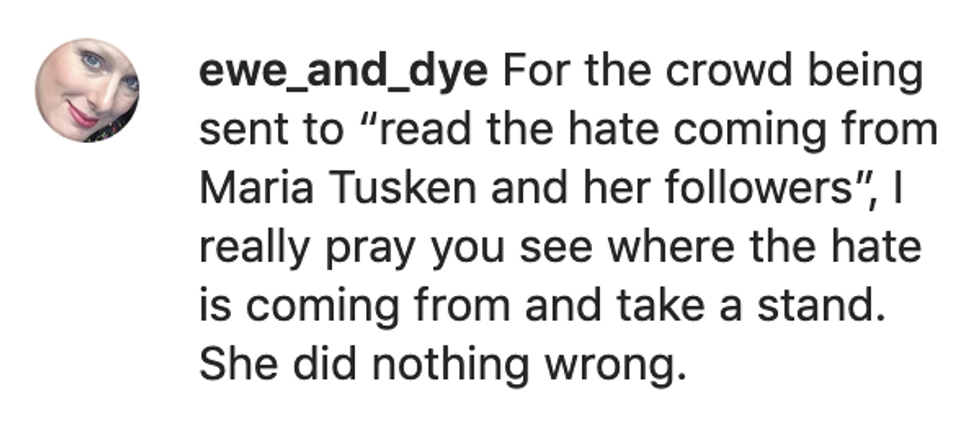 @tuskeknits/Instagram

@tuskeknits/Instagram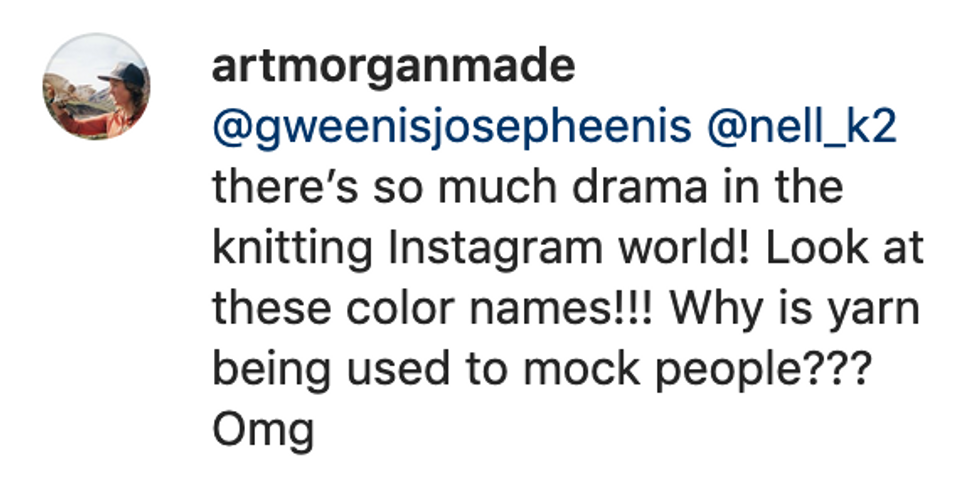 @tuskeknits/Instagram
Twitter user @BitchyKnitter told Buzzfeed she still saw the collection's yarn names as mockery and believed it perpetuates online bullying.
She added:

"As for so-called online brigade against policing language and mobbing, I think a lot of it has been overblown."
"People are being called bullies, when all they're really trying to do is speak up about issues that affect them."
Tuskenknits is just like all those hack opinion piece writers: say something deliberately to get people mad. When p… https://t.co/fsGPb8SVCl

— The Bitchy Knitter (@The Bitchy Knitter) 1581723658.0
@BitchyKnitter – who requested anonymity – said that the same political conversations occur among members of the large knitting community because the hobby includes people from various backgrounds and ideologies.

"What I think is really happening is that the same political conversations that are happening worldwide — about racism, sexism, homophobia, transphobia, and other social issues — are also happening in the knitting world."
"This isn't surprising, because knitters are people too, and knitting as a hobby cuts across a lot of different demographics."
Tusken said she felt "stuck" after her business slowed from the fiasco.
Designers stopped working with her for fear of their own demise as a result of being associated with her.
However, interest in Polarizing Knits is gaining momentum with enough positive feedback and support from her fans.
She is currently trying to keep up with the demand by taking additional pre-orders for full-sized skeins of the Polarized Knits collection.