A state senator in Colorado announced he is switching political parties—registering as a Democrat after more than 30 years as a Republican.
He's laying the blame squarely at the feet of former Republican President Donald Trump.
Colorado state Senator Kevin Priola cited the widespread embrace of Trump's 2020 election loss conspiracy theories as the main impetus for switching to the Democratic Party.
In a statement, Priola also cited the January 6 coup attempt as spurring him to change his party affiliation after more than 30 years as a moderate Republican.
You can see his statement here:
@KevinPriola/Twitter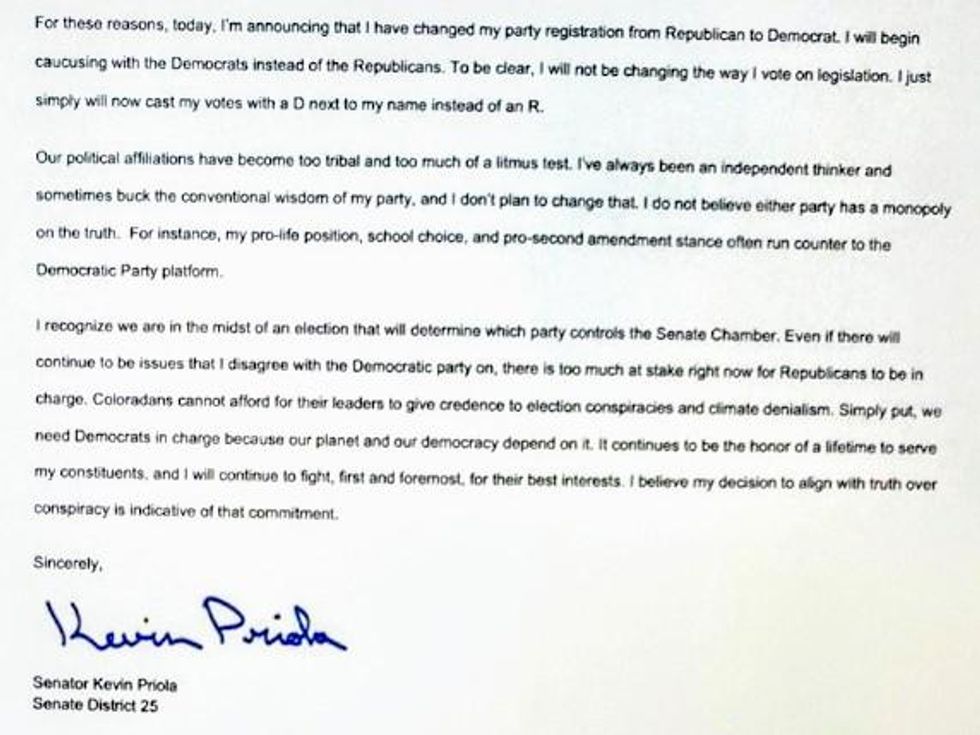 @KevinPriola/Twitter
In his statement, Priola explained why he joined the Republican Party in 1990, saying it was the approach of former Republican President Ronald Reagan—who left office two years before—that inspired him to choose the GOP.
He took several thinly veiled swipes at Trump in the process.

"[Reagan] spent his presidency looking out for American interests, not cozying up to Russia."
"He was for free trade and not raising taxes on Americans through tariffs."
"He also worked across the aisle on immigration issues."
Priola went on to add:

"I haven't changed much in 30 years, but my party has."
Priola then described how disturbed he is by the Republican Party's embrace of the January 6 insurrection and denial of the validity of Democratic President Joe Biden's administration.

"I cannot continue to be a part of a political party that is okay with a violent attempt to overturn a free and fair election and continues to peddle claims that the 2020 election was stolen..."
He also cited concerns about climate change and the economy before officially announcing his party switch.

"For these reasons, today, I'm announcing that I have changed my party registration from Republican to Democrat..."
"...there is too much at stake right now for Republicans to be in charge."
On Twitter, many applauded Priola's principled decision, including many prominent Colorado and national Democrats.
Priola was careful to point out he will not be changing his stances on many controversial issues such as abortion rights, the Second Amendment and education.
But he has been one of the most moderate and bipartisan members of Colorado's senate, and has often sided with Democrats on major legislation.
His party registration somewhat deflates Republicans' hopes of taking over the Colorado state senate in November's midterms.
Democrats currently hold a 20-15 advantage in that chamber.