Comedian Kathy Griffin has spoken out after Twitter suspended her for impersonating the company's new owner, billionaire Elon Musk.
Griffin caused a stir over the weekend by jumping on the trend of impersonating Musk on Twitter, with tweets such as:
Musk responded on Sunday with this warning:
Griffin's account was suspended under the new guidelines, but she returned to the platform using her late mother Maggie's account and tweeted the hashtag "#FreeKathy." Maggie Griffin died in 2020. Her account has not been active since 2019, when the comedian used it to ask for help after her Facebook and Instagram profiles were hacked.

You can see Griffin's message below.
Griffin later followed up that tweet by tweeting a direct response to Musk, who announced that any accounts "engaging in impersonation without clearly specifying 'parody'" would be permanently suspended from the platform.
Griffin—who enjoyed a very close relationship with her mother—said her mother "would not mind" that she is using her Twitter account for the purpose of calling out Musk.
She also shut down critics who suggested she was now impersonating her late mother, noting that she had always run the account for her.
Musk later hit back at Griffin directly, saying that her account was suspended because she had been "impersonating a comedian." Griffin, however, took him to task for the comment immediately, calling him a "hack" and demanding that he "please do a better job running this company."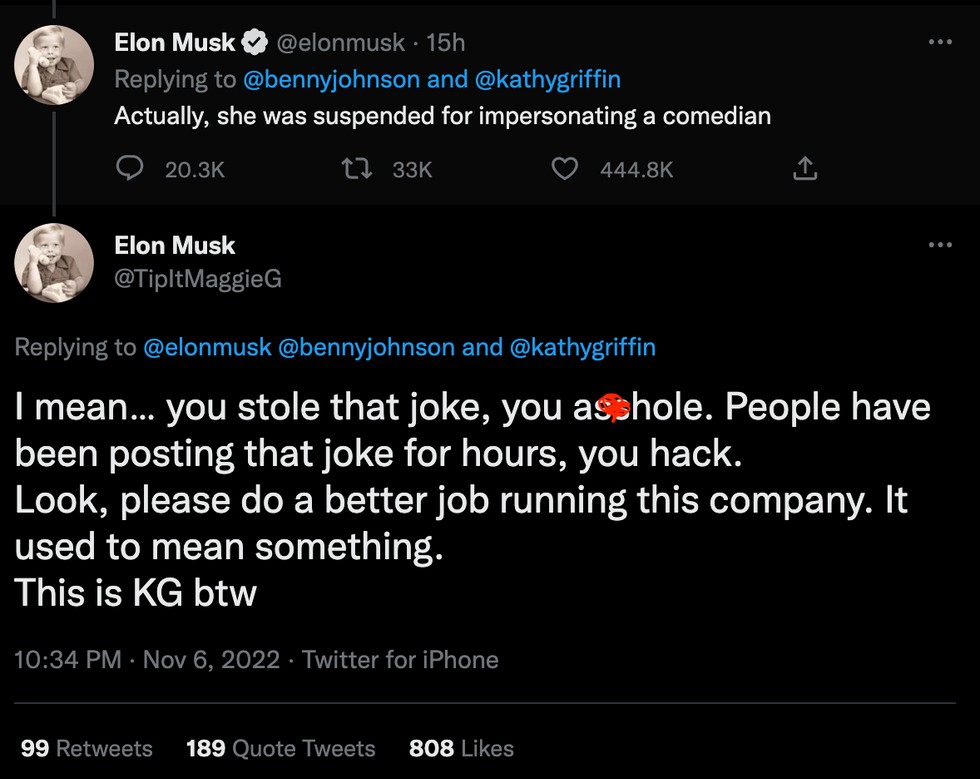 @TipItMaggieG/Twitter
Musk later responded that if Griffin wants her account back, she can pay $8, which is the monthly cost of Musk's newly announced blue checkmark verification subscription.
Many have come to Griffin's defense and criticized Musk in light of the drama surrounding her suspended account.
Griffin isn't the only high-profile figure to make headlines for impersonating Musk.
Comedian Sarah Silverman also used her verified account to troll Musk, copying his profile picture, cover image, and name. In fact, the only thing that distinguished her account from Musk's was her @SarahKSilverman Twitter handle.
Twitter labeled Silverman's account as "temporarily restricted" over the weekend because of "unusual activity."
The trend was kicked off by actress Valerie Bertinelli—best known for the shows One Day at a Time and Hot in Cleveland—who impersonated Musk and used the Twitter account to tweet support for Democrats ahead of Tuesday's midterm elections.
Bertinelli, who goes by the handle @WolfiesMom, has not had her account suspended.