Seems like it runs in the family.
---
During last week's G-20 Summit in Japan, a conversation between several world leaders was interrupted by the presence of Ivanka Trump.
A video was posted to French President Emmanuel Macron's Instagram page that documented the encounter, which quickly went viral. The cringeworthy interjection interrupted a conversation between Macron, British Prime Minister Theresa May, Canadian Prime Minister Justin Trudeau and International Monetary Fund director Christine Lagarde.
All seemed to be uncomfortable with the presence of the first daughter, particularly Lagarde.
Ivanka Trump appears to be trying to get involved in a talk among Macron, May, Trudeau and Lagarde (IMF head). The… https://t.co/ERAxgNMUN6

— Parham Ghobadi پرهام قبادی (@Parham Ghobadi پرهام قبادی)1561842039.0
BBC journalist Parham Ghobadi reposted the video to his own Twitter page, which quickly took social media by storm. Many took note of the awkwardness, which mostly consisted of Trump attempting to stay in the conversation as May addresses the group.
She can be seen nodding and responding as May speaks, much to Lagarde's obvious dismay.
@ParhamGhobadi Check out the lady to Ivanka's right side... clearly annoyed by Ivanka trying to interject something… https://t.co/prQiX07J8k

— Magdalena⚘ (@Magdalena⚘)1561847053.0
Among those who commented were Congresswoman Alexandria Ocasio-Cortez, having some words to say about the nepotism that got Trump to where she is today.
It may be shocking to some, but being someone's daughter actually isn't a career qualification. It hurts our diplo… https://t.co/15ngYDddP3

— Alexandria Ocasio-Cortez (@Alexandria Ocasio-Cortez)1561863520.0
AOC stated:
"It may be shocking to some, but being someone's daughter actually isn't a career qualification."
"It hurts our diplomatic standing when the President phones it in and the world moves on. The US needs our President working the G20."
"Bringing a qualified diplomat couldn't hurt either."
Many Twitter users had similar feelings on the situation.
@ParhamGhobadi Being in a room full of intellectual leaders doesn't make you one, @IvankaTrump. https://t.co/E0N3L2izIC

— JoeVet is Fully Vaccinated (@JoeVet is Fully Vaccinated)1561903497.0
@ParhamGhobadi Christine Lagarde is trying so hard to ignore her... and is so pissed that know-nothing grifter is t… https://t.co/2stbfSng4r

— Jamie Schler (@Jamie Schler)1561866533.0
@ParhamGhobadi #IvankaTrump brings nothing to this conversation. She's embarrassing herself with no knowledge of th… https://t.co/sgF7RbJVTo

— Jules Morgan 🇺🇸 (@Jules Morgan 🇺🇸)1561870191.0
Ivanka: Hi guys!!! Christine Lagarde: https://t.co/ivTDzUcsXk

— Shannon Watts (@Shannon Watts)1561907294.0
Regardless of what Trump said, the other leaders made it pretty clear that they did not want her there. Many have shared the sentiment that she just didn't read the room before making a thoughtless comment.
Sounds like someone else we know...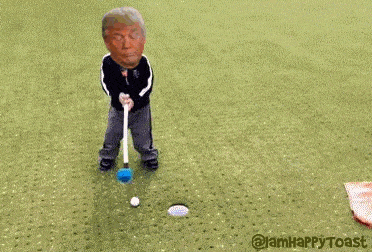 Giphy
Ivanka, Don Jr. and Eric's mother, Ivana Trump wrote Raising Trump, available here about raising her three children after their father left her after his affairs with Marla Maples and others.
A closer look at Jared Kushner and Ivanka is available here in Kushner, Inc.: Greed. Ambition. Corruption. The Extraordinary Story of Jared Kushner and Ivanka Trump.