The president of the Woman's Republican Club of New Orleans was lambasted online after she penned a bizarre Facebook rant defending a Republican Louisiana lawmaker's recent suggestion schools make sure to teach the "good" elements of slavery.
In a lengthy Facebook post full of all-caps, exclamation marks, emojis and charged rhetorical questions, Martha Huckabay stuck her neck out on behalf of fellow Louisiana Republican and state Representative Ray Garofalo Jr. Her defense of his position?
"Slaves loved their masters."
Garofalo Jr. himself became infamous when he defended a bill he introduced banning the teaching of "divisive concepts" like race and sex in schools across Louisiana.

During a committee hearing regarding the bill, Garofalo Jr. didn't do himself any favors when he stated schools should teach "the good, the bad, and the ugly" aspects of US slavery.
Likely prompted by the widespread uproar—both online and in traditional news media outlets—Garofalo Jr.'s comments sparked, Huckabay directly addressed Stephanie Hilferty, also a Republican, who was the lawmaker questioning Garofolo Jr. in the now-infamous moment.
In the post, Huckabay wasted no time getting herself onto shaky ground.

"You are right Stephanie Hilferty 'none of us were around when slavery occurred.' Slavery goes all they way back to biblical times, and if you've read your Bible, you would know that many of the slaves loved their masters, and their masters loved them, and took very good care of them, and their families."
Later in the post full of spelling errors, Huckabay put together an extensive list of what she viewed as the wonderful elements of slavery.

"The question he should have pushed back her way was was their marriages in slavery? Were families and precious babies born (and I am talking about LIFE itself) into or out of slavery? Were slave owners ever known to be 'GOOD' to their slaves?"
"Were slaves ever known to LOVE their masters? Were wars fought and won to end slavery? Did men sacrifice their lives, let me say that again (SACRAFICE THEIR LIVES) to fight against slavery?"
Yes, she had more to offer.
"Did an incredible rail road system, created under horrible slavery conditions, and hard working ethics develope? Did generations of beautiful LIFE come from those who were sold into slavery, from Africa, and sold by Africans make America the beautiful 😍 DIVERS culture it is today?"
"Was it true that some slaves never wanted to leave theIr plantation because it had become their home? Were some slaves treated with love and respect by their masters? If so, is this the 'good' part he was reffering too?"
She ended the post with an attack on liberals.

"We need to STOP allowing liberals 🙄 that have been indoctrinated through marxisum run our House and Senate. These people do not see threw clear lenses. Their views are scued and very one sided. Slavery has been around since before Jesus Christ came to take away the sins of the world."
"Today's 'slavery' topic is a leftist trap! It is neither true nor based on real facts."
The comments beneath Huckabay's post revealed a trove of people who couldn't believe what they'd just read.

Cynthia Hammond/Facebook

Sharon Ward/Facebook

Alan J. Keefe/Facebook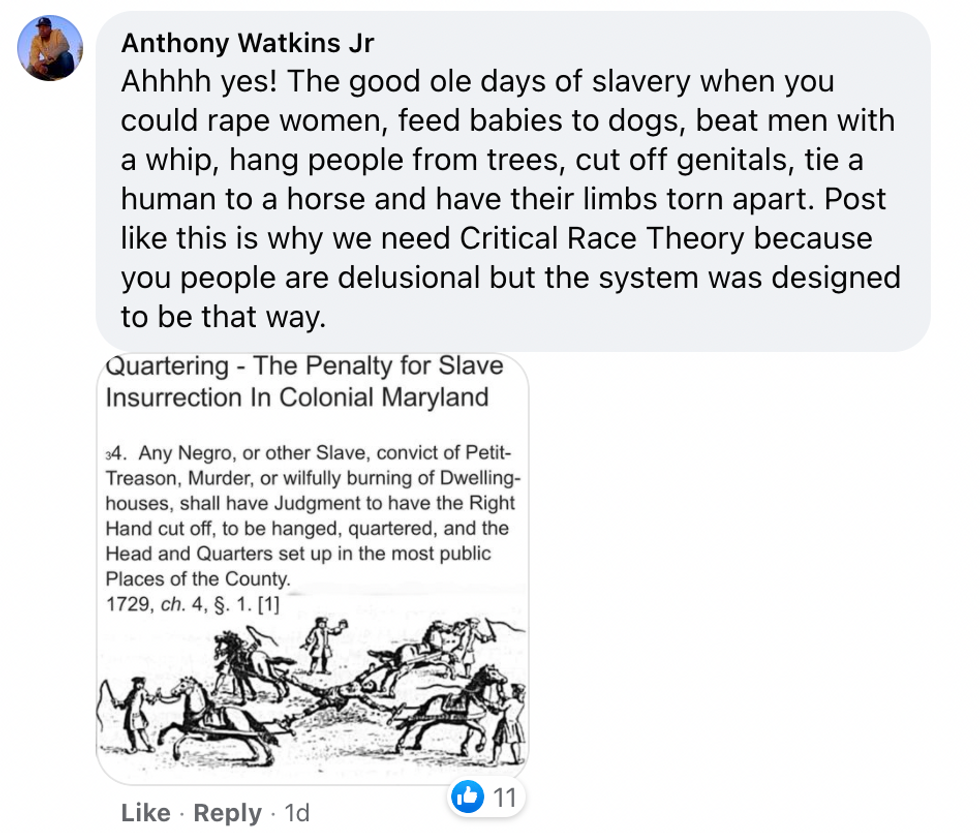 Anthony Watkins Jr/Facebook

Allen Krynicky/Facebook

Megan Hamilton/Facebook
Michelle Fowler Stodden/Facebook

Micahael Gillen/Facebook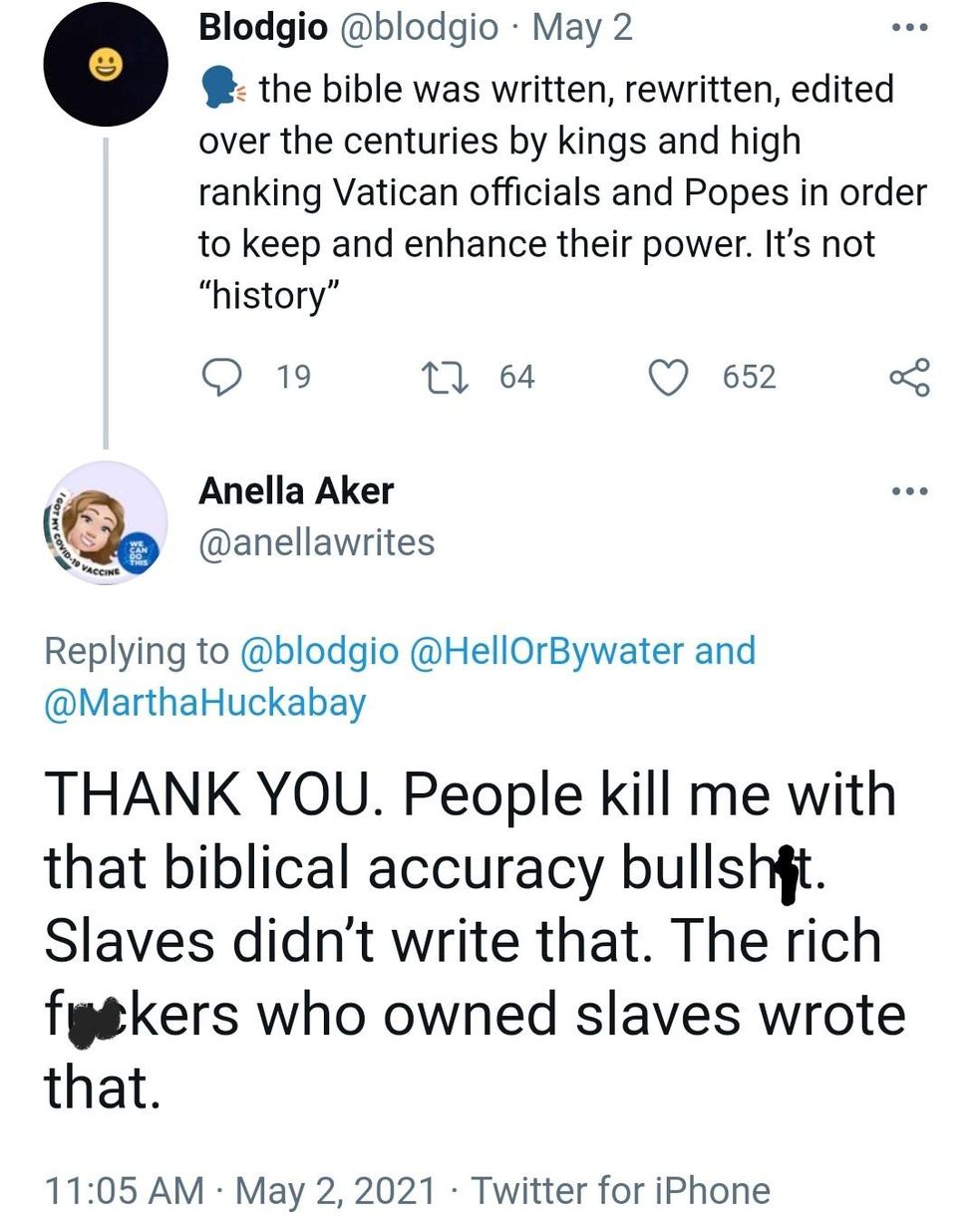 @anellawrites/Twitter
Despite Southern lawmakers debating the merits of slavery, it is indeed still 2021 and not 1821.

You have not been teleported back in time to when people didn't have access to an unbelievable amount of information and knowledge about the horrors of slavery.
The familiar rhetoric being shared by these individuals is the—hopefully—last gasp efforts to maintain a White supremacist status quo that's time has come and gone.

While it may play well to a White nationalist base, it's lack of broader appeal may hurt these racism apologists on a national stage.