During the pandemic, healthcare workers putting their lives at risk for days on end while tending to sick patients were praised as our heroes in the media.
Citizens everywhere even acknowledged those on the front lines in the early days of the pandemic by banging pots and cheering for all they do in trying to save countless lives.
But all of that support seemed to have gradually dissipated as the death toll numbers began decreasing. An example of the 180 was demonstrated in a viral TikTok video showing a healthcare worker being undervalued after interviewing for a new job in the field.
TikToker Alex Symone – who is a sufficiently qualified applicant – shared her recent experience talking to a job recruiter and lambasting her after hearing the amount she would earn as a potential medical assistant.
Warning: NSFW language.

@alexsymone

At this point imma start a union #strike #healthheroes #thatshitdontmakenosense #audacity #comedy #funny #bonnetchronicles #idgaf #medicalassistant
In the clip, she recalled the recruiter confirming her credentials – which consist of 10 years of experience in the medical field, two degrees, and renewed Basic Life Support (BLS) and CPR certifications.
When Symone said she just re-certified a week ago, the recruiter responded positively to her qualifications and said she was "good to go."
Symone relayed what the recruiter told her.

"So it looks like we are willing to offer you, hold on let me just make sure I have the full number – $17."
Offended by the embarrassing number, Symone addressed the recruiter and said:

"You can go ahead and shove the rest of that number up yo entire a**."

"This is exactly why health employees are doing walkouts."

Symone continued:

"It's the audacity. I live in North Carolina, ho. Y'all gonna tax me like crazy. No, you can't pay me $17. Are you crazy??"
"I just don't understand. So, that's been my day."
Despite North Carolina being among 21 states still offering the federal minimum wage of $7.25 per hour, $17 is a paltry sum for someone with Symone's extensive qualifications in her field.
TikTokers couldn't believe the offer amount.

@alexsymone/TikTok

@alexsymone/TikTok

@alexsymone/TikTok

@alexsymone/TikTok

@alexsymone/TikTok

@alexsymone/TikTok
For anyone left in the dark, Symone clarified the offer was per hour.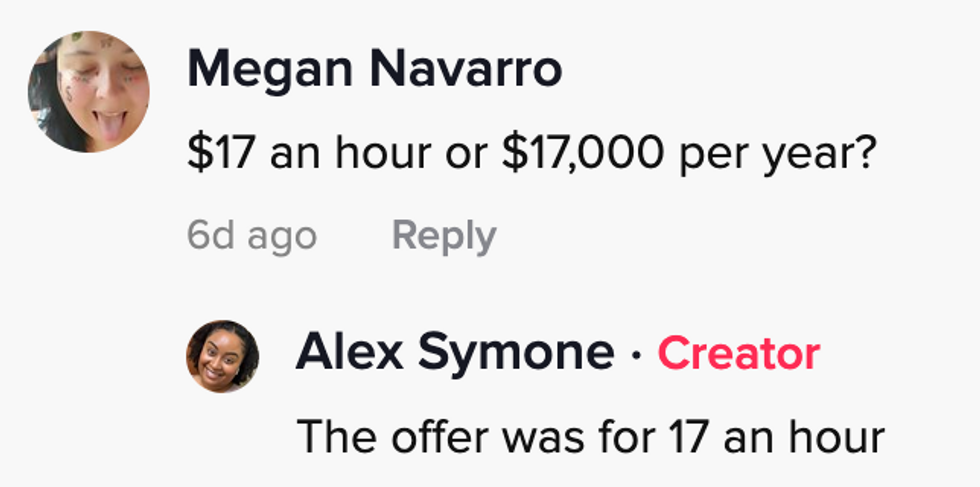 @alexsymone/TikTok
When a user asked how the conversation with the recruiter ended, Symone joked she hung up on her.
"JK. I reiterated my initial rage and she told me she would call back. LOL."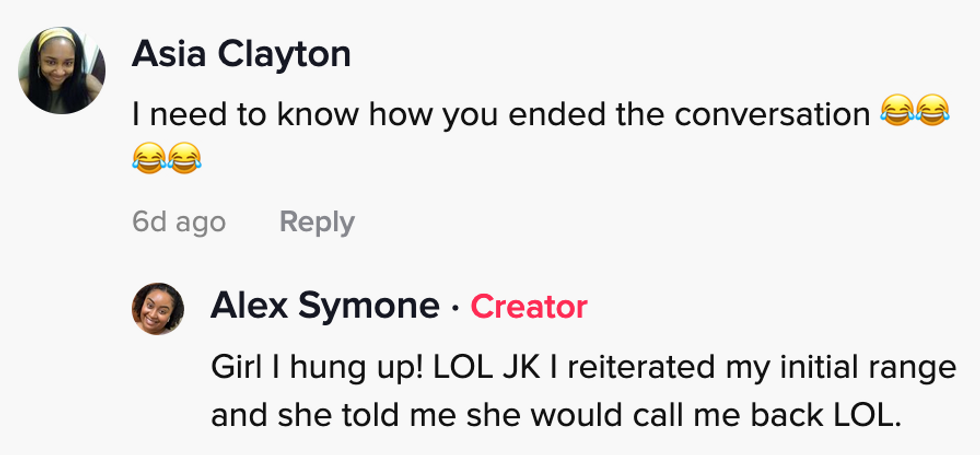 @alexsymone/TikTok
She said she later declined the offer and started a new job.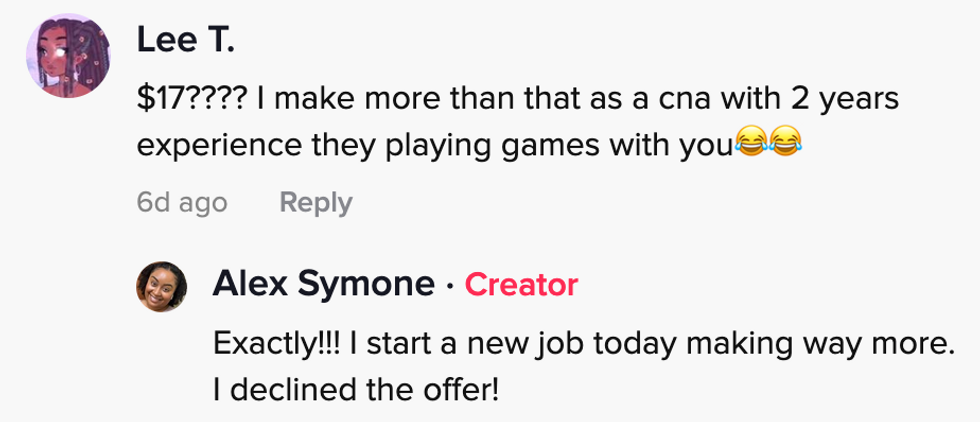 @alexsymone/TikTok
Although her story ended on a positive note, there is still a lingering frustration over how much healthcare workers make despite their qualifying credentials and endless dedication to the many patients who rely on them.

"The audacity," indeed.