A brave little girl who has been battling leukemia for three long years is determined to have a laugh on Christmas Day, despite having to spend it in isolation in hospital recovering from a bone marrow transplant.
---
Diagnosed with acute lymphoblastic leukemia – an aggressive cancer affecting the white blood cells – in July 2016, Imogen Roe, nine, had two years of grueling chemotherapy, before being given the all clear in January this year, only for disease to return in July.
Her parents, supermarket worker Anna Dagless, 37, and insurance worker Dean Roe, 39, hoped her twin, Charlotte, might be able to donate the bone marrow she needed – only to discover that, because she was an identical twin with the same DNA, she could not be a donor, and was also at risk of developing leukemia.
When the couple of Norfolk, Norwich, England, were told they would not be the best match and their son, Liam, 10, was ruled out because of juvenile arthritis- for which he has also received chemotherapy- the family were despairing, until Imogen was matched with a donor in the U.S., and the transplant was performed on November 29.
Now recovering in the Bristol Royal Hospital for Children, where she will remain over Christmas and beyond, her mom, Anna, said: "She will be in isolation this Christmas. We will be happy if we can get her home by Easter.
"But we do have a lot of giggles. It's laughter that gets us through."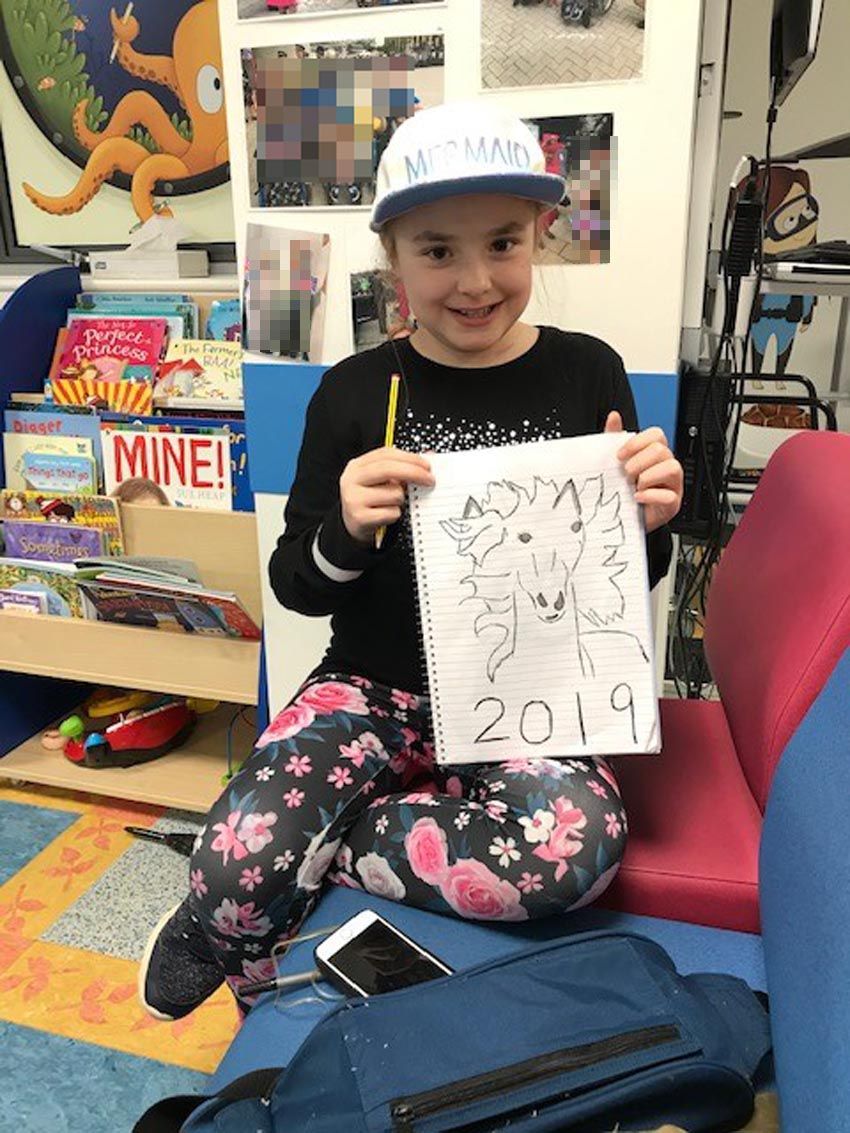 Imogen (PA REAL LIFE/COLLECT)
Imogen even used humor when the family were trying to come up with fundraising ideas to cover the massive cost of their constant traveling to various hospitals – devising a "cracker challenge" on social media and asking for donations through a GoFundMe page.
Her campaign – launched in October with any additional funds going to charities that have helped the family – challenges people to eat as many crackers as they can in a minute, beating her record of one.
With £15,000 ($19,515) raised already and celebrity backing from wildlife presenter Steve Backshall, who completed his own cracker challenge, Anna said, proudly: "Imogen came up with the idea herself. She is a very funny person."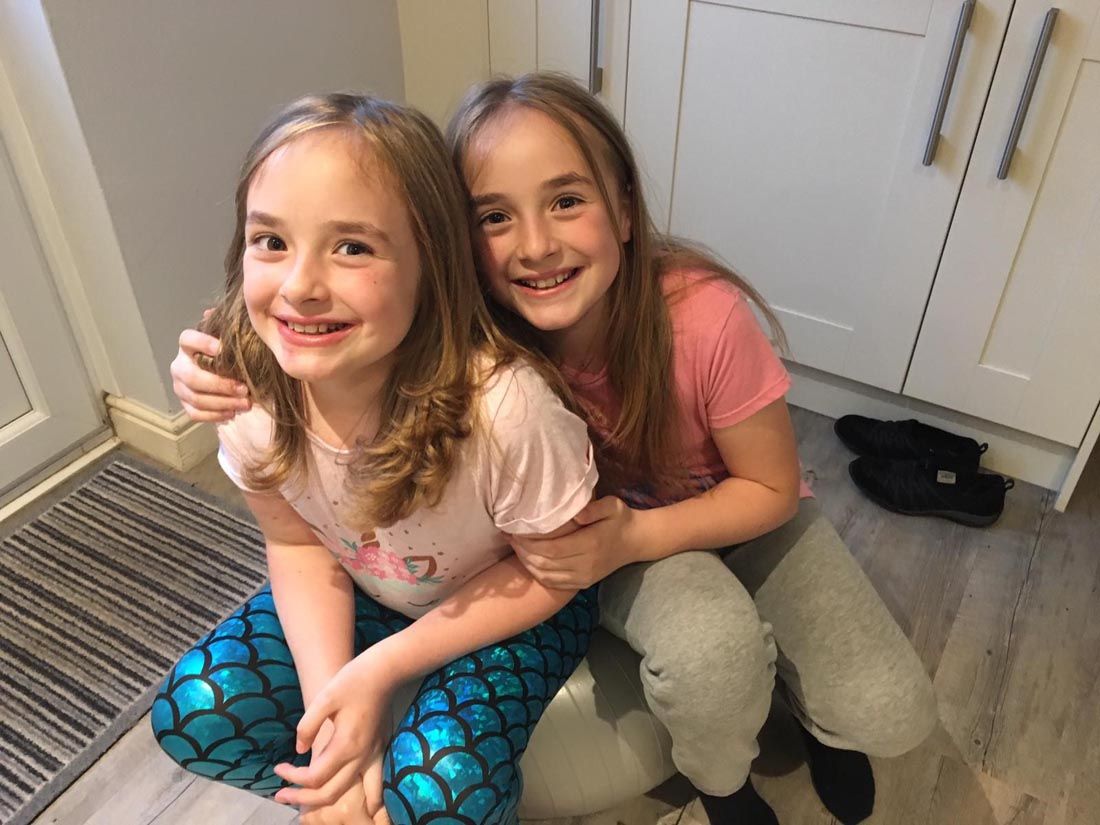 Imogen and Charlotte (PA REAL LIFE/COLLECT)
Anna added: "You don't see that as much in the hospital because she's very quiet, but it has let us show people what she's really like.
"It's laughing that gets us through everything. Imogen will do silly things like take her drip with her to the loo and not realize that it's not actually attached.
"Then her dad put all her clothes on a boil wash and she had nothing to wear. It's things like that that which set us off. It keeps us going to laugh and giggle."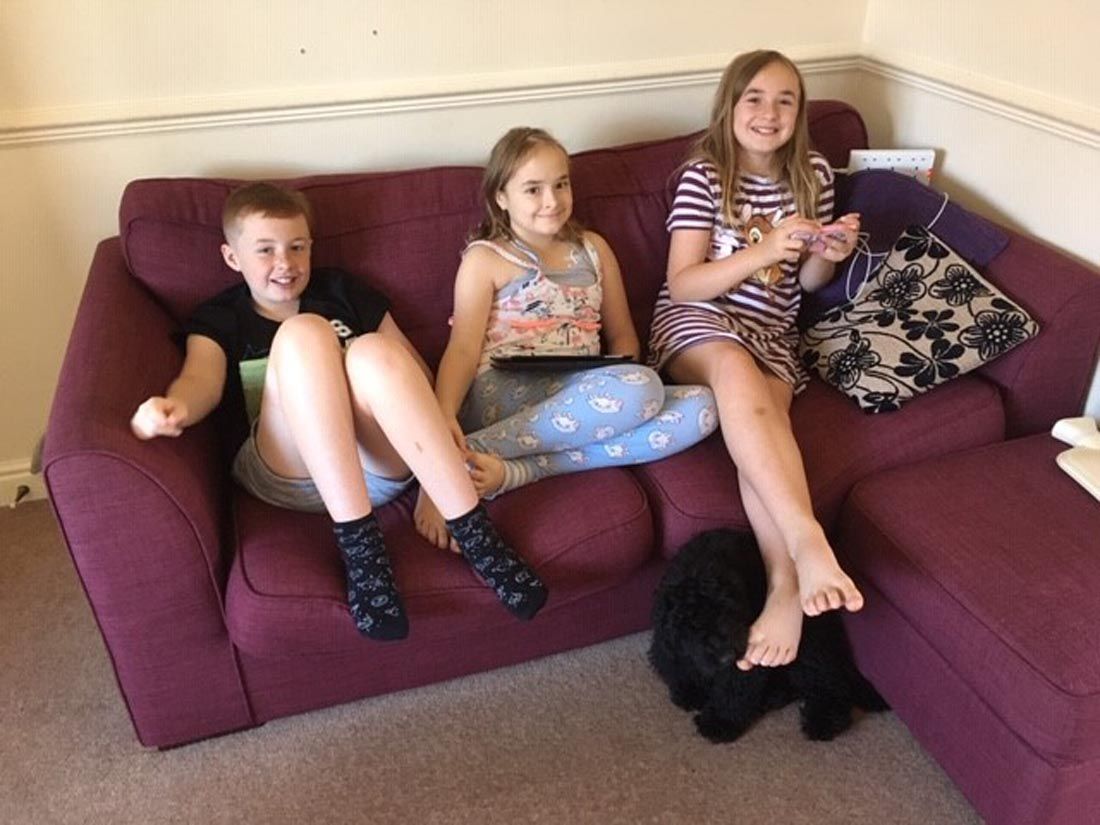 Imogen, Charlotte and Liam (PA REAL LIFE/COLLECT)
But sadly, since her transplant, with her immune system at rock bottom and her body recovering, to avoid infection, Imogen has been kept in an isolation room with a small triangle window in the door, so she can look out on the ward.
Anna explained: "She can't leave that room. She can have up to four people in there, but no children, so her siblings are unable to visit. It's very important she doesn't pick up an infection, as that could be fatal.
"Dean and I have to put clean clothes on every time we visit and have to be really vigilant washing our hands. We have to change into slippers and take off all our outdoor clothes. We don't have to wear masks, but the nurses do."
"Everything has to be wiped with anti-bacterial solution and Imogen has to clean her teeth with sterile water," Anna continued.
"She was doing quite well but a week later she took a bad turn when she got sepsis in the blood due to an infection so she's on various antibiotics. She went rapidly downhill but is now, fingers crossed, doing better. We're expecting it will be a rough ride though.
"She will be in complete isolation until her white blood cells are replaced by those of the donor. For some people it takes a month or two, for others it can take a year, we just don't know. It could be that she doesn't actually go back to school until 2021, depending on how her immune system is."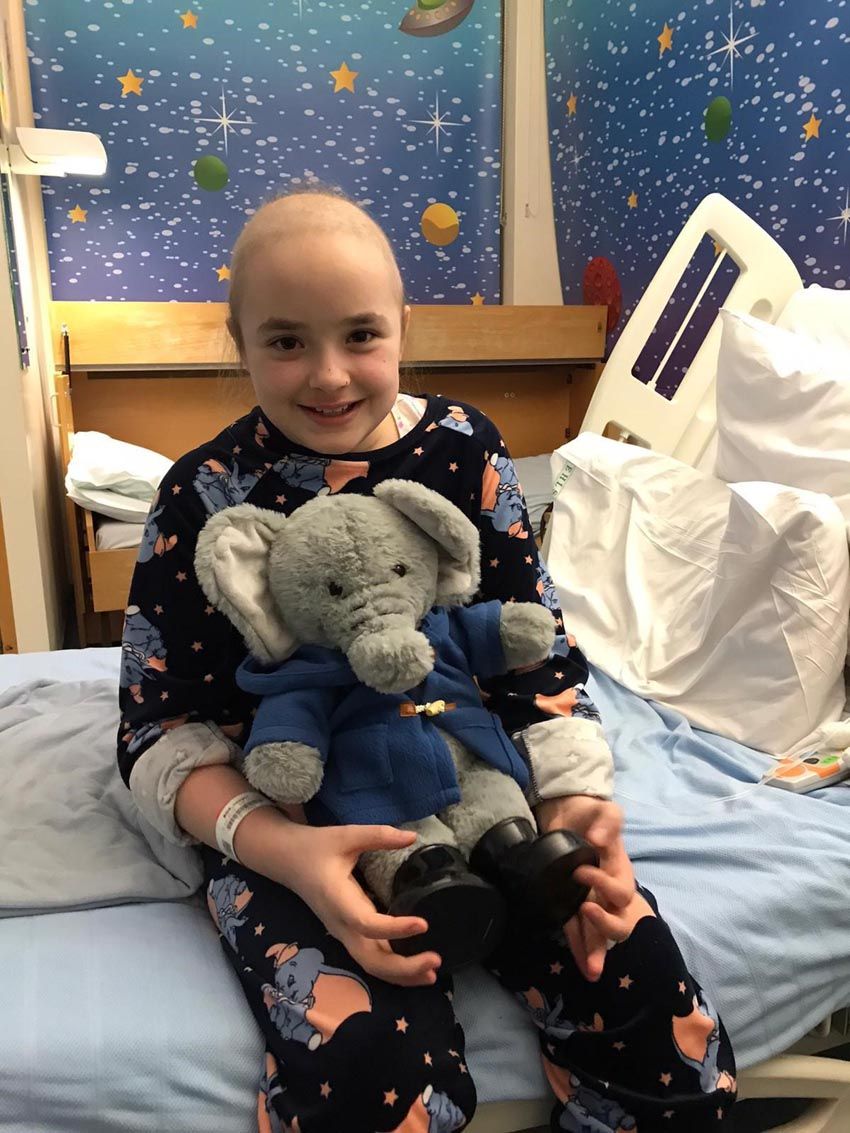 Imogen in the hospital (PA REAL LIFE/COLLECT)
On Christmas Day, while her parents will be at her bedside, her brother and sister will be staying with their grandparents in Norfolk, a five hour drive away.
"It's going to be really hard not spending the day together and being away from her siblings, but we have not got a choice," Anna continued.
"Thank goodness for the iPad, as we will be able to FaceTime them, and Dean will head back home later on Christmas Day."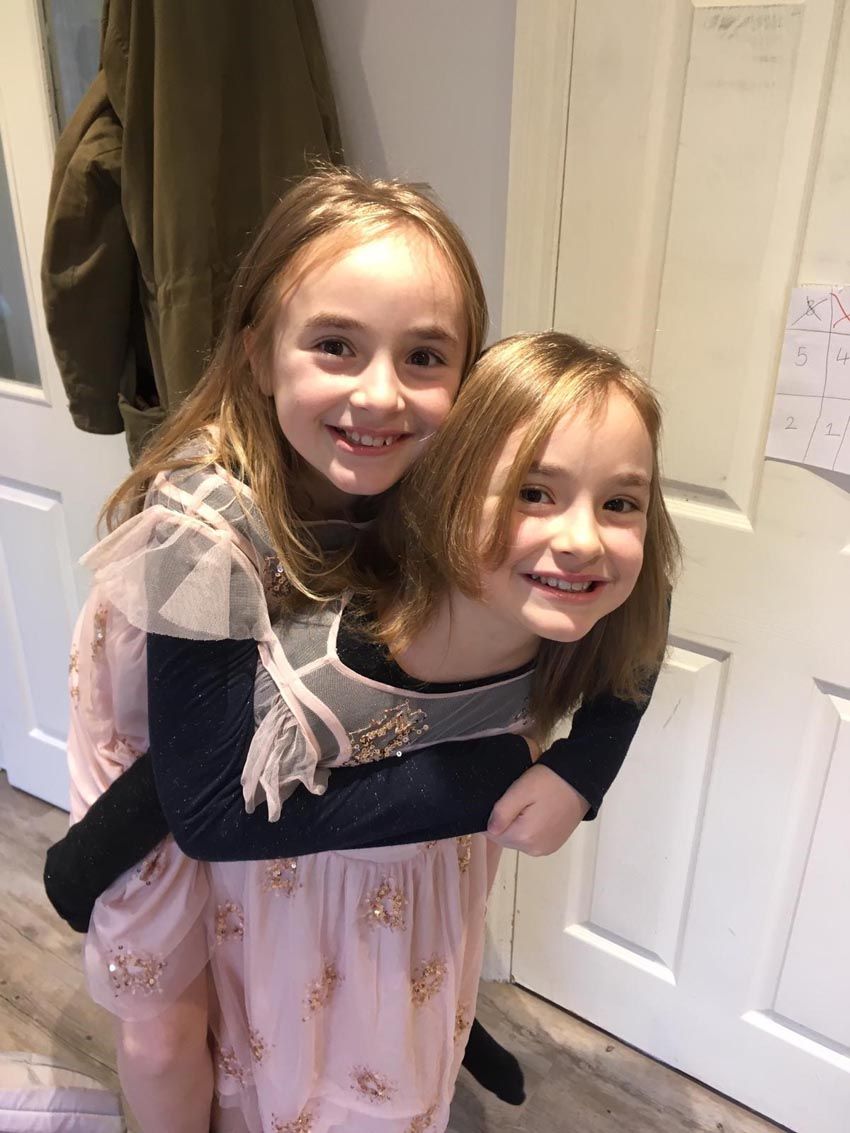 Imogen and Charlotte (PA REAL LIFE/COLLECT)
"The hospital will cook a Christmas dinner, though, which will be really lovely," she said.
"Imogen hasn't said she's upset about it, but she doesn't want to look at things like the Christmas lights on the house or see the puppy we bought last year when she was in remission."
Imogen's parents first noticed she was unwell back in the summer of 2016, when she had a sore throat, tiredness and was sweating a lot.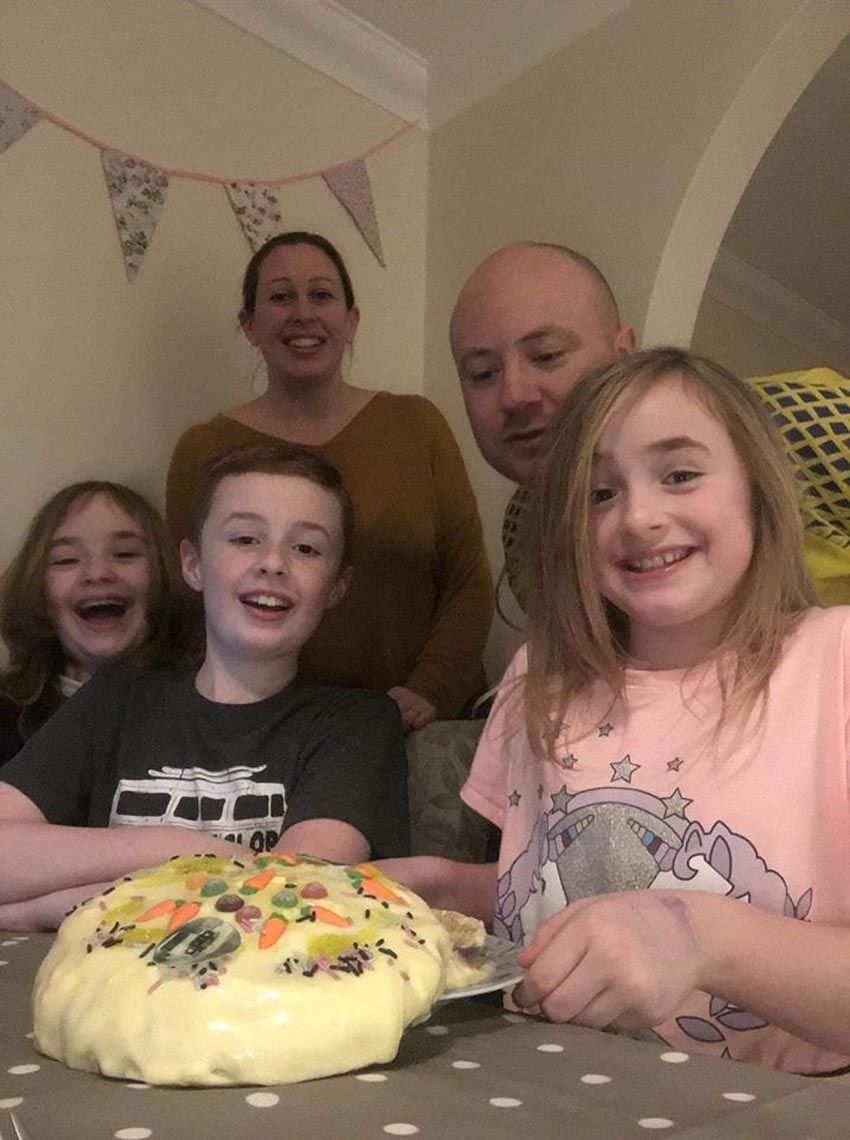 Anna and Dean with Charlotte, Liam and Imogen (PA REAL LIFE/COLLECT)
Thinking it could be tonsillitis, they took her to the doctor who prescribed antibiotics, but dots began appearing across her skin, which looked like broken blood vessels.
Anna recalled: "We thought it was strange as she had them in areas you wouldn't expect like on her ears. I took her to a couple of different pharmacists who said it could be a strawberry allergy.
"A few days later she was so tired and lethargic that we took her back to the doctor and they referred us to Norfolk and Norwich Hospital for tests."
Anna continued: "After a blood test they quickly diagnosed acute lymphoblastic leukemia. At that point you don't really know what the journey is going to be or the prognosis. Hearing the word 'leukemia' you just panic."
One of around 790 people each year to be diagnosed with the disease in the UK, according to the NHS, Imogen was referred to Addenbrookes Hospital in Cambridge, where she stayed for six weeks of intensive chemotherapy treatment.
Allowed home afterwards, she continued with intensive chemotherapy for a year, then received 18 months of maintenance treatment which involved oral chemotherapy at home.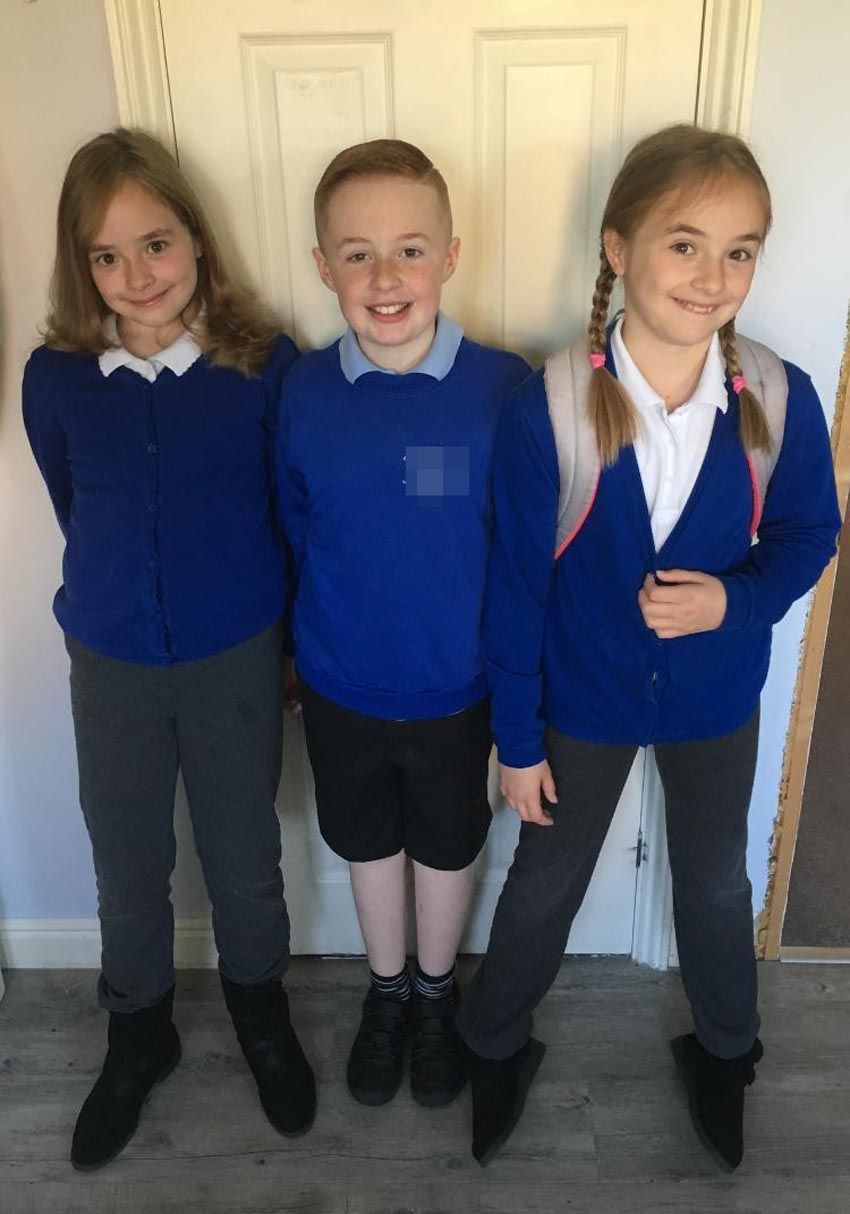 Imogen, Charlotte and Liam (PA REAL LIFE/COLLECT)
"Thankfully, the side effects were not too bad for her," Anna explained.
"She did lose her hair, eyelashes and eyebrows, but she's got such a pretty face it made little difference.
"For the last 18 months of her treatment, we got some more normality back and she was able to go to school occasionally, but because of the infection risk we had to be very careful about where we went."
'Anthony was a symbol of hope. If his tragic death is to have any meaning, I implore everyone to help ensure that w… https://t.co/jbjJjArxSj

— Anthony Nolan (@Anthony Nolan) 1575374536.0
"She took it all in her stride. We knew it would be a two and a half year journey. It's such a long process because it's a blood cancer and is within the bone marrow," Anna explained.
"She was diagnosed at the age of six, so she didn't really understand what was going on. Even now I don't think she realizes it is a life-threatening disease."
Her chemotherapy finished, in January this year Imogen was in remission and then in July her delighted parents bought her a cockerpoo puppy called Minnie to mark the end of her treatment.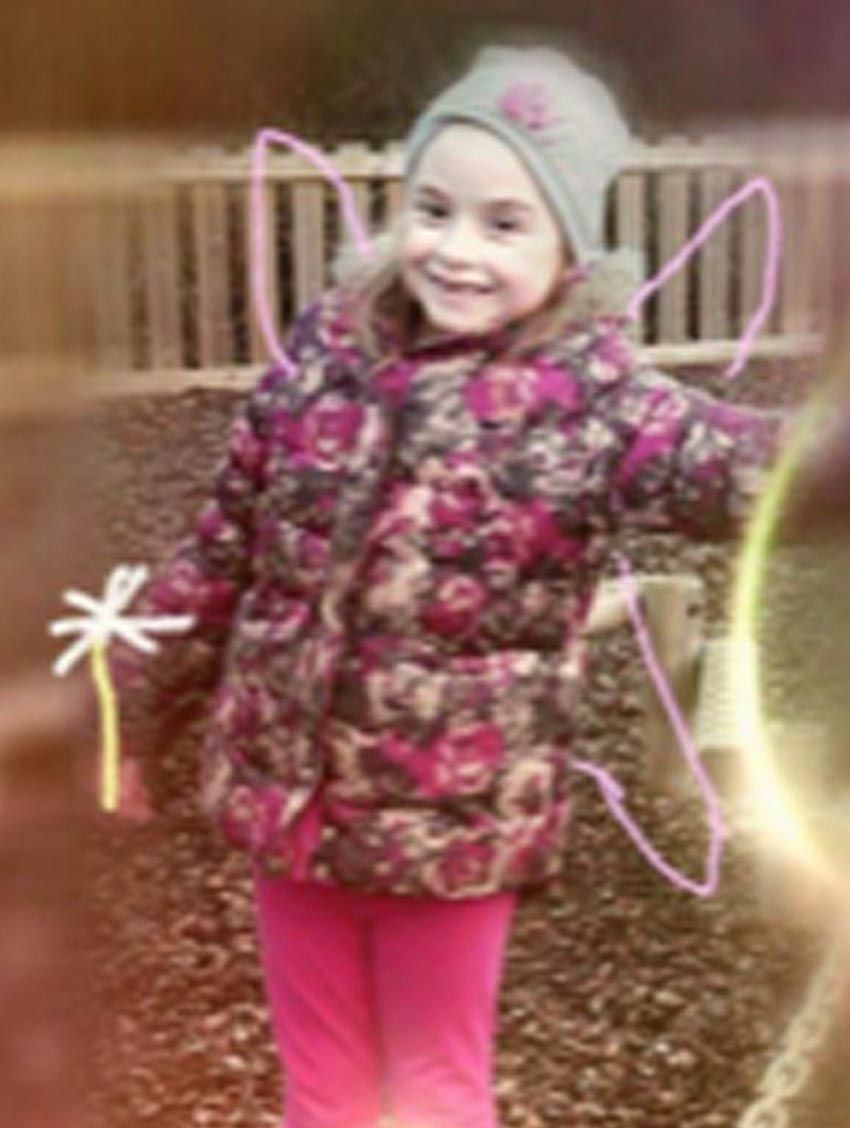 Imogen (PA REAL LIFE/COLLECT)
But, tragically, just three weeks later – three years after she was first diagnosed – the little dots started to appear on her legs again.
"We thought, 'Oh Goodness,' but hoped it might be a virus. We took her back to hospital and had our worst fears confirmed. The leukemia had returned," Anna said.
Referred back to Addenbrookes Hospital, where she was put on another five-week course of chemotherapy, medics started discussing the possibility she would need a bone marrow transplant and the family were tested to see if anyone was a match.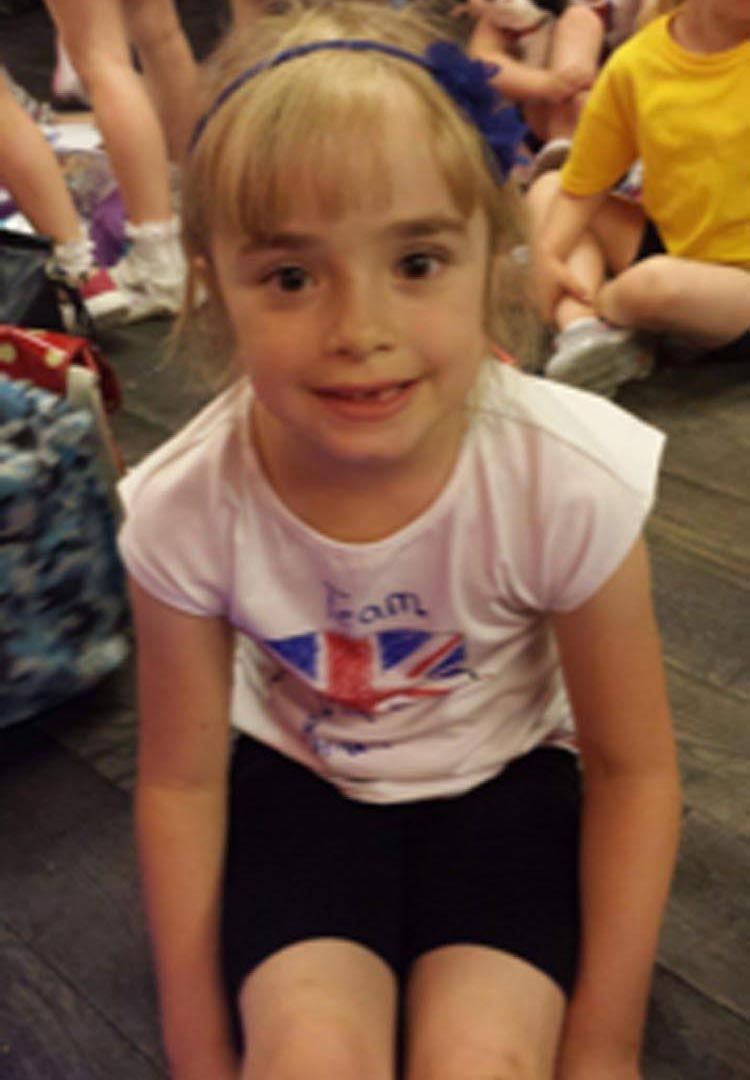 Imogen (PA REAL LIFE/COLLECT)
With parents only a 50% chance of match because Imogen is half their DNA, siblings are the best option, with a 25% chance of being a full match, so while Liam's own health condition excluded him, Charlotte was tested, with shocking results.
Anna said: "It's been one blow after another. We found out Charlotte was a match and we were ecstatic, but then someone said, 'Are you sure they are not identical twins?'
"I was convinced they weren't. I tried to think back to my notes at the hospital when they were born, there were two placentas and no history of identical twins in my family, so we were totally floored when we found out they actually were."
"It meant Charlotte, basically, had the same DNA as Imogen, so could not be a donor and was herself a ticking time bomb, as she could develop leukemia, too," Anna explained.
"I was constantly looking for the red spots, but then decided I couldn't live like that. If Charlotte gets it we will deal with it then."
Within a few weeks, they found matching stem cells from an umbilical cord belonging to a newborn baby in the U.S.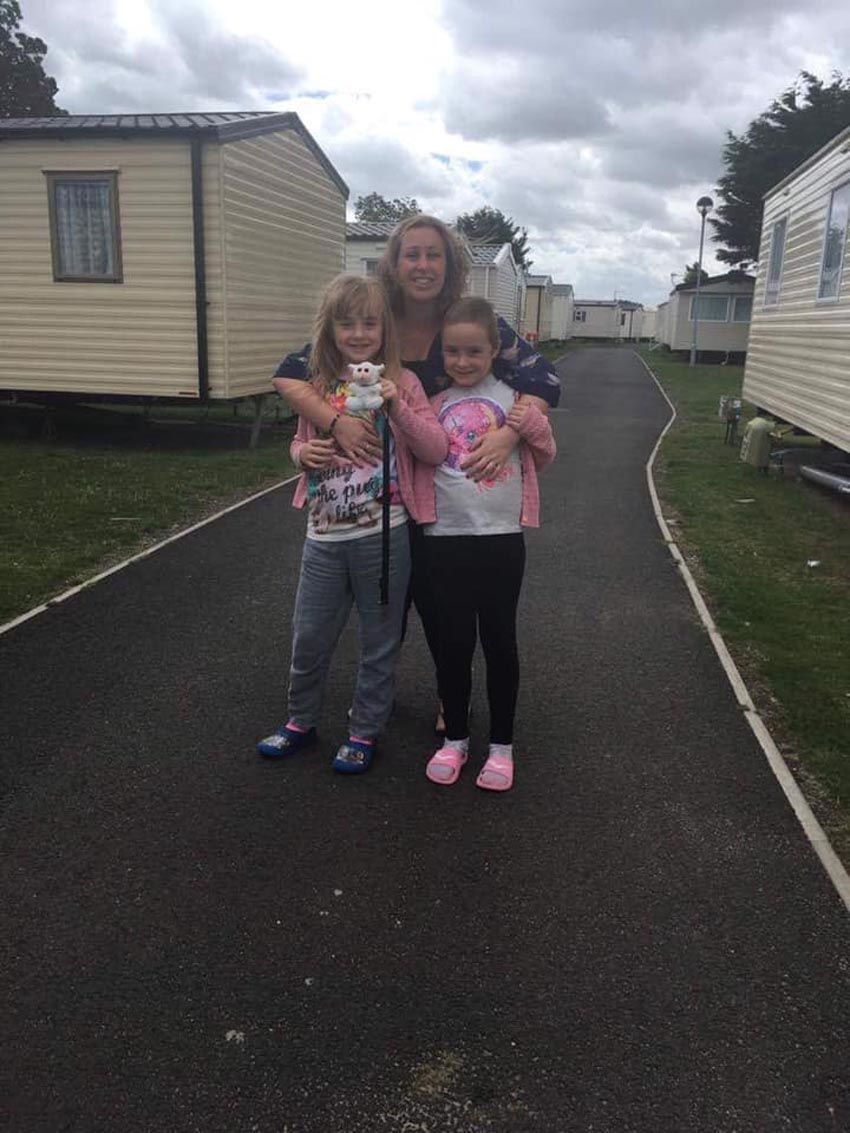 Anna and Dean with Charlotte and Imogen (PA REAL LIFE/COLLECT)
"It all happened very quickly. It would be nice to express our gratitude to the parents, but it is not possible to get in touch with them, as they only allow that for live donors," said Anna. "The stem cells were donated nine years ago and frozen."
So, after another round of chemotherapy, two rounds of immunotherapy, another cancer fighting treatment, she was transferred to Bristol Royal Children's Hospital where after a further round of intense chemotherapy then four days of radiotherapy, she had the transplant on November 29.
"It is a five hour trip from our home to Bristol, so when she is well enough she will be transferred back to Addenbrookes, which is still an hour and a half away, but at least she will be closer," said Anna.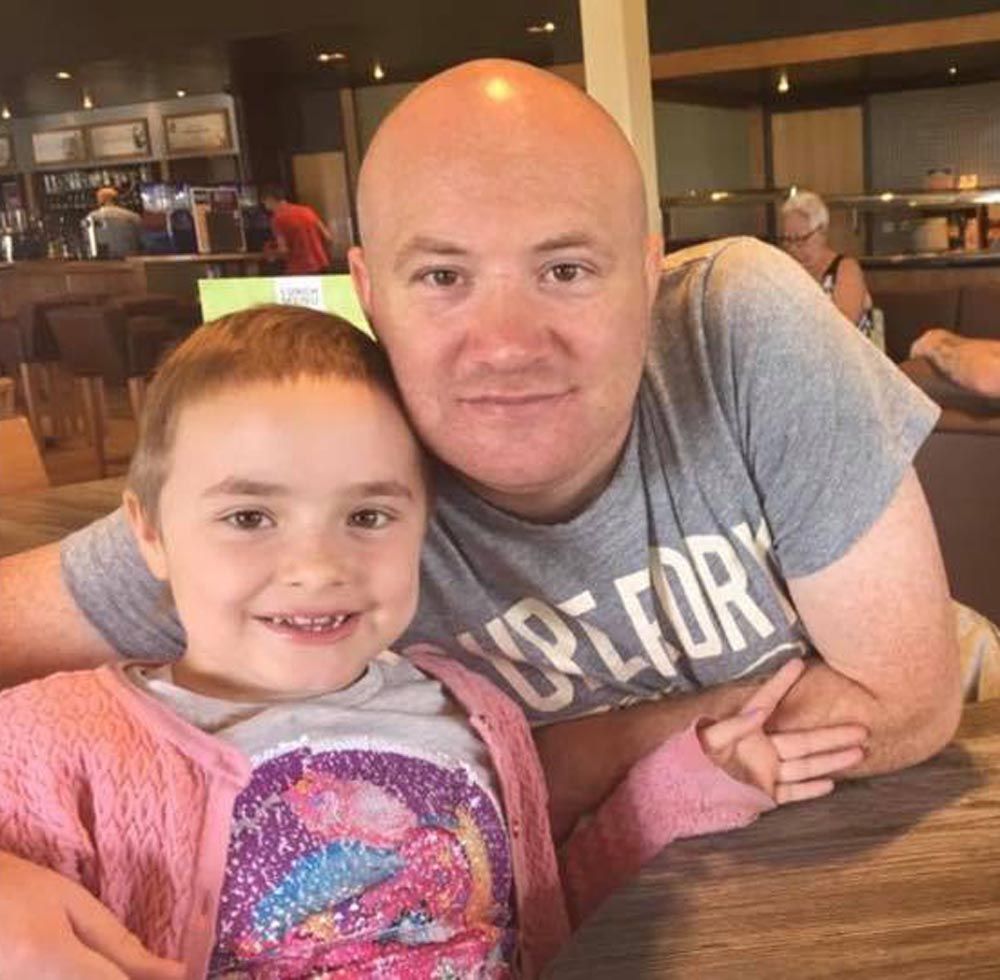 Dean with Imogen (PA REAL LIFE/COLLECT)
The family are still on tenterhooks, as there are no guarantees the transplant will prevent a relapse in the future.
"It's scary to think she could go through all this and it might not even work," Anna said.
"There's also the impact of the radiotherapy. It will have an impact on her fertility when she's older and she may need medication to kick start puberty. She could even get cataracts in her eyes as a result."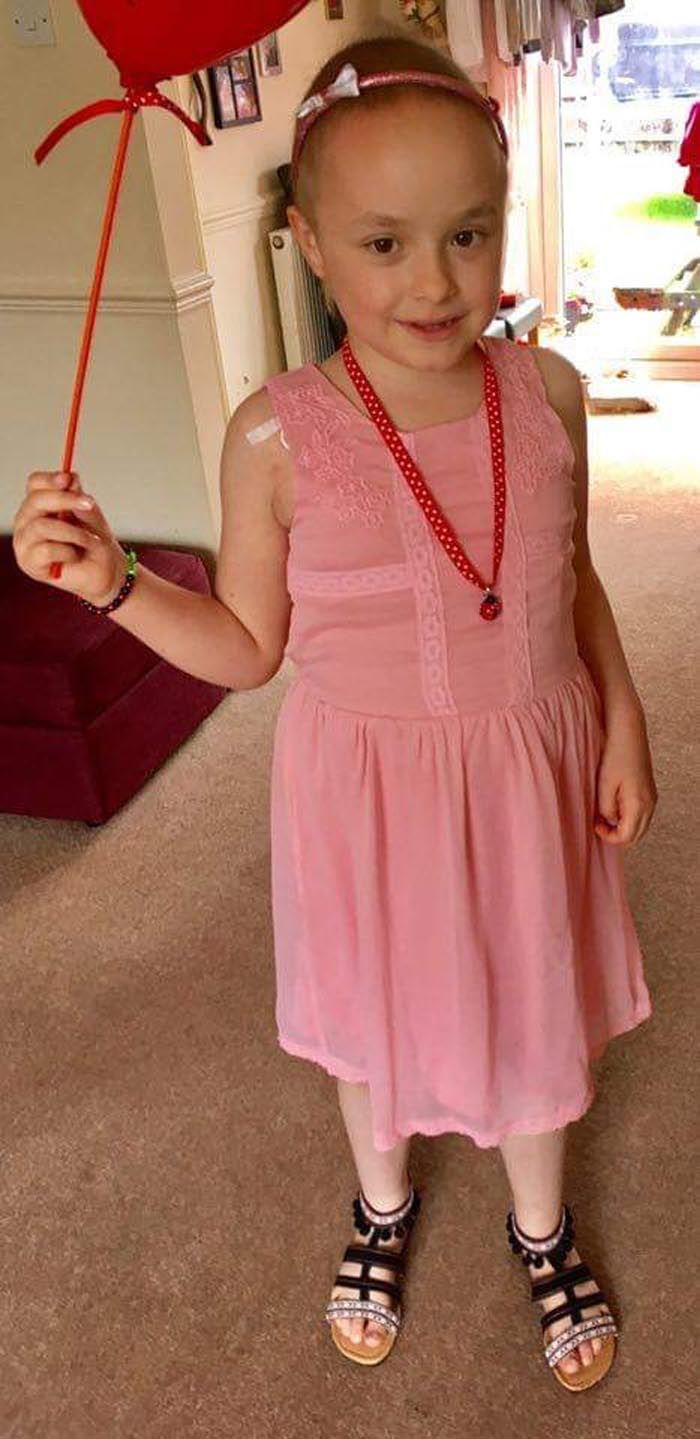 Imogen (PA REAL LIFE/COLLECT)
"She will always need to have scans on her heart, lungs and kidneys because it can have lasting effects," Anna added. "The NHS has been wonderful and I don't know what we would do without them. We're extremely grateful."
Now, keen to give back, by continuing to fundraise, the family also want to raise awareness of bone marrow donation via the charity Anthony Nolan.
Anna concluded: "We also want to raise awareness of how important it is to donate bone marrow. It's a simple cheek swab then you can be put on the register. I'd urge anyone to do it. For a simple swab you could save someone's life."
To donate visit www.gofundme.com/f/go-crackers-for-immy and www.facebook.com/Gocrackersforimmy