*see end of article for update as of 11:25am EST
Hannah Watters is a 15-year-old Georgia High school student who has recently been suspended for five days. According to the school, Hannah broke the student code of conduct by using her phone, posting pictures of minors and for accessing social media during school hours.

According to Hannah and her supporters, her suspension (as well of that of another student who has chosen to remain anonymous) is retaliation for exposing the school's total mishandling of pandemic response. The school's actions, according to them, directly put the students, teachers, staff and administrators in danger and had already allowed virus transmission before the school even opened.
On the first days of school, Hannah and other students snapped pictures in the halls showing crowded conditions, how few masks are being worn and how little control administrators have over the situation.
You've likely seen some of the images online.
This is the first day of school in Paulding County, Georgia. https://t.co/fzdidaAABM

— 🇯🇲Black🇭🇹Aziz🇳🇬aNANsi🇹🇹 (@🇯🇲Black🇭🇹Aziz🇳🇬aNANsi🇹🇹) 1596544275.0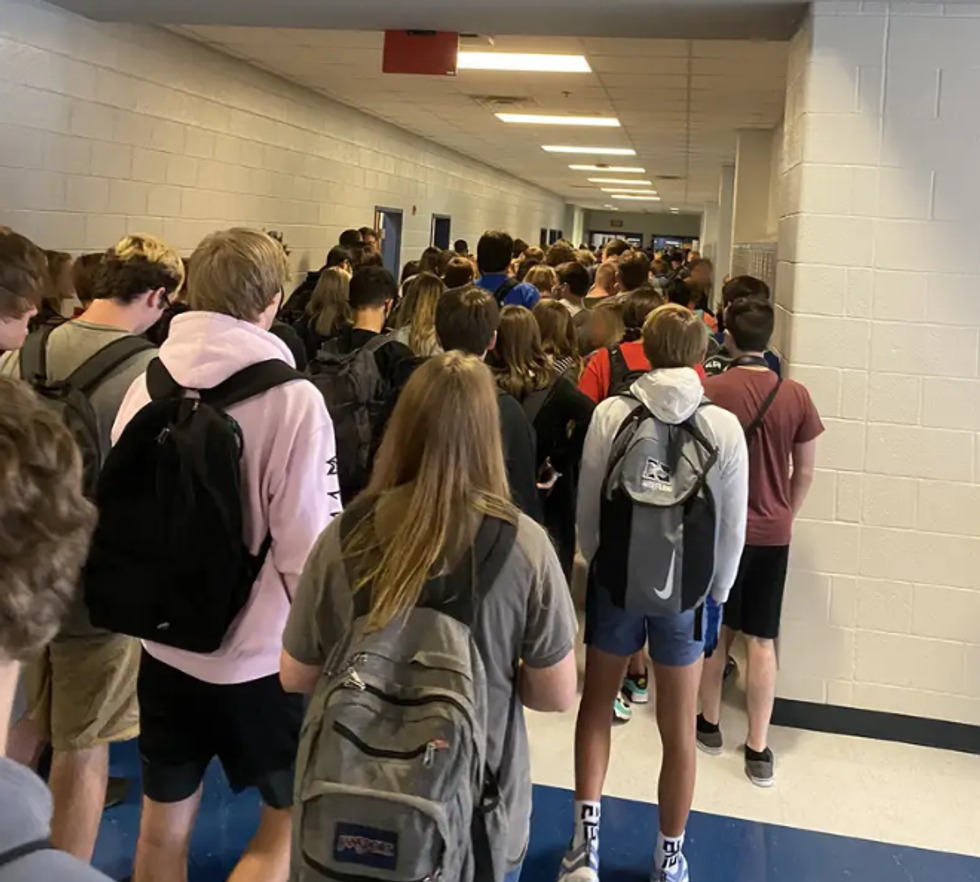 Hannah Watters/Facebook
Many of you may not know the story behind what you're looking at, however.
Yes, it's clear that you are seeing halls full of students who cannot social distance and who are predominantly not wearing masks. What many people do not know is that quite a few of these students did not want to be there.
Nor did the teachers or staff like bus drivers, custodians and cafeteria workers.

The school had confirmed virus cases among the staff. Also, several of the school's athletes (who had been working out together during a school-backed event before the school year officially started) were already pandemic positive.
Parents were not notified that those student athletes were positive until just hours before the first day of school started. When parents expressed concerns for the student's health, they were told that they and their children would be punished for not attending physical school.
Expulsions would be handed out without hesitation. The school also did not offer an online option for most students.
The school district then called mask-wearing and social distancing personal choices that they would not enforce. Teachers and parents have expressed to several media outlets that they feel like they have no choice and the district is gambling with their health.
At least one educator has stepped down over the issue.
Then school principal Gabe Carmona allegedly made an announcement via intercom that students found criticizing the school online would face discipline.
That is the situation Hannah and the anonymous student were walking into when they both physically attended classes. It didn't take long for them and others to gather information and then opt to show the world what was happening—even if it meant facing discipline.
Their data is jarring. The school already knew staff and students had the virus and were spreading it to others.
In several classes only 3 or 4 students wore masks. The halls were a free-for-all that were so crowded that Hannah ended up being shoved multiple times.
Students began posting pictures and videos online and some went viral. The school took the time to track down students posting and to actually punish them.
Hannah received a five day suspension for her posts.
When she was called to the office she was given a copy of the student code of conduct, with items circled that the school says she has violated.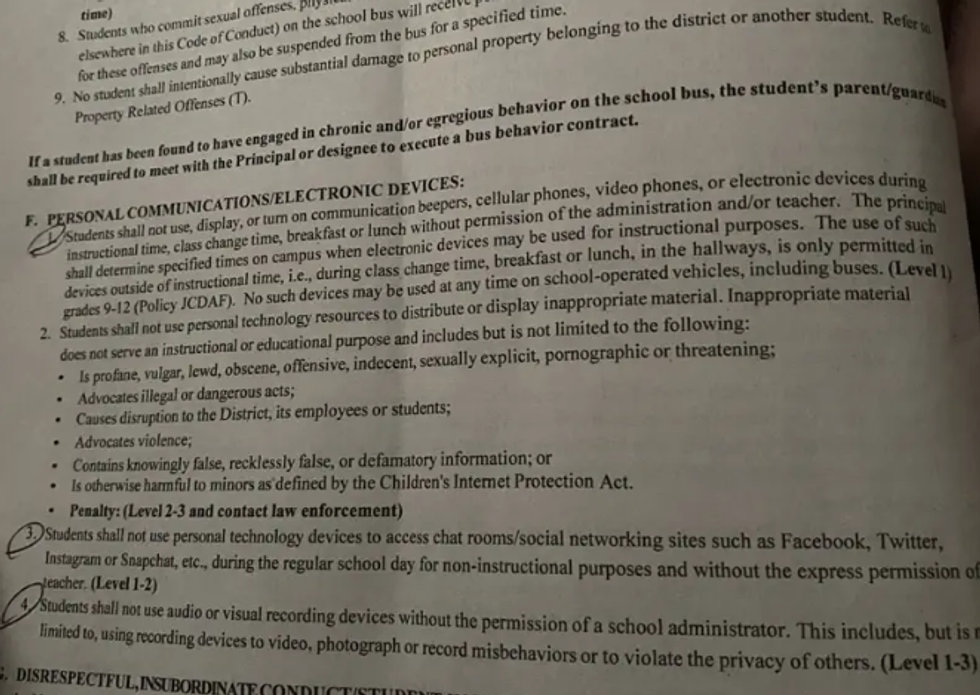 Hannah Watters
Hannah and her parents have chosen to fight the suspension—not because they want Hannah to return to an unsafe school, but because they reject the idea that Hannah's actions warrant punishment.

They are not alone.
The Southern Poverty Law Center's children's rights project agrees. Michael Tafelski, the senior supervising attorney for the project, has spoken out urging the school to remove the suspensions and stop punishing children for sharing the truth.
He released a statement of support that said, in part:
"Children do not waive their constitutional rights in school, and the district abused its discretion in suspending these students. It could not have come at a worst time as families are struggling to cope with the social and economic pressures brought on by the pandemic, including the abrupt school closures in March that disrupted the education of thousands of students."
Hannah says if the school is going to be a stickler about those rules in the code of conduct, then they need to abide by the code in full—which they did not when they suspended her.

"We have a progressive discipline system. When disciplining me and the other student, they skipped level one and went straight to two."
The Southern Poverty Law Center is prepared to step in and help the children if it becomes necessary.

*UPDATE: According to The Washington Post, 8/7/2020, 11:25am EST:
Paulding High School lifted the suspension of Hannah Watters according to the student and her mother.
Lynne Watters told The Washington Post on Friday the school ended her daughter's suspension.
In a text message to the Post, Lynne Watters wrote:
"The principal just said that they were very sorry for any negative attention that this has brought upon her, and that in the future they would like for her to come to the administration with any safety concerns she has."
"[The principal] confirmed that she will have no disciplinary action on her record and she can return to school on Monday."
There was no update provided on the second student.