Democratic Pennsylvania Senate candidate John Fetterman has made headlines over the last few months as he's used his social media accounts to engage Mehmet Oz, the television personality best known as "Dr. Oz" who is his Republican opponent.
Fetterman has now shown he has his finger on the pulse of the latest entertainment news by using one of Maroon 5 singer Adam Levine's sexually charged Instagram messages to troll Oz once more.
Levine became the subject of criticism this week after it emerged he had sent raunchy messages to several women on Instagram despite being married. The scandal has been particularly upsetting in Hollywood circles because Levine's wife, the Namibian supermodel Behati Prinsloo, announced earlier this month she is pregnant with the couple's third child.
Although Levine admitted he crossed the line by messaging the women, he has denied any sexual involvement with them.
Enter Fetterman, who decided to use one of Levine's messages to illustrate Oz's thirst for "money, fame, and power."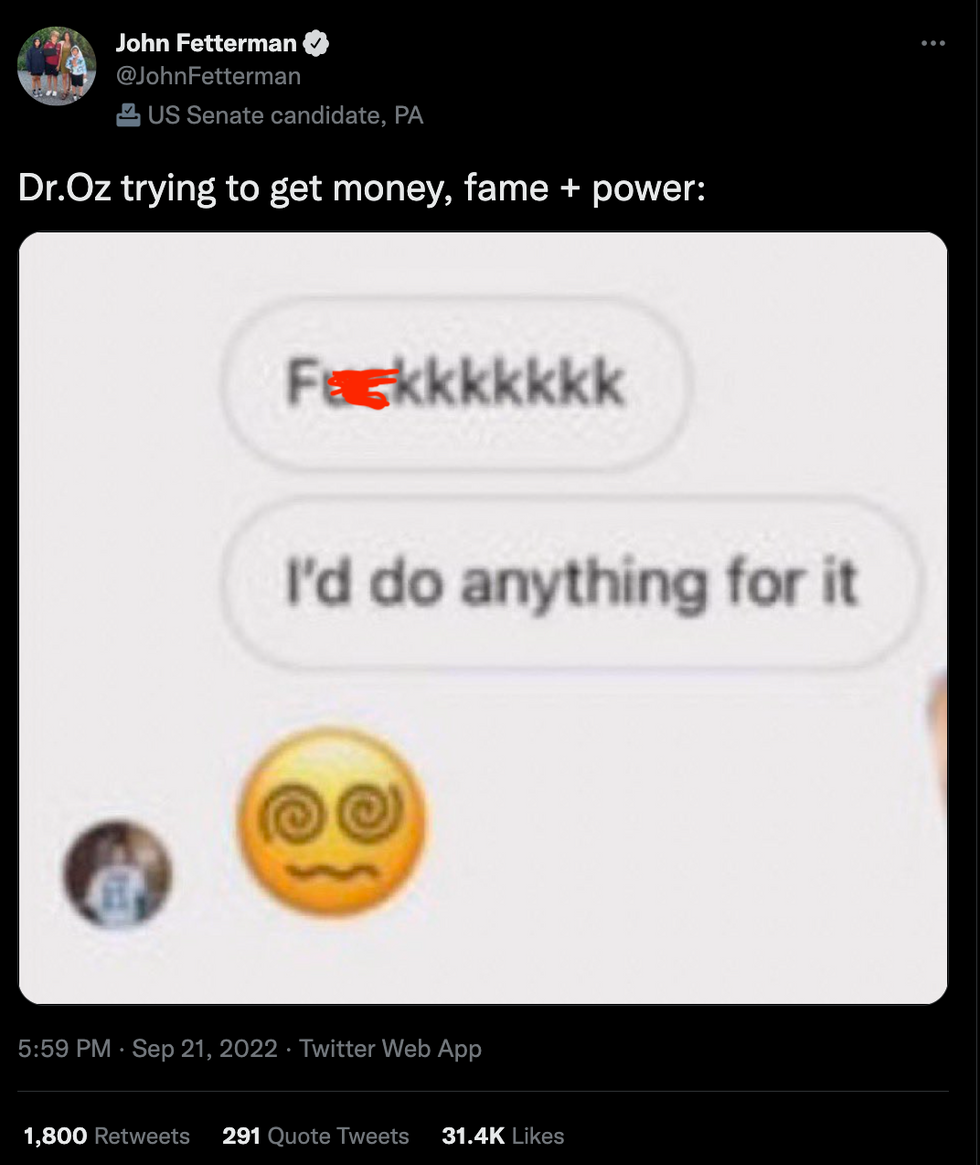 Many praised Fetterman for once again wowing Twitter users with his impeccable social media game.
Oz has attracted significant scorn on social media, particularly for running in Pennsylvania's Senate race despite living in New Jersey.

Fetterman, who suffered a near-fatal stroke in May, generated support in his time off the campaign trail by launching social media campaigns emphasizing Oz's ties to New Jersey and minimal ties to Pennsylvania.
Meanwhile, Oz has been widely roasted on social media for past strange tweets about poop and comments.
Earlier this month, he was criticized after remarks he made in 2014 in which he appeared to give the green light to incestuous relationships resurfaced, prompting Fetterman to crack Oz's comments represent "yet another issue" where the two men disagree.