Twitter users roasted New Jersey Republican millionaire and Pennsylvania Senate candidate Mehmet Oz after his past tweets about "poop" resurfaced.
Oz, who made millions and became a household name as the titular "Dr. Oz" on a show that garnered heavy criticism due to his promotion of pseudoscience, including on the topics of alternative medicine, faith healing and various paranormal beliefs, wrote several tweets about bowel movements in over a decade of being a regular Twitter user.
In one tweet, which has now been repurposed to accept campaign donations, Oz asks his followers to consider what their "'poop' says about your health."
@DrOz/Twitter
In another written some years later, Oz announced there is a "right way to poop" while sharing an article cautioning readers they've been "pooping wrong their whole life."
@DrOz/Twitter
Yet another tweet Oz wrote offers his followers "the full health scoop on poop" right down to helping viewers figure out their "unique wipe type" and "how you can tell if your poop is normal."
@DrOz/Twitter
And should poop sink or float?
That was the topic at hand on Oz's show once upon a time—as well as the subject of still another tweet in which he announced he would be discussing poop in the company of the Sklar Brothers, identical twin brother comedians and actors best known for hosting the ESPN show Cheap Seats.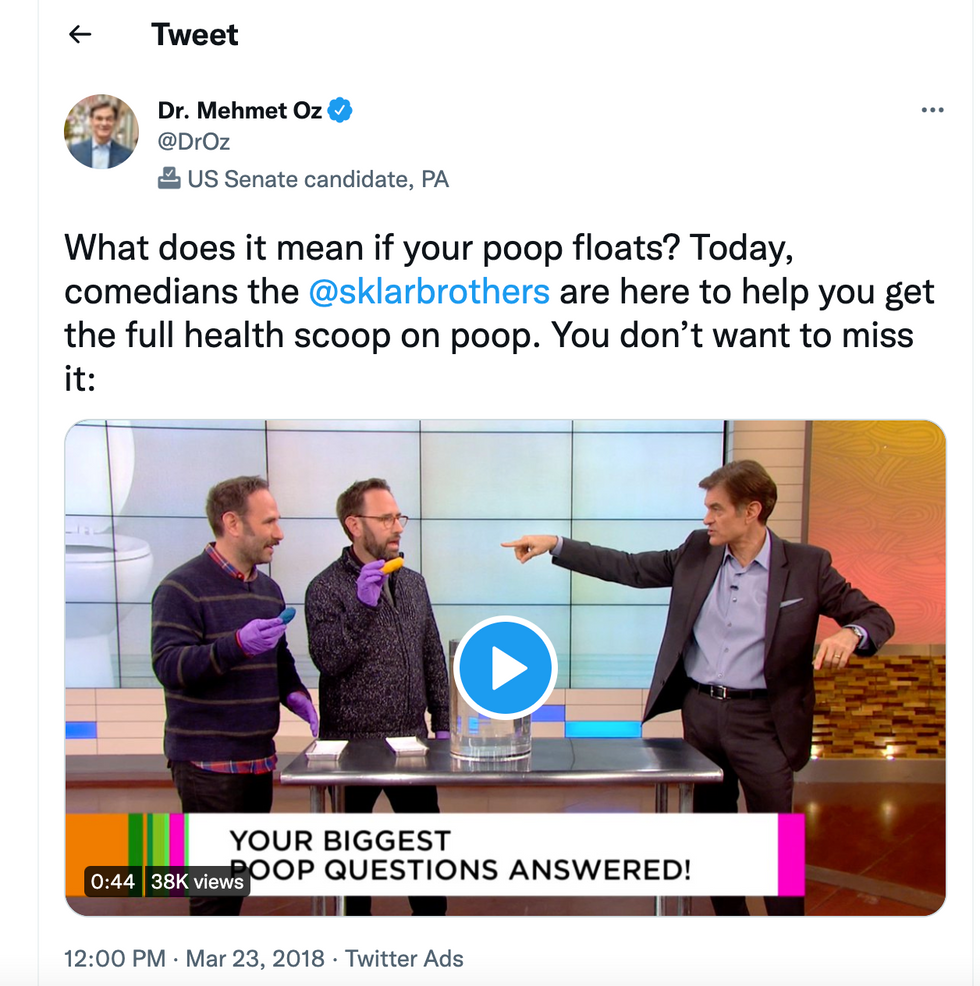 @DrOz/Twitter
These old tweets quickly recirculated on social media.
They prompted Twitter users to mock the controversial and oft-lampooned Republican candidate who is endorsed by former Republican President Donald Trump.
Many also took the opportunity to stump for John Fetterman, Oz's Democratic opponent.
Oz has attracted significant scorn on social media in recent months, particularly for running in Pennsylvania's Senate race despite living in New Jersey.
Fetterman, who suffered a near-fatal stroke in May, has generated support in his time off the campaign trail by launching social media campaigns that have emphasized Oz's ties to New Jersey and minimal ties to Pennsylvania.
Earlier, The Philadelphia Inquirerreported Oz lived in North Jersey for more than three decades. And while Oz has said he moved to Pennsylvania in 2020 to live with his in-laws, his social media posts and campaign ads have showed him still in New Jersey.
These facts prompted Fetterman to enlist none other than Nicole "Snooki" LaValle—best known for starring on the reality series Jersey Shore—to troll him for living in the state.
The video received millions of views after Fetterman uploaded it to Twitter and has been generally lauded as an example of creative and effective social media outreach.