Jenna Kutcher, 29, is married to 31-year-old health coach Drew Kutcher, whose been the object of affection for many women online for his desirable and chiseled physique.
People wondered how the "curvy" blogger who struggled with an eating disorder wound up with a guy like "Mr. 6-pack." But after Jenna recently posted a poignant message on Instagram, things are turning around.
Jenna's photo of the two of them wearing swimsuits and stealing a kiss during a stroll on a beach in Hawaii went viral after being flooded with positive comments. However, Drew didn't understand why the responses were such a big deal.
---
"'How is this newsworthy?' " Jenna recalled Drew asking. " 'I don't get why the world is so curious [about] how I could love you. I vowed to love you. How you look has nothing to do with that.'"
Jenna told the New York Post she was once dismayed by a blatant inquiry from a stranger.
Jenna recalled, "Someone once slid into my DMs and told me they couldn't believe I had managed to land a guy as good looking as @kickingitwithkutch," she wrote on Instagram. "I'll be honest that I was taken aback."

"For somebody to point-blank call out our body shapes and difference … it's disappointing," she told the Post.
The photo from Hawaii was snapped by photographer Lindsey Roman and was posted with a lengthy and revealing caption. "Part of my insecurity with my body has stemmed around being married to Mr. 6-Pack himself."
Hello everyone! For anyone who thinks you need to be the fittest, slimmest version of you to bag / keep / marry... https://t.co/L28AEHbF3V

— Janey Holliday (@Janey Holliday) 1521442053.0
Why should I, a curvy girl get him? I feel unworthy and when I write narratives in my head that because I am not thin, I don't deserve him. This man has embraced every curve, every dimple, pound and pimple for the last 10 years and has always me reminded me that I'm beautiful even when my inner dialogue doesn't match.
"I am so much more than my body, so is he, and so are you. True love doesn't see size." -@jennakutcher "At the end… https://t.co/60zumQNZd3

— Lonny Woolbright (@Lonny Woolbright) 1521605635.0
She invited her followers to like the photo if they agreed with her opinion on love. "I am so much more than my body, so is he, and so are you. Double tap if true love doesn't see size."
Jenna never expected her post would go viral with over 47 thousand likes.
On Tuesday, she posted an update, saying, "We've spent the last few days gawking at the fact that society believes that seeing two people (who happen to have different body types) in love is newsworthy, and yet we are embracing it whole heartedly [sic] because it means that we get to share our message with YOU, with the world."
Jenna added both she and Drew are more than how they're physically perceived. "Here we are: Jenna and Drew, a small town couple who are as normal as they come and more in love today than the day they said 'I do.' You might have met us because of our bodies but I pray you fall in love with our hearts and souls and stick around awhile. Will you?'

OH MY GOSH! How awful of people! What do they want? For her to be 50lbs soaking wet? She looks great! No one speaks… https://t.co/Qyc2BSyEwp

— Magyar Lanyka (@Magyar Lanyka) 1521543953.0
After being tormented by trolls, her persistence in sharing her empowering message is finally paying off.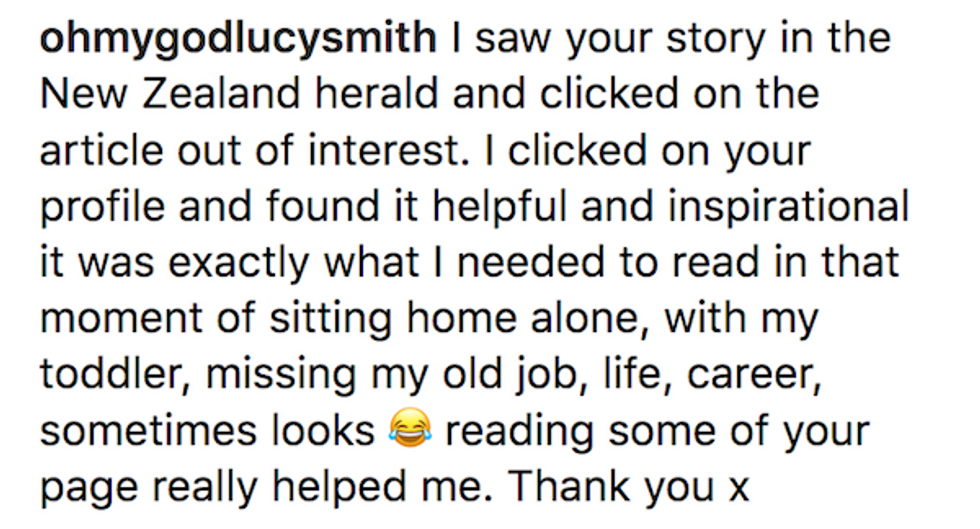 (@jennakutcher/Instagram)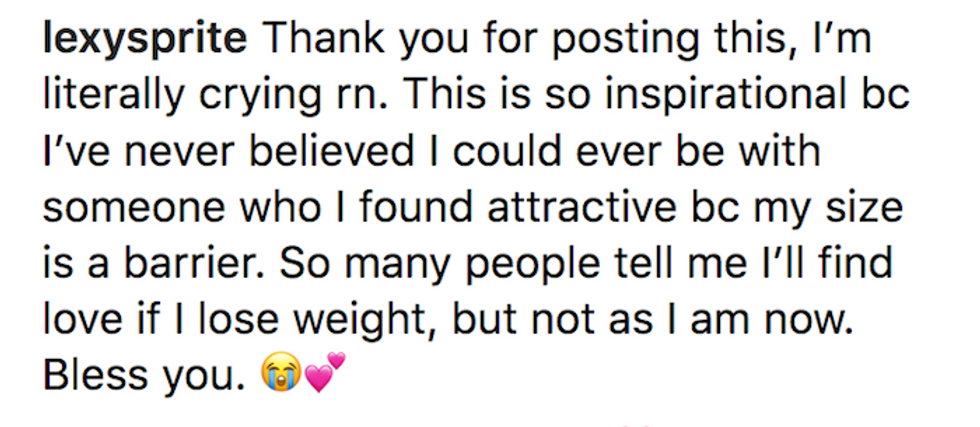 (@jennakutcher/Instagram)
Jenna hopes to use her platform to continue inspiring other people who have insecurities about body image.
I want to set an example for women to wait for the man who sees you and loves you and your flaws and accepts you. Drew has walked with me on every journey my body has been through and has loved me the same no matter what size I am.