Not all holiday decorations have to be the same. Some people might like lights around trees, nativity scenes, or reindeer frolicking with snowmen. Others might prefer a fleet of 10-foot-tall inflatable dragons. Author Diana Rowland is a fan of the latter, but her neighbors don't take too kindly to her unique yuletide tastes.
---
On December 14, Rowland tweeted a picture of a rude note her neighbors sent regarding her collection of holiday dragons:
Here are the dragons that have caused so much trouble...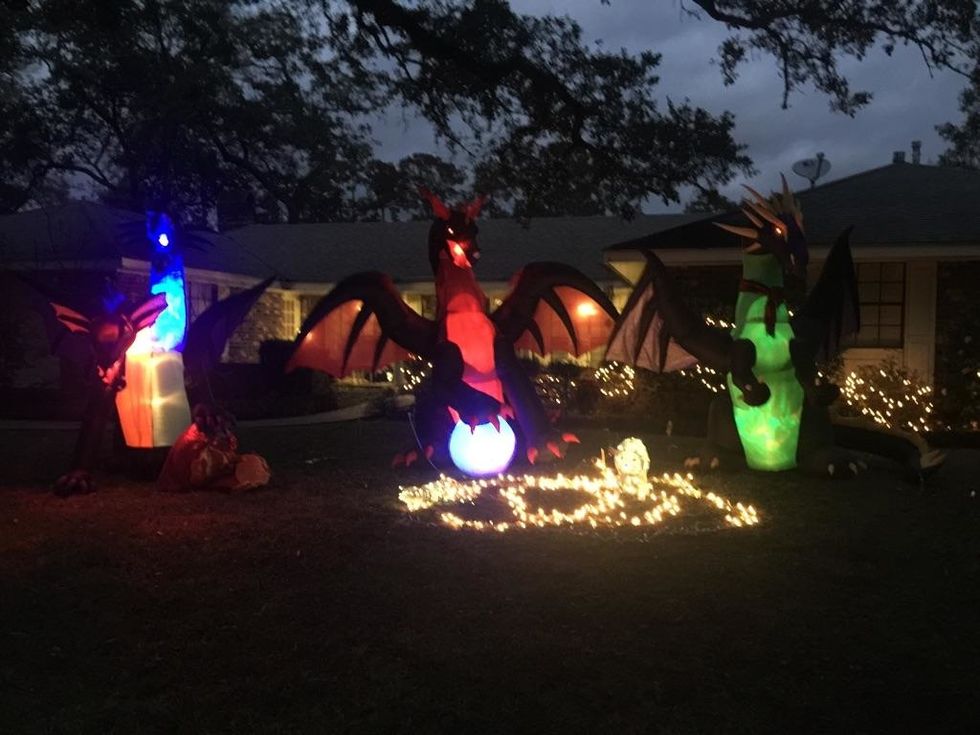 Twitter: @DianaRowland
...and here's the note in which the neighbors wonder if Rowland is "involved in a demonic cult."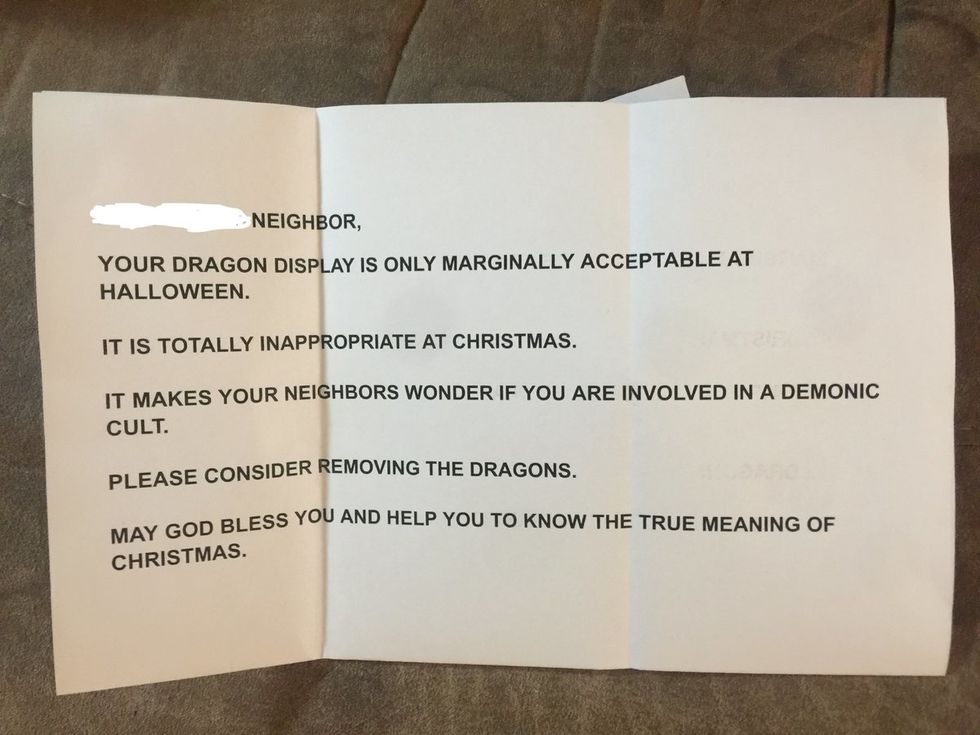 Twitter: @DianaRowland
The note reads in shoutycaps:
------- NEIGHBOR, YOUR DRAGON DISPLAY IS ONLY MARGINALLY ACCEPTABLE AT HALLOWEEN. IT IS TOTALLY INAPPROPRIATE AT CHRISTMAS. IT MAKES YOUR NEIGHBORS WONDER IF YOU ARE INVOLVE DIN A DEMONIC CULT. PLEASE CONSIDER REMOVING THE DRAGONS. MAY GOD BLESS YOU AND HELP YOU TO KNOW THE TRUE MEANING OF CHRISTMAS.
Rowland had the perfect response!
Twitter users were not big fans of Rowland's neighbors.
Though she'd done nothing wrong, Rowland decided to take the high road and give her dragons a little more holiday spirit!
On top of that, she added a couple more dragons to the display, rounding out her fire-breathing brood at five.
Some Twitter users wanted to start a GoFundMe campaign for Rowland so she could buy even more dragons:
For Rowland, it's not about the money. It's about the dragons.
Fans online seemed to love the dragons just as much as they hated Rowland's neighbors.
Keep reppin' those dragons, Diana! They may just be the true reason for the season.