Hillary Clinton flipped the script on a tabloid story on her "post-pandemic" outing at a posh restaurant by delivering a pro-vaccination message.
The New York Post reported on the former Democratic Senator, presidential nominee and Secretary of State having a glass of white wine at Fleming by Le Bilboquet on 62nd Street near Madison Avenue in New York's Upper East Side on Tuesday.
The accompanying pictures of her at the establishment were obtained from the Daily Mail, which broke the story first.

Clinton was enjoying her beverage while waiting for her husband, former President Bill Clinton, and some friends including Trudie Styler—the wife of rock musician, Sting.

The Post's report started with:
"Hillary Clinton is really drinking in New York City's post-[pandemic] atmosphere."
Clinton, however, dismissed the tabloid story's flippant portrayal of her and tweeted:
"Get vaccinated. Then get a glass of wine with your friends."
She included a screenshot of the Post's original tweet to avoid increasing click traffic for the Rupert Murdoch owned tabloid.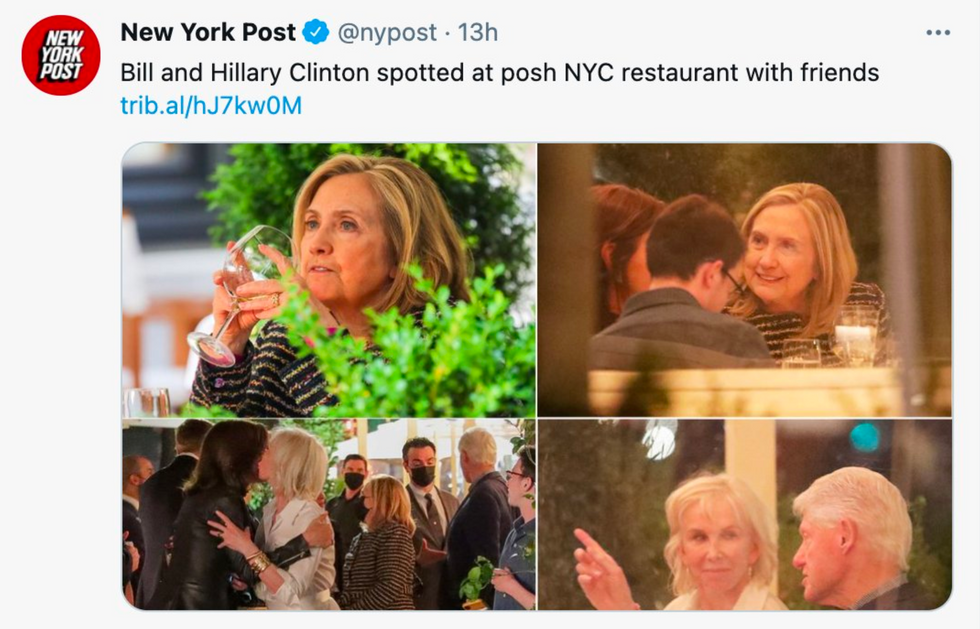 @HillaryClinton/Twitter
NY Post owner Murdoch also owns Fox News.
Social media users jumped on Clinton's brilliant clap-back and raised their glasses.
Other vaccinated users wanted to join her in a convivial outing.
According to the Daily Mail, the group left the establishment around 9 p.m.
The Clintons obliged fans who gathered outside the restaurant to take some selfies. The couple then hopped into a car to go home.