Caitlyn Jenner tore into the posh Beverly Hills Hotel for allegedly denying her service at their Polo Bar for not complying with their dress code.
The former replacement candidate in the 2021 California gubernatorial recall election had walked into the establishment wearing jeans with what she referred to as "a tiny rip."

She unloaded on the hotel in her Instagram Story on Monday, writing:

"@bevhillshotel f'k your horrible service for not letting me have lunch with this tiny rip in my jeans. Shame on you. Disgusting."
"I have been a patron for decades. No longer."
Pop Crave shared the following screenshot of her post on Twitter.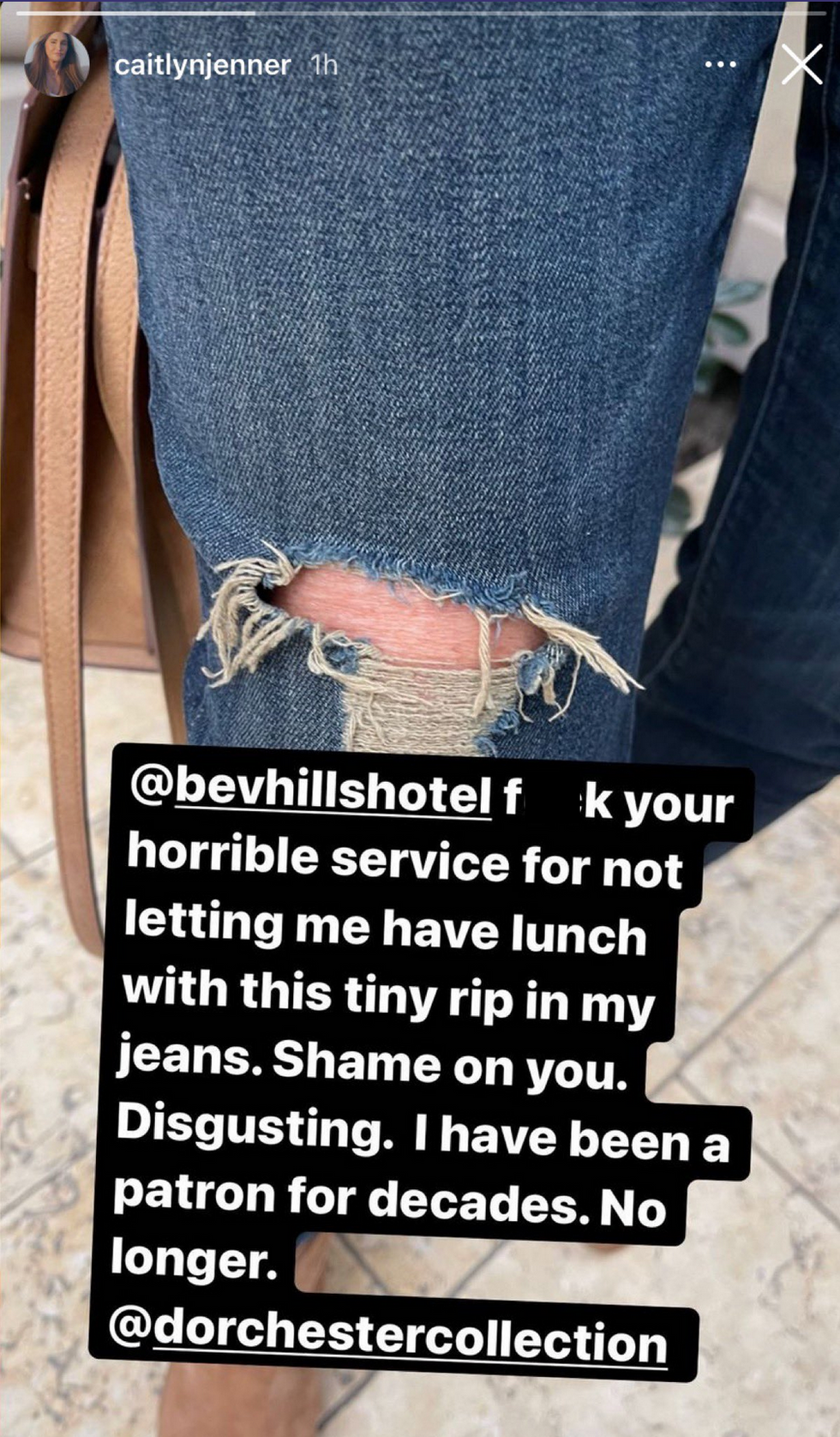 @PopCrave/Twitter
Jenner was turned away from the hotel's famed Polo Lounge–whose parent company is The Dorchester Collection and is regarded as L.A.'s "premier power dining spot"–when she walked in with the horizontal tear in her jeans, just above the knee.
Even though the rip appeared to be an intentional design and not an accidental tear, the restaurant strictly adhered to their dress code policy–which on their website reads:
"At the Polo Lounge, we encourage you to dress for the occasion, so we ask that you refrain from wearing casual hats, ripped denim, crop tops, nightwear, swimwear and men's sleeveless shirts."
"After 4pm, we do not permit shorts, flip-flops (including Birkenstocks) or sportswear (including tracksuits). Children under 10 are exempt."
A source close to Jenner told TMZ Jenner "was really caught off guard, especially because she was dressed in full hair and makeup. Caitlyn's jeans were more distressed denim than ripped jeans, making it that much more surprising to her."
Twitter was unsympathetic over the hotel's dismissal of the I Am Cait star.
One Twitter user questioned why Jenner would patronize the establishment as LGBTQ+ groups and their allies like George Clooney boycotted the Beverly Hills Hotel and the Dorchester Collection.
The hotel's parent company is owned by the Brunei Investment Agency (BIA)–a sovereign wealth fund for the nation of Brunei, which persecutes homosexuals.

The reality star claimed the Polo Lounge was passive with their no photos policy as she posed for pictures with fans, yet doubled down on the dress code.
The Beverly Hills Hotel's website states they prohibit the taking of "unauthorized professional photoshoots" in public areas of the hotel property.
"For the privacy of our guests, we ask that you refrain from taking photographs….Please note that unplanned and unauthorized professional photoshoots or video shoots in the hotel public spaces or outlets are not permitted."
The source added, "staffers weren't enforcing the 'no photos' policy—as Caitlyn took many with fans—yet they decided to enforce the dress code against her."
The TMZ article also suggested the dress code policy wasn't necessarily enforced. They quoted from the Polo Lounge's policy to back up their point, which Jenner screenshot and shared.

"Interesting it says 'we encourage' … so it doesn't say it's a mandatory dress code," wrote the gossip site.
@caitlynjenner/Instagram
@caitlynjenner/Instagram
Neither Jenner nor the Beverly Hills Hotel has responded for further comment on the incident.