The old "customer is always right" service industry adage needs a serious adjustment where bigotry is involved.
A family celebrating a child's birthday party quickly turned sour when a manager of a Buffalo Wild Wings in Naperville, Illinois, was asked to switch tables.

---
According to The Chicago Tribune, Justin Vahl, who was among the 18 party guests—that included 12 kids—was asked about his ethnicity by the restaurant chain's host.
When he inquired as to why it mattered, the employee confirmed that a regular customer dining nearby "doesn't want black people sitting near him."
Rather than sharing the space with the prejudiced customer, all members attending the party picked up their belongings and took their business elsewhere.
The story is sadly true.

The restaurant chain's investigation confirmed it.
@nytimes In this day and age!! We are moving backwards

— sharon skrypek (@sharon skrypek) 1572899602.0
The restaurant's spokesperson, Clarie Kudlata, said a "thorough" internal investigation led to the firing of multiple employees for fulfilling the racist customer's request.

A service manager and shift manager were among the terminated employees involved.
@nytimes "2 RACIST MANAGERS of a Buffalo Wild Wings in Illinois have been fired after a patron said they asked her… https://t.co/wA8KrFsH43

— 𝕁𝕖𝕟𝕟𝕪 𝕃𝕚𝕝𝕝𝕒𝕣𝕕 (@𝕁𝕖𝕟𝕟𝕪 𝕃𝕚𝕝𝕝𝕒𝕣𝕕) 1572899660.0
Kudlata emphasized the company's policy against discrimination.

"Buffalo Wild Wings values an inclusive environment and has zero tolerance for discrimination of any kind."
Vahl's wife, Mary, who was also at the celebration posted a photo of the racist patron.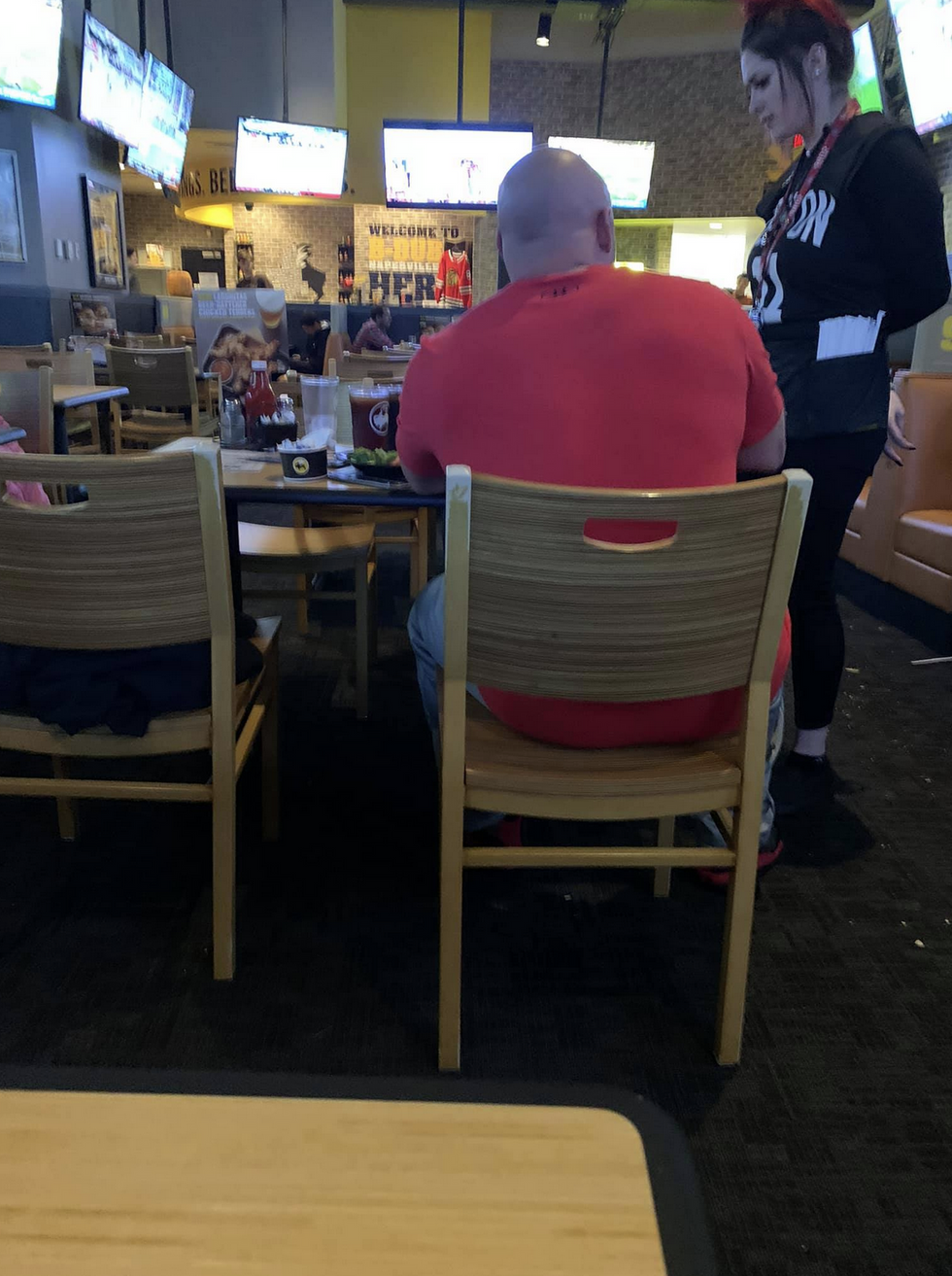 Mary Vahl/Facebook
She wrote on Facebook:

"Last night (10/26) we went to the Buffalo Wild Wings on 75th & 59 with a party of 18. Upon being greeted, my husband Justin told the host that we had a party of 15."
"After he realized that he miscounted, my husband walked over to the tables to where the host was setting up and told him we actually had 18."
"A couple minutes went by and the host went up to my husband and asked 'what race are you guys?' My husband asked him why it mattered and the host responded that a table with 2 of their 'regular customers' were next to where we were to be seated and he didn't want us sitting there because he's 'racist.'"
"'Us' being a group of minorities, mostly consisting of African Americans.... so of course, we don't give him the satisfaction and told the host we'll sit where they set us up."
@ABC7 If I was the employee I would of said" would you like to go boxes for your food and that ignorance?"

— Stephanie Marie (@Stephanie Marie) 1572899330.0
She knew exactly who the person was based on the dirty looks he was giving.

"We knew right away who it was because the guy was staring at us the entire time and giving us looks as we were being seated. As we sit, our waiter greets us and gets some drinks & app orders started."
"After a few minutes we notice that an employee is talking to the 'racists table' and approaches us and communicates to Justin and Marcus 'these seats are reserved and we will have to move your group.'"
"The guys politely tell him that we're not moving and request to speak to the manager in which he says he's one of the managers (John)."
What's worse is the fact that the employees knew about the regular customer's reputation and willingly accommodated his wishes.

"Meanwhile, we've told our waitress what was happening and she makes a comment indicating that she's already aware he's a racist because he's a regular. How is an establishment ok with serving people who try to control which types of people sit around them?!"
"It was not ok that a person of management was willing to move 6 adults and 12 children versus 2 grown adults who are uncomfortable sitting by black folks!!"
@nytimes You got to be kidding??? I bet the managers were young and naive. Diversity training should be mandatory.… https://t.co/foct2yofDz

— TiiL (@TiiL) 1572899717.0
@nytimes Wut the actual PHUK?!?!?! This is 2019 Illinois, not 1960 Mississippi. Trump has encouraged closeted racis… https://t.co/0aSZkCrZ7J

— SpursDudeTHFC (@SpursDudeTHFC) 1572899614.0
She concluded her post by adding:

"In 2019, this type of behavior should not be accepted because of certain views. If you don't want to sit next to certain people in a public restaurant then you should probably eat dinner in the comfort of your own home."
@ABC7 Next week their policy will be to have all the minorities come through the backdoor & eat in their cars, to n… https://t.co/w7KqAbPyZa

— Martin World Peace (@Martin World Peace) 1572892871.0
@ABC7 What? What the heck is wrong with some people?! We are all human beings, this is unbelievable! I love this co… https://t.co/jl8PMGasyv

— Sherry Fowler Grey (@Sherry Fowler Grey) 1572893220.0
@ABC7 No, you tell the racist people if they have an issue with a person's ethnicity they can leave.

— Jenn (@Jenn) 1572893547.0
Mary Vahl added that the discussion following the celebration was something she did not envision for the kids.

"A moment to hangout with a group of friends after a birthday party, turned into a discussion with our young impressionable sons about how we didn't get kicked out, but willingly CHOSE to leave because of the unfair treatment we were being given."
Company reps are reaching out to the family to get more information from the incident and to apologize for "any unacceptable behavior."
Mary Vahl said in her post about the location:
"This Buffalo Wild Wings location has lost our business indefinitely."

How or if her decision changes now that BWW has fired those employees responsible has not yet been reported.
But the restaurant does deserve credit for disclosing—instead of disputing the truth—and ensuring a clear message that their policy on discrimination includes customers.