25-year-old Arby's manager Deionna Young, of Tulsa, Oklahoma is accused of chasing down and lethally shooting a man who threatened her on Sunday.
---
The man, Desean Tallent, argued with Young at work, threatening her and spitting in her face.
According to Tulsa Police Department' s statement, Tallent threatened Young again as he left.
Police were flagged down and the assault and threats were reported, naming Tallent as the suspect.
Police report that he "promised to come back and hurt her, and about an hour later, came back."
When Tallent returned, he was circling the Arby's parking lot in his vehicle. Young reportedly ran out and got into her vehicle, then began following Tallent.
Police said they were "playing cat and mouse" in their vehicles before Young shot at Tallent, in his still moving vehicle, and returned to work.
Tallent did not stop driving until his car crashed into the entrance of a nearby Walmart. He was then brought to the hospital, where he later died.
Tulsa World reports that Young did not have a license to possess a firearm.
You can read the full police statement below:
Comments on Tulsa Police Department's statement on Facebook were varied, but many people suspected that there had to be more to the story.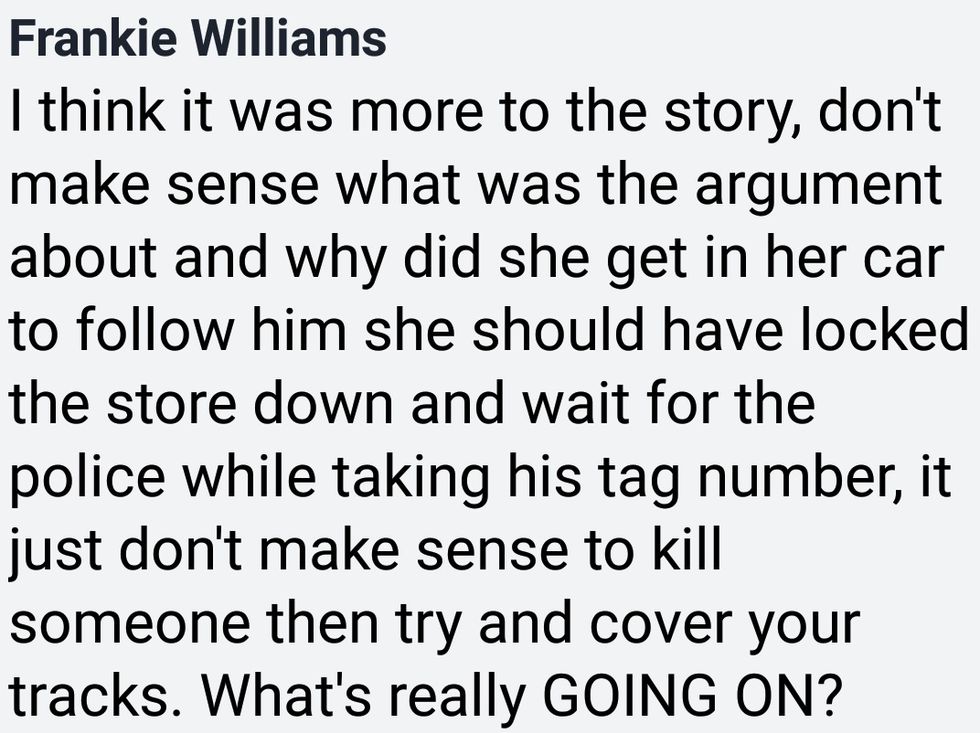 Frankie Williams/Facebook
Some were incredulous that Young could have simply returned to work.

Coocoo Coco Kelley/Facebook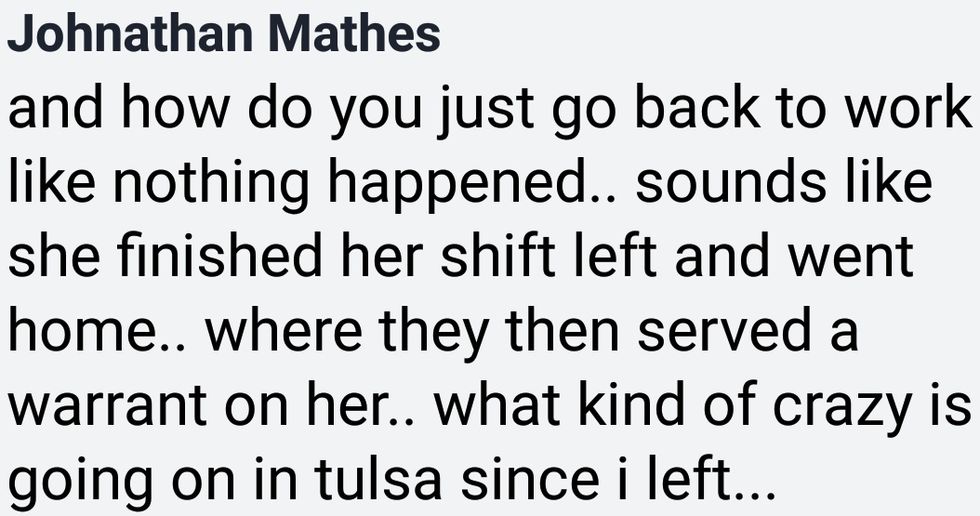 Jonathan Mathes/Facebook
Others were sympathetic to Young's situation.

Alexandria Blackfoot/Facebook

David Strickland/Facebook

Lórd Jordan Ozturk/Facebook
Young has confessed to shooting Tallent, and has been cooperating with the police investigation. She said that she destroyed the weapon she used to shoot Tallent, but will show the police where she disposed of the parts.
She is currently being held at Tulsa County Jail, without bond.