Andy Cohen, producer and talk show host, was very upset by the confirmation of anti-IVF and surrogate federal judge Sarah Pitlyk, and he wants everyone to know.

Pitlyk was nominated by the president to become the newest federal judge for the U.S. District Court in St. Louis despite the American Bar Association's assertion that she is unfit for the position.
---
The Republican-controlled Senate just voted to confirm Pitlyk, placing her in the position for which the American Bar Association determined she was "unqualified." William Hubbard, chair of the American Bar Association's Standing Committee on the Federal Judiciary, wrote a letter to lawmakers in September cautioning that Pitlyk was unfit for the appointment.
"Ms. Pitlyk has never tried a case as lead or co-counsel, whether civil or criminal. She has never examined a witness. Though Ms. Pitlyk has argued one case in a court of appeals, she has not taken a deposition. She has not argued any motion in a state or federal trial court. She has never picked a jury. She has never participated at any stage of a criminal matter."
He further wrote that Pitlyk's:
"experience to date has a very substantial gap, namely the absence of any trial or even real litigation experience."
Pitlyk has spent much of her career vigorously opposing people's right to abortion, in-vitro fertilization, or surrogacy.
Cohen, a single gay father whose son Benjamin was carried by a surrogate, is understandably concerned about Pitlyk's appointment—which is a lifetime one. Benjamin could not have been born without a surrogate.
Pitlyk claimed that surrogacy and fertility treatments would have:
"grave effects on society, including diminished respect for motherhood and the unique mother-child bond; exploitation of women; commodification of gestation and of children themselves; and weakening of appropriate social mores against eugenic abortion."
Just look at these two, they're simply too adorable.
Cohen spoke of his outrage at Pitlyk's appointment on his show Watch What Happens Live with Andy Cohen, and also shared the clip to Twitter with the simple caption:
"I'M ENRAGED."
I'M ENRAGED. https://t.co/CI8JjkXCNp

— Andy Cohen (@Andy Cohen) 1575519799.0
Many others whose children would not have been possible without surrogacy or fertility treatments added their stories to Cohen's.
@Andy Thank you Andy! My first two children, twins, were conceived with the help of fertility treatments. We tried… https://t.co/6m31CQxhQq

— MaTT FLaMMaBLe (@MaTT FLaMMaBLe) 1575565326.0
@Andy Me too, Andy. I am devastated over her appointment. Without IVF, we wouldn't have our three miracle babies. S… https://t.co/bFiG964W95

— Kerianne Chandoo (@Kerianne Chandoo) 1575554728.0
@Andy Me too @Andy my daughter is my miracle IVF baby and NO ONE can say I'm any less of a mother or not bonded wit… https://t.co/wf2poq7QCI

— Jacqueline Caprio (@Jacqueline Caprio) 1575560902.0
Many also criticized Pitlyk's appointment and attitudes.

@Andy How do they allow people to get in these positions when they aren't qualified? & to think she'll be able to a… https://t.co/n6uXLU3tAJ

— 🇬🇾 ᥴꫝꪮᥴꪮꫝꪖꪀꪻꪖᦓ (@🇬🇾 ᥴꫝꪮᥴꪮꫝꪖꪀꪻꪖᦓ) 1575520202.0
@Andy Cont'd: This dumba$$ doesn't appear to have a solid grasp on reproductive health. She is NOT scientist, but y… https://t.co/arhq9gYmAs

— Elainie87 (@Elainie87) 1575561189.0
@Andy Thank you for speaking out, Andy! We must fight back. The GOP needs to be voted out of existence! VOTE people!

— Jill (@Jill) 1575555642.0
Pitlyk worked as a clerk for the recently-confirmed and highly controversial, Supreme Court Justice Brett Kavanaugh. She is simply the latest among the hundreds of federal judges nominated by Trump who have been confirmed during his term as president.
She is, by far, not the only unqualified nominee for a position as a federal judge coming from this administration.
Another recent nominee, Lawrence VanDyke—this time for the 9th U.S. Circuit Court of Appeals, was deemed unqualified by the ABA based on interviews with a multitude of attorneys and judges who had worked with him. Those interviewed described him as:

"arrogant, lazy, an ideologue, and lacking in knowledge of the day-to-day practice including procedural rules."

During his hearing before the Senate, when Missouri Senator Josh Hawley asked him about the concern the ABA expressed over whether "VanDyke would be fair to persons who are gay, lesbian, or otherwise part of the LGBTQ community," he began crying openly.
Despite years of anti-LGBT rhetoric and writings, VanDyke stated, under oath, that he would not treat litigants who were members of that community unfairly.
Cohen is far from the only person upset over Pitlyk's confirmation, and it remains to be seen what sort of impact all of these new judges nominated by Trump will have in the years to come.
The board book Love Makes a Family is available here.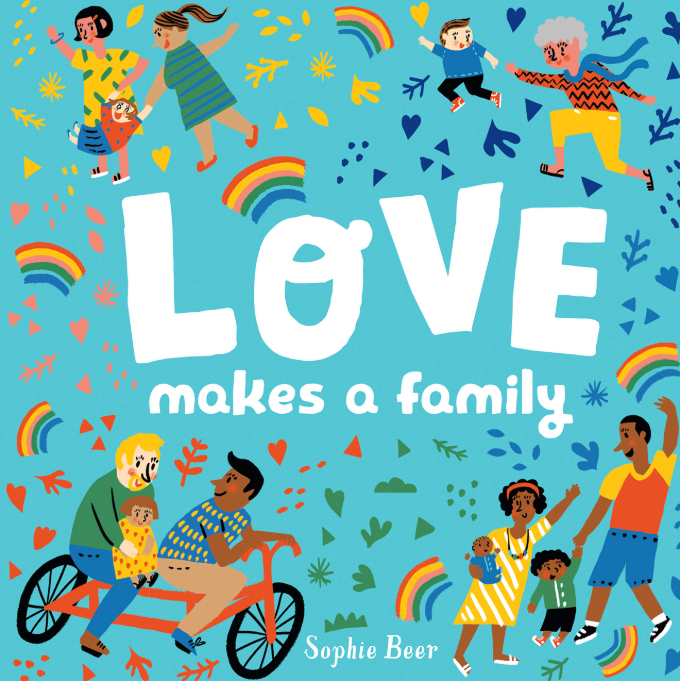 Amazon