---
Larry David made SNL audiences uncomfortable with a monologue where he referenced the Holocaust and joked about getting a date in a concentration camp.
The Curb Your Enthusiasm comedian is a usual hit with fans, but his recent jab involving a sensitive topic left him in the midst of a colossal backlash.
#SNL and Larry David is bombing this opener....absolutely awful...definitely not a promising start to the episode!!

— KatesFitLifeStyle (@KatesFitLifeStyle) 1509853415.0
"You tolerate me. You really, really tolerate me," David exclaimed at the beginning of the monologue. Was he placating the audience in advance for what was to follow?
He shared his experiences before his rise to television stardom. He touched on his brush with homelessness and compared himself with Quasimodo when it came to dating preferences. But then things quikly headed south when he segued from Harvey Weinstein's sexual assault charges to the Holocaust.
"So you know, a lot of sexual harassment stuff in the news of late, and I couldn't help but notice a very disturbing pattern emerging, which is that many of the predators — not all, but many of them — are Jews," he said. "And I have three words to say to that: Oy vey iz mir (woe is me)."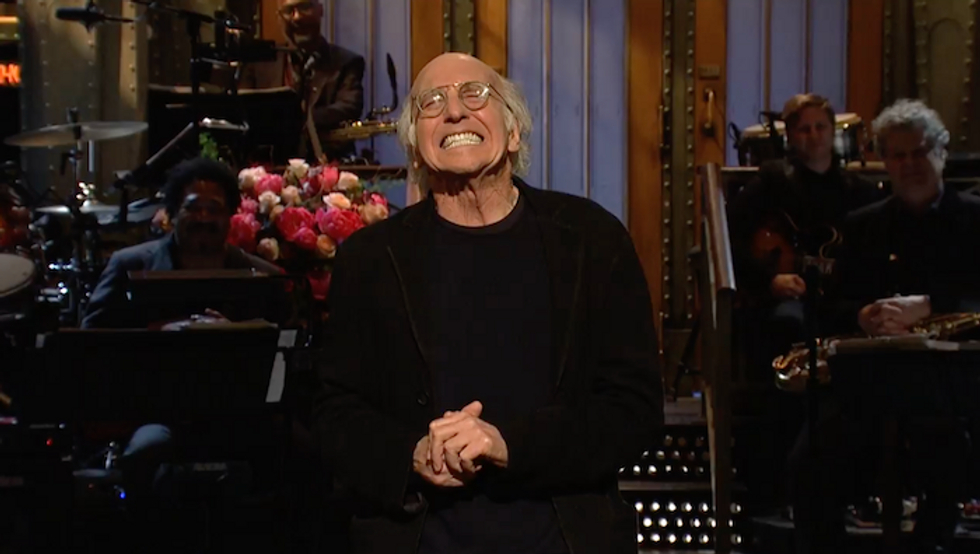 With the captive audience still in the palm of his hand, the Seinfeld co-creator expressed he can't stand it when Jewish names are in the headlines for notorious reasons. "I want 'Einstein discovers the theory of relativity.' 'Salk cures Polio.' What I don't want: 'Weinstein took it out.'"
"I've always been obsessed with women, and I've often wondered if I'd grown up in Poland when Hitler came to power and was sent to a concentration camp, would I still be checking out women out in the camp? I think I would," David quipped. The atmosphere shifted ever so slightly with one audible groan from the studio audience. David added, "Of course, the problem is, there are no good opening lines in a concentration camp."
He filled the awkward pause, with a few courtesy chuckles from the crowd, with an enactment of wooing a girl in the camp. "How's it going? They treatin' ya okay? You know, if we ever get out of here, I'd love to take you out for some latkas. What? What did I say? Is it me, or is it the whole thing? It's because I'm bald, isn't it?"
No, Larry. It was the whole thing.
It was a swing and major miss.
In true Larry David fashion, Larry David just had the most random and nonsensical #SNL opening monologue of all time

— Dontrelle "Ron'quavion" Willis (@Dontrelle "Ron'quavion" Willis) 1509853498.0
I found myself cringing at that entire Larry David monologue on #SNL. Just no to any joke about the Holocaust. 😢

— Jessica Radloff (@Jessica Radloff) 1509853752.0
@JRadloff That was so awkward and terrible

— JenniferKeene (@JenniferKeene) 1509854211.0
Did Larry David really just use his platform on SNL to turn a comment about the Weinstein scandal into a holocaust joke? Yes. Yes he did.

— sophia (@sophia) 1509856481.0
Jokes Re: checking out women in a concentration camp. If there was ever a scenario where, "too soon" is forever... #snl #LarryDavid

— Beth Miller (@Beth Miller) 1509853858.0
#SNL I can't believe they did jokes about a concentration camp I just can't believe what I just saw #LarryDavid it will never be okay to do

— BuffaloBella (@BuffaloBella) 1509853450.0
There were arguments made.
Oh look. A bunch of non Jews are telling Larry David, a Jew, he can't make holocaust jokes. I hate 2017 #SNL

— Kaboom (@Kaboom) 1509855993.0
If anyone is upset with Larry David's holocaust jokes on SNL they are likely not Jewish. Comedy can help people deal with tragedy. #snl

— Savage Boston Sports 🇺🇸🍀 (@Savage Boston Sports 🇺🇸🍀) 1509886377.0
There are unspoken rules of comedy.
@TheBillyProcida Billy, even as a "verified" comedian, you should know that using an assault scandal as a segway fo… https://t.co/Dlqse1uDUk

— sophia (@sophia) 1509865904.0
@Locus_of_Ctrl @TheBillyProcida First, it would be has, not have. Second, inappropriate humor is great but using sh… https://t.co/TFtQMoTFlm

— sophia (@sophia) 1509914093.0
Not to mention the obvious.
@Baguilera10 @CM_Sean Yeah, that's it. I can't find the humor in gas ovens, cyanide showers, and 6 million deaths. Got it.

— Teresa † ن (@Teresa † ن) 1509890778.0
@SavageBoston A holocaust victim might have used such jokes to deal with tragedy. Larry David, who was no victim,… https://t.co/33UaHutGhv

— Shalom Brilliant (@Shalom Brilliant) 1509909424.0
Fans have seen better material from him.
There's not a bit of Larry David's monologue that's funny. Way to completely blow it, when you could have knocked it out of the park. #snl

— Ofgreg (@Ofgreg) 1509853438.0
@dkazmer He's normally quite funny, and I usually enjoy his show writing. I wasn't feeling it tonight.

— Ofgreg (@Ofgreg) 1509856668.0
Please SHARE this with your friends and family.
H/T - twitter, qz, youtube, palmbeachpost