A young woman has revealed how telling a new admirer she had just been diagnosed with a debilitating disease helped to seal their love.
Still reeling from the news a month earlier that she had Relapsing Remitting Multiple Sclerosis (RRMS) – a version of the condition affecting the brain and spinal cord with intermittent symptoms – Aimee Emery was on a night out with a girlfriend in June 2018 when she got talking to Kieran Dawson.
"We started seeing each other and after a few dates, I mentioned I had to go to the hospital the next day," Aimee said. "Kieran said, 'What for?' So, I told him, 'I have MS.'"
Aimee and her boyfriend Kieran (PA Real Life/Collect)
"He said, 'What's that?' And I explained I have a problem with my nervous system which means that, potentially, I could end up in a wheelchair later in life," she continued. "I was so surprised by his reaction. I thought he'd run a mile, but he just said, 'Listen, I want to be with you.'"
Aimee first saw a doctor in the Summer of 2016, complaining of numb and heavy legs.
If you've been watching #EastEnders and you think you or someone you know might be affected by #MS, our MS Helpline is there for you: 0808 800 8000 or email helpline@mssociety.org.uk.
If you're not sure what MS is, read our information: https://t.co/TH0LY8Bc5Epic.twitter.com/sGbnxoIWaB
— MS Society UK (@mssocietyuk) April 16, 2019
At first, she thought her symptoms were the result of working 14-hour shifts in her then-job as a support worker in a care home, on top of working out several times a week at the local gym.
"I was diagnosed with sciatica, which causes pain along the sciatic nerve from the lower back to the buttocks, and sent home with painkillers," said Aimee. "I looked okay but didn't feel right and nobody thought to diagnose MS."
Over time, Aimee found that her symptoms were getting worse and worse.
By the end of 2017, she was walking into doors and falling down stairs.
"We were having dinner in early 2018, and I struggled to cut up my steak," Aimee recalled. "The whole left side of my body felt weak and Mom said, 'That's it, we're going to A&E.' We were at Queens Hospital in Romford at 8am the next morning and stayed there for hours while doctors did scans and blood tests, but nobody could work out what was going on."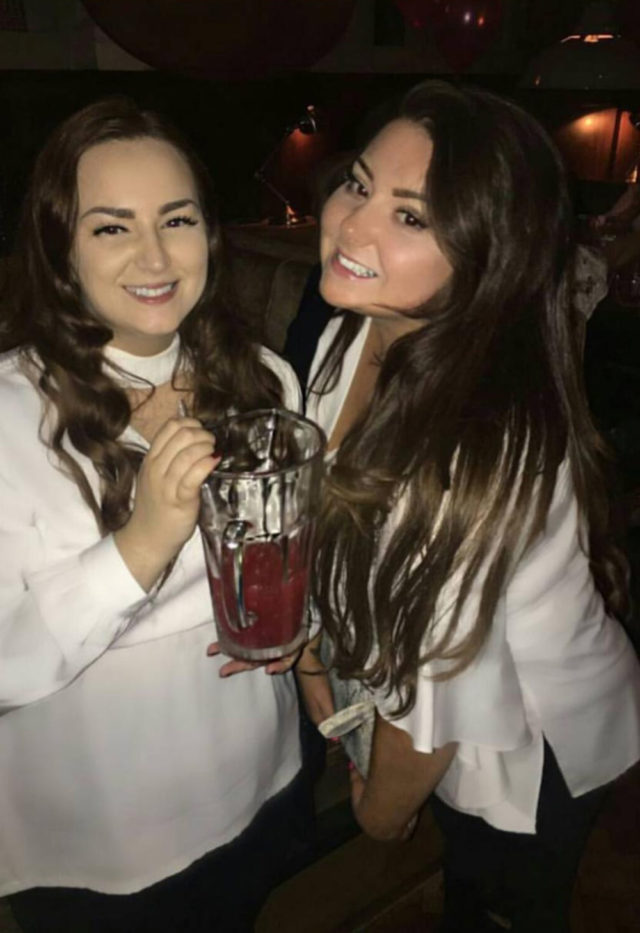 Aimee and her friend Kelly (PA Real Life/Collect)
"We knew it was something serious, because I didn't go home that night." Aimee added. "Instead, I was transferred to the medical assessment ward at the King George Hospital in Ilford, Essex. I started to feel really panicky and scared that I might have had a stroke or have a brain tumor. Even now, I feel thankful that it turned out to be MS and not a tumor."
After five days of tests, including a two-hour MRI scan, Aimee discharged herself and went home.
Aimee and her friend Paige (PA Real Life/Collect)
"Everyone was cross with me, but there were a lot of very, very sick people on that ward and it was making me feel worse. The doctors had done the tests and I just wanted to be in my own home," she said.
A few days later, Aimee was at home when she took a call from the consultant neurologist who delivered the bombshell news that she had MS.
"He told me that in all his time working as a neurologist he had never seen a clearer picture of highly active MS than he saw when he looked at my scan results," she recalled. "It was a shock, but it was also a relief to finally know what was wrong with me."
View this post on InstagramIt's #MSWeek! This is our chance to raise awareness of multiple sclerosis, and the reality of living with it. From 22-28 April, join us to spread the word about #MS! #ThisIsMS #MSAwarenessWeek #multiplesclerosis #multiplesclerosisawareness #msawareness #mssociety #mssocietyuk
A post shared by MS Society (@mssocietyuk) on Apr 22, 2019 at 12:44am PDT
She was told she had RRMS, the initial diagnosis in around 85 per cent of sufferers, many of whom will be in their 20s and 30s, meaning symptoms come and go. So, Aimee can expect to live a normal life when she is in remission.
Life expectancy for sufferers of this type of MS, for which there is still no cure, has improved dramatically over the last 25 years, thanks to better drug treatments which slow the progression of the disease. However, her symptoms will come and go throughout her life.
Aimee has been supported by the charity MS Society, and is speaking out to help promote MS Awareness Week, from April 22-28. She is keen to highlight the kind of prejudice sufferers deal with.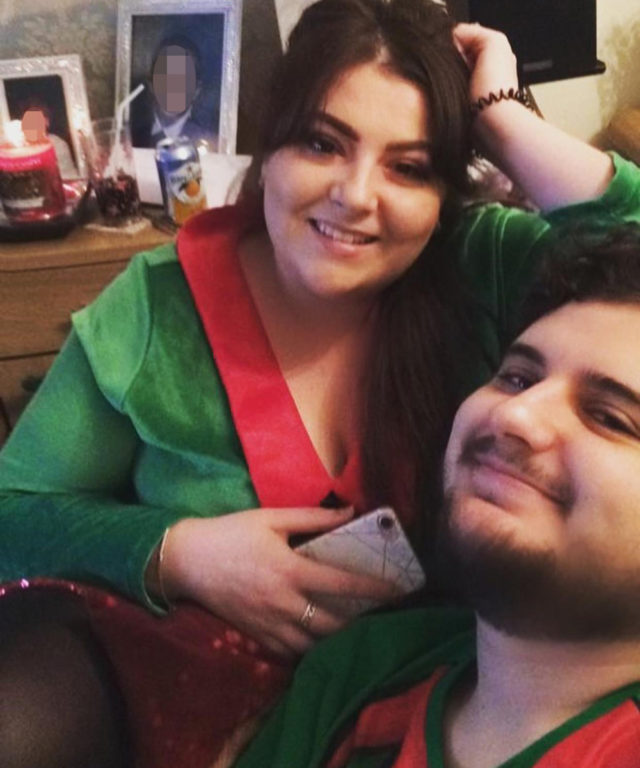 Aimee and her boyfriend Kieran (PA Real Life/Collect)
She says primarily because people do not understand that the symptoms, which are invisible, are also intermittent.
"I've had a lot of negativity since I was diagnosed. I've even had people say, 'You don't look like you have MS,'" said Aimee. "I think that's because people expect you to be in a wheelchair when you say you have MS. I like to present myself well, take care of my hair and nails and wear make-up like any other young woman. It makes me feel better. But my point is, you wouldn't tell someone who'd just been diagnosed that they didn't look like they had cancer, would you?"
Even some of her friends can struggle to completely understand her symptoms, according to Aimee.
"At times, some people haven't been able to handle me saying I was too tired to go out," she said. "They've said, 'Well you look okay in your pictures on social media.' They haven't understood that when I've said I was tired, I've actually been exhausted."
But, luckily, that has never been the case with Kieran.
Aimee (PA Real Life/Collect)
"Since I told him what was wrong, he has been amazing."Aimee said. "He's done his own research to learn more about MS and I know, because he has stuck by me, he is a good egg."
Aimee was concerned about how MS might affect other aspects of her life. Like having a family. But, doctors have reassured Aimee that she will, when she is ready, be able to have children.
"That was a really big worry, because I've always wanted a family," she said. "But the doctors have said that I should be okay."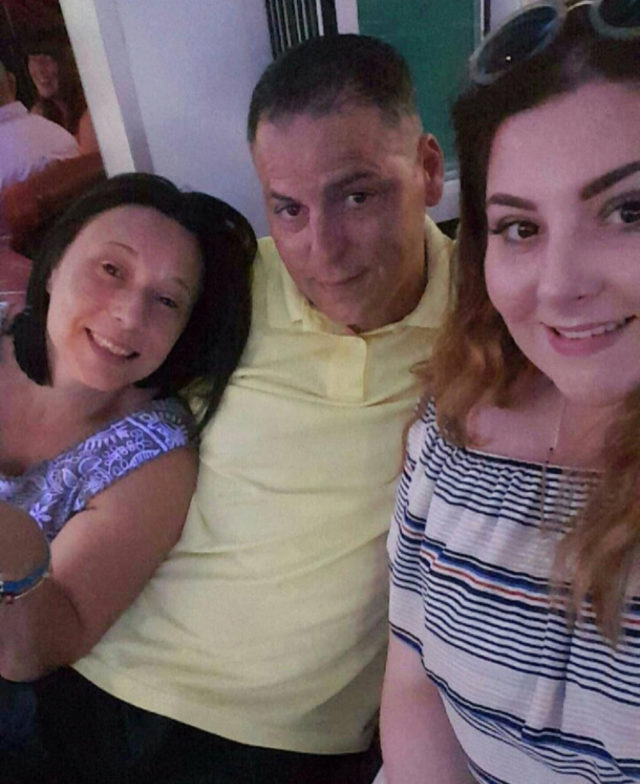 Aimee and her parents Sharon and John (PA Real Life/Collect)
And Aimee is determined, while she has accepted her diagnosis, not to let it define her and to continue to enjoy her relationship, her job, her family and her life – just like anyone else.
"I am me. I have MS, but MS is not me."
For further information about MS see www.mssociety.org.uk or follow her blog at theonlywayisupblog.home.blog