One catastrophic action turned a cosy Friday night at home into a life-or-death drama for a Suffolk mum, who watched in horror as her toddler son flipped backwards off the sofa without warning, landing with a thud as his head crashed down on the hard floor.
---
Office manager Lee Alexander, 35, was sat writing a text, inviting someone over for a Friday night takeaway, when Henry, now two, clambered up beside her, before suddenly flying through the air and howling in pain as he landed.
Passing out as the distraught mother scooped him up from the floor, Henry then went limp and started having seizures in her arms.
It was September 28 2018, and life was turned upside down for Lee, of Hollesley, near Ipswich, Suffolk, her partner, Roy Delaney, 37, a builder, and their children, Henry and Olivia, nine.
She recalled:
"I rushed out into the street with Henry in my arms shouting for help."
"We live in a new build close and I knew there were two nurses living close by and that the other mums would also be home from the school run."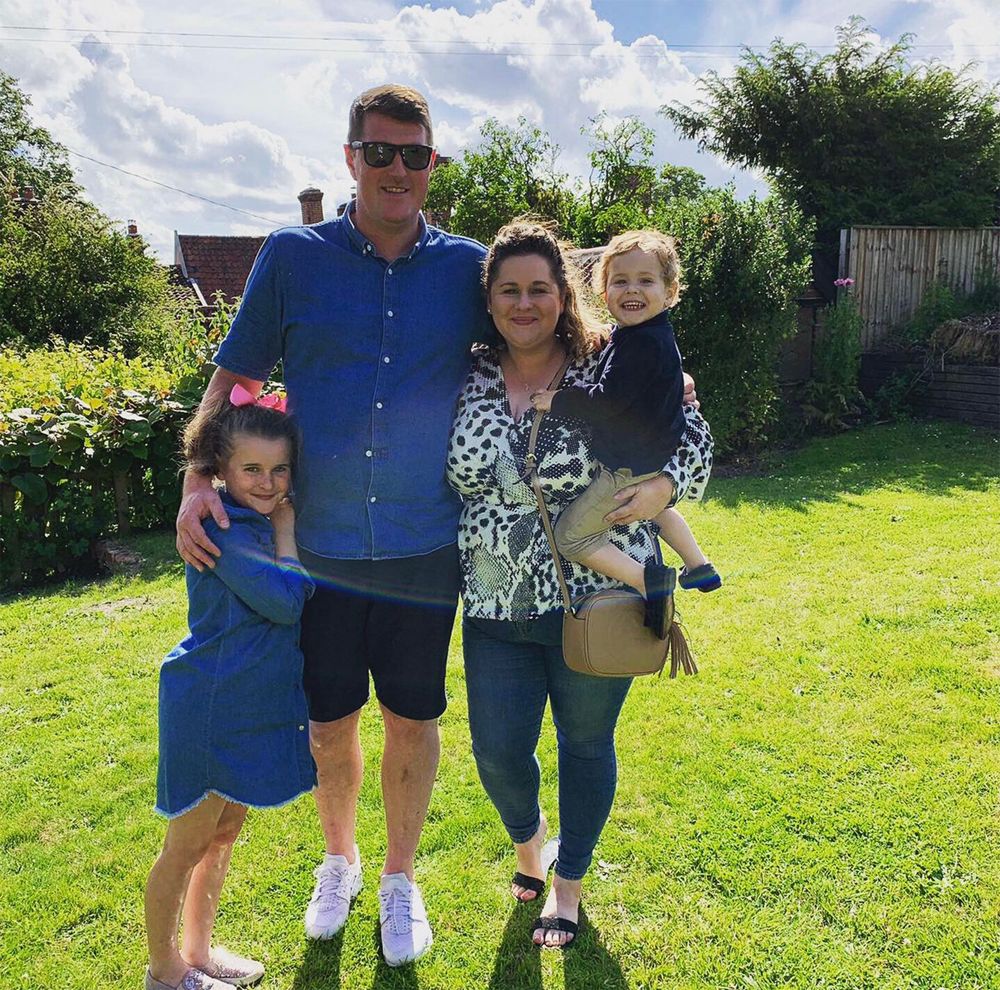 (L-R) Olivia, Roy, Lee and Henry (PA Real Life/Collect)
One neighbor took Henry from Lee's arms, lying him on the floor in her home. Another dialed 999 for an ambulance, as the tot continued having seizures.
And when the kindly locals noticed his seizures becoming worse if Lee was in the room, they sent her out to wait for the ambulance.
"I was outside thinking Henry was dead or dying. I told my dad, 'Henry's not breathing.' He told me, 'Calm down Lee-Lee, just breathe.'"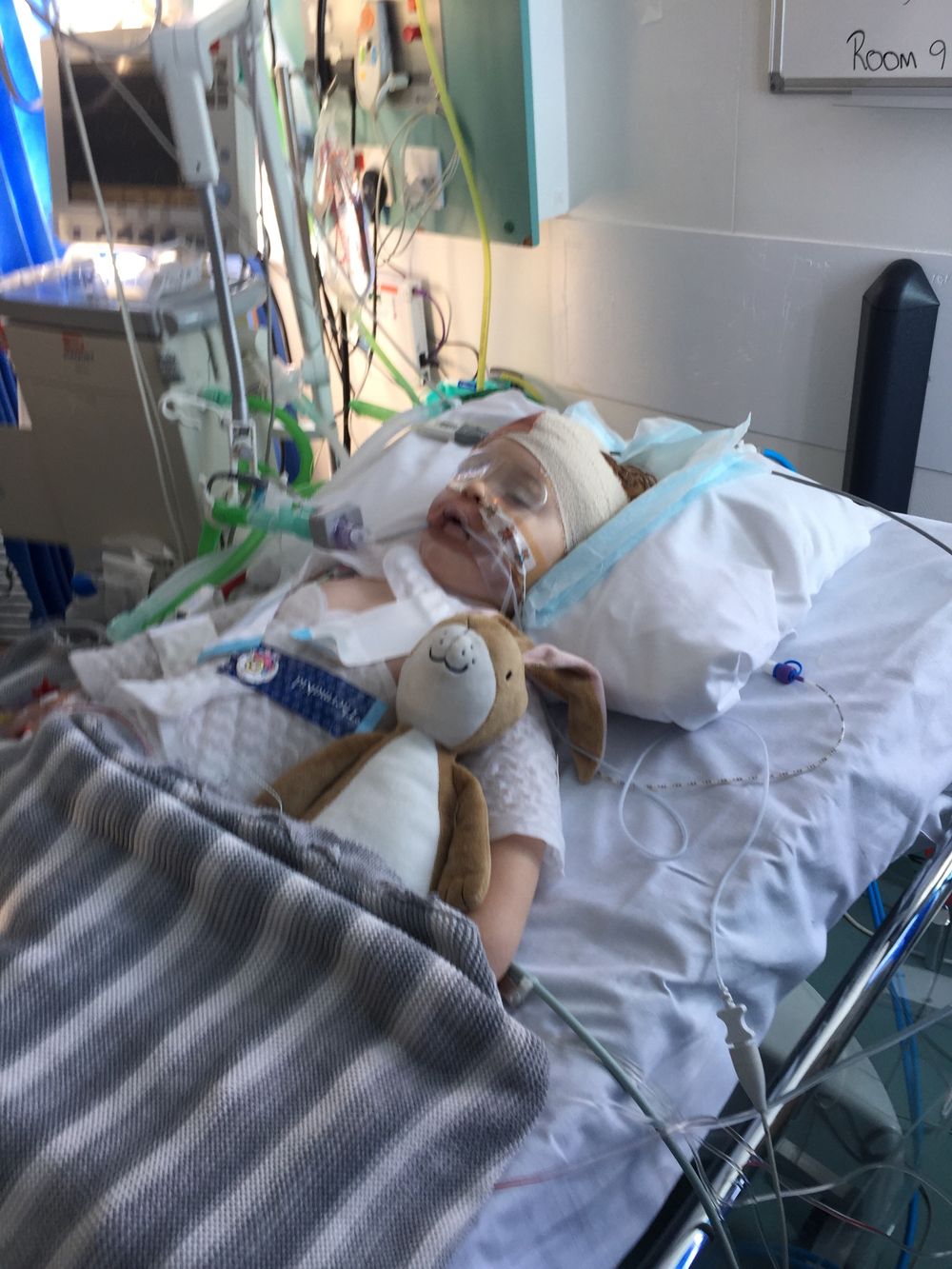 Henry after his four hour surgery (PA Real Life/Collect)
When the paramedics arrived, they spent half an hour trying, but failing, to stabilize Henry, before calling the Air Ambulance to take him and Lee to Addenbrookes Hospital in Cambridge – home to the region's top trauma center.
"I knew, from having worked as a carer, that timing is everything when it comes to brain injuries."
"I also knew that the fact there was no swelling where Henry had hit his head was not a good sign because a bruise should come out immediately, and if it doesn't that means it has gone inside and is putting pressure on your brain."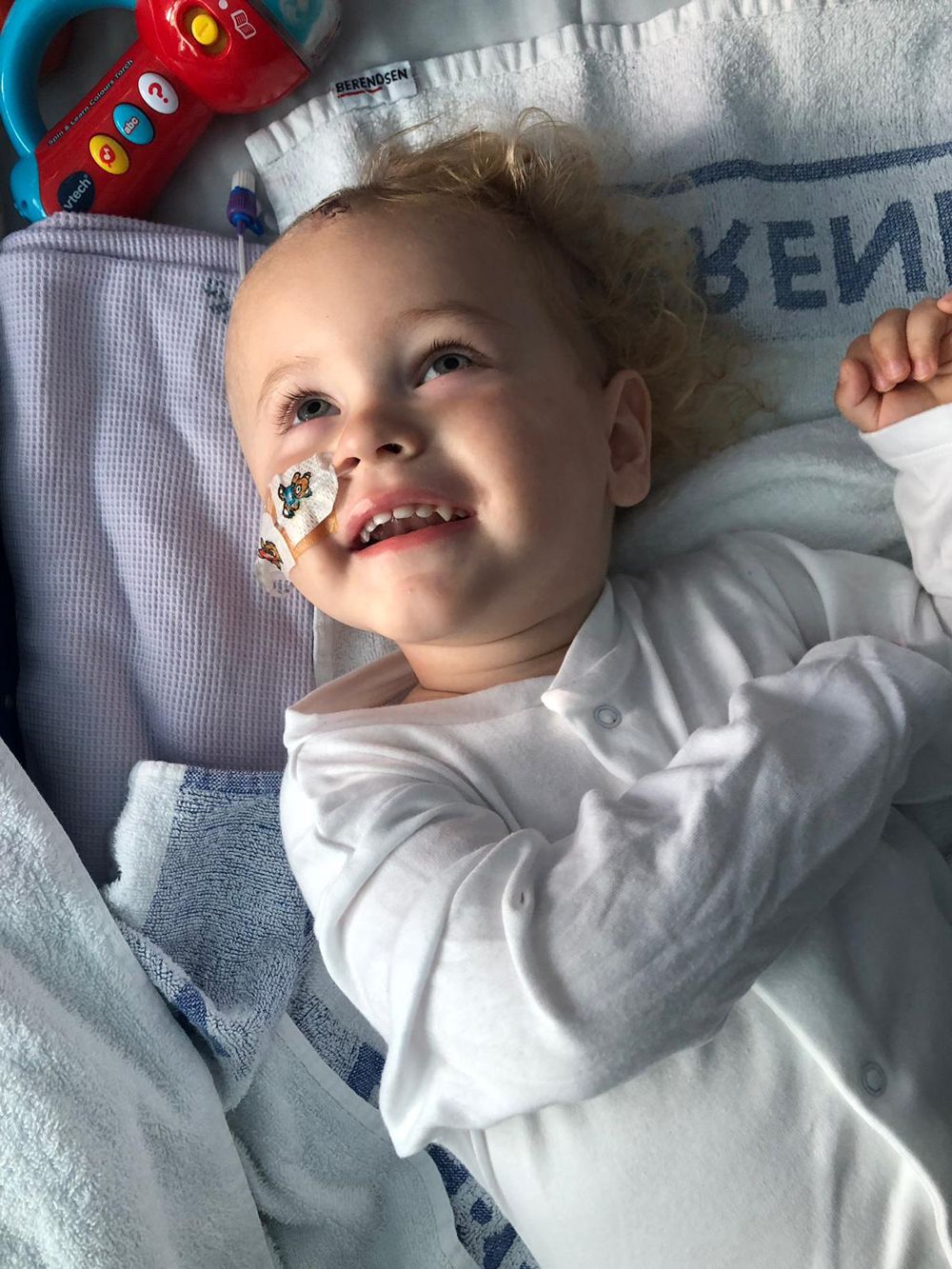 Henry in hospital (PA Real Life/Collect)
It soon transpired that Henry had suffered a severe brain bleed when he hit his head on the floor.
Rushed straight into surgery when they arrived in Cambridge, doctors battled to save his life during a four hour operation, as Lee's friends and families eagerly awaited news.
By the time the surgeon came to speak to Henry's parents, there was a crowd of 28 people in the family room.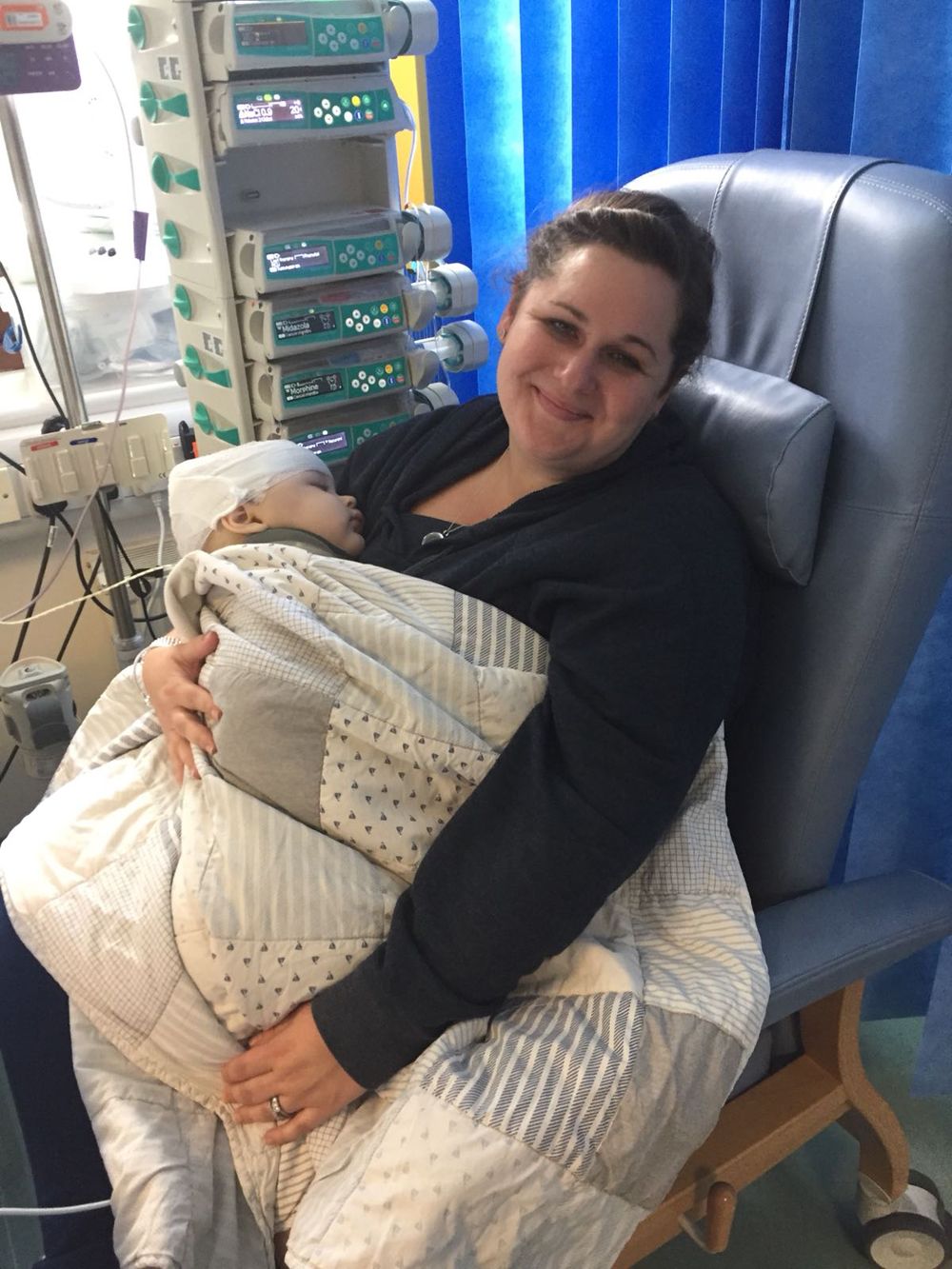 Lee with Henry in hospital (PA Real Life/Collect)
"The doctor who had operated came and said, 'Can we talk'?"
Lee recalled:
"I told her she could say whatever she had to say in front of our families and friends, but she insisted on speaking to us privately."
"So, we went to her office where she said, 'Please sit down,' at which point I just shouted at her and said, 'Is my son still alive?'"
In floods of unstoppable tears when the doctor confirmed that Henry was still alive, Lee also remembered her telling them things did not look good.
"The doctor explained Henry would need to be put into a coma to give his brain a rest and all I could think was, 'How was this happening to us?'"
It was midnight by the time the couple laid eyes on Henry again.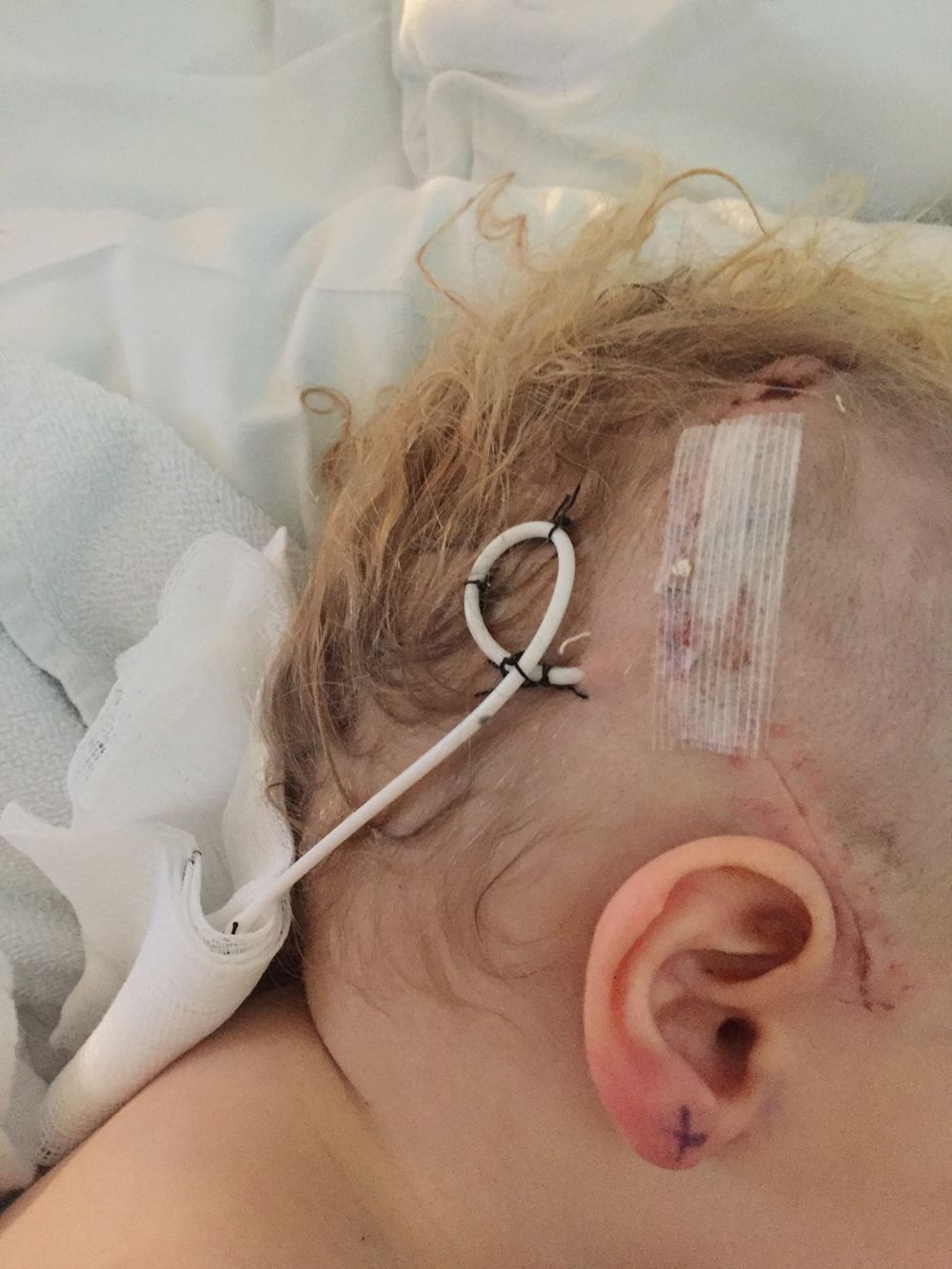 The scar from Henry's surgery (PA Real Life/Collect)
"He was in a little cot and hooked up to four different machines, including a life support machine."
Added Lee:
"His head was wrapped in bandages and he had these massive pads on his eyes. We were just heartbroken seeing him like that."
To their relief, rather than being forced to leave him and make the 90 minute journey home, Lee and Roy were taken to Acorn House, an accommodation centre run by the Sick Children's Trust, which gives the parents of children in hospital somewhere close by to stay for the night.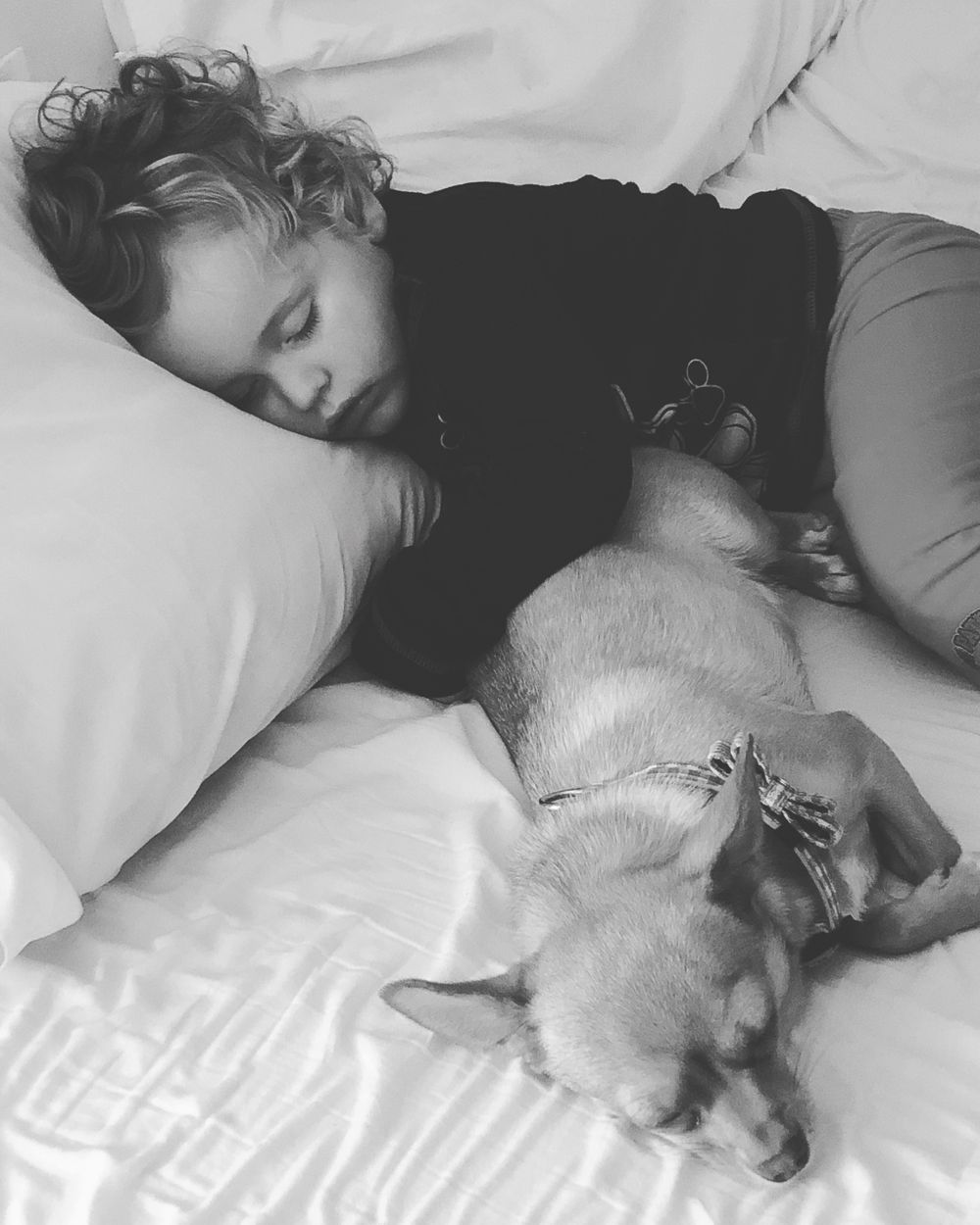 Henry and his dog Daisy (PA Real Life/Collect)
"I would have stayed in a chair by Henry's bedside, but it was nice to be given somewhere so comfortable to spend the night."
"It did feel strange that first night, but over the next few months, Acorn House became our family's safe haven."
In all, they stayed at the house for two months, as when Henry was woken from his coma, according to his mum, he was "just a big baby again."
Unable to see or speak, he could not walk or feed himself and his whole body was shaking, as the doctors stopped the medicine he had been on.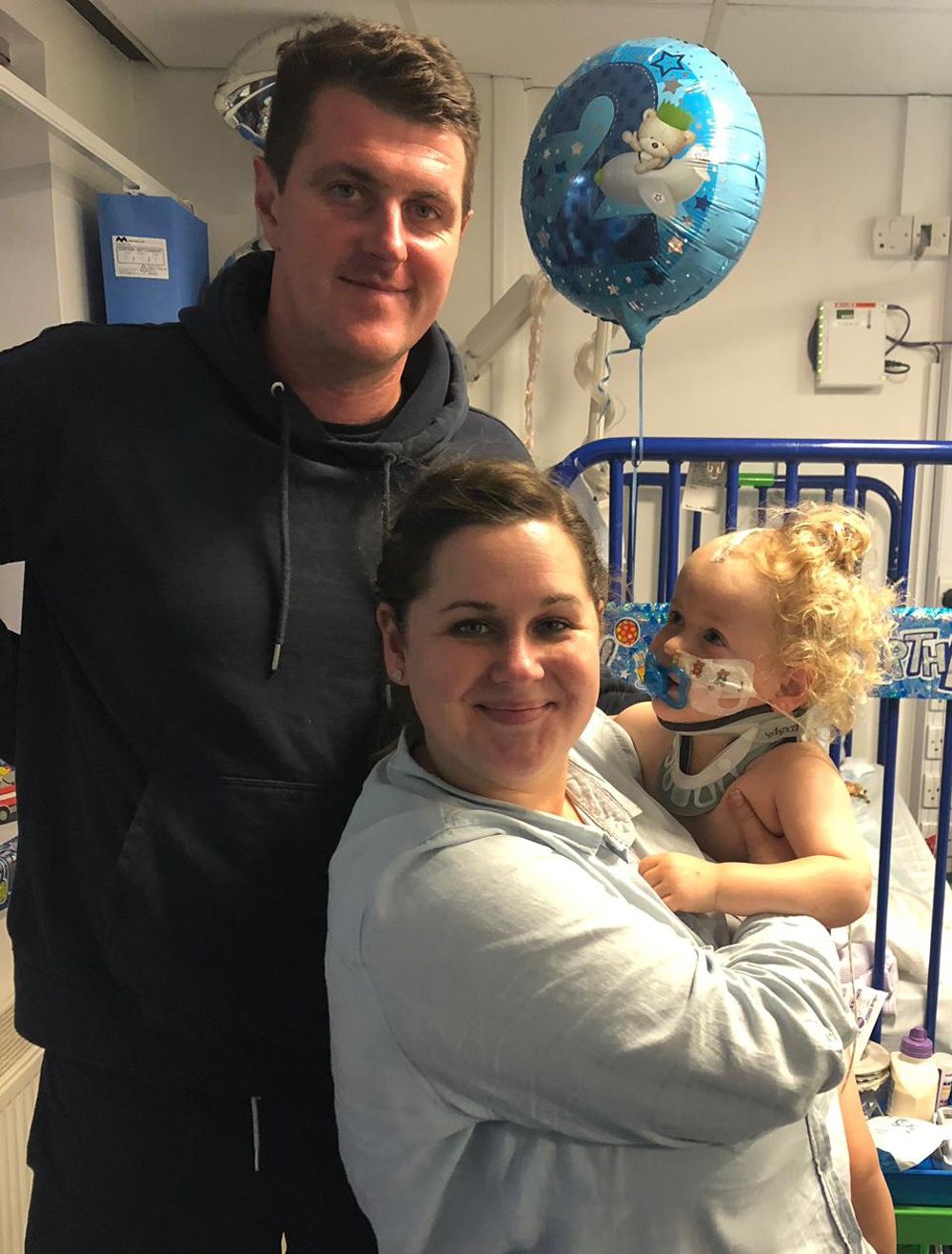 Henry with his parents, Roy and Lee (PA Real Life/Collect)
Slowly, under medical supervision, the family set about teaching him everything he had once known how to do all over again.
"When Henry was in a coma, the machine monitoring his brain activity showed it was more active if we were around him."
"That was bittersweet because it meant we knew he was in there and he was not brain dead."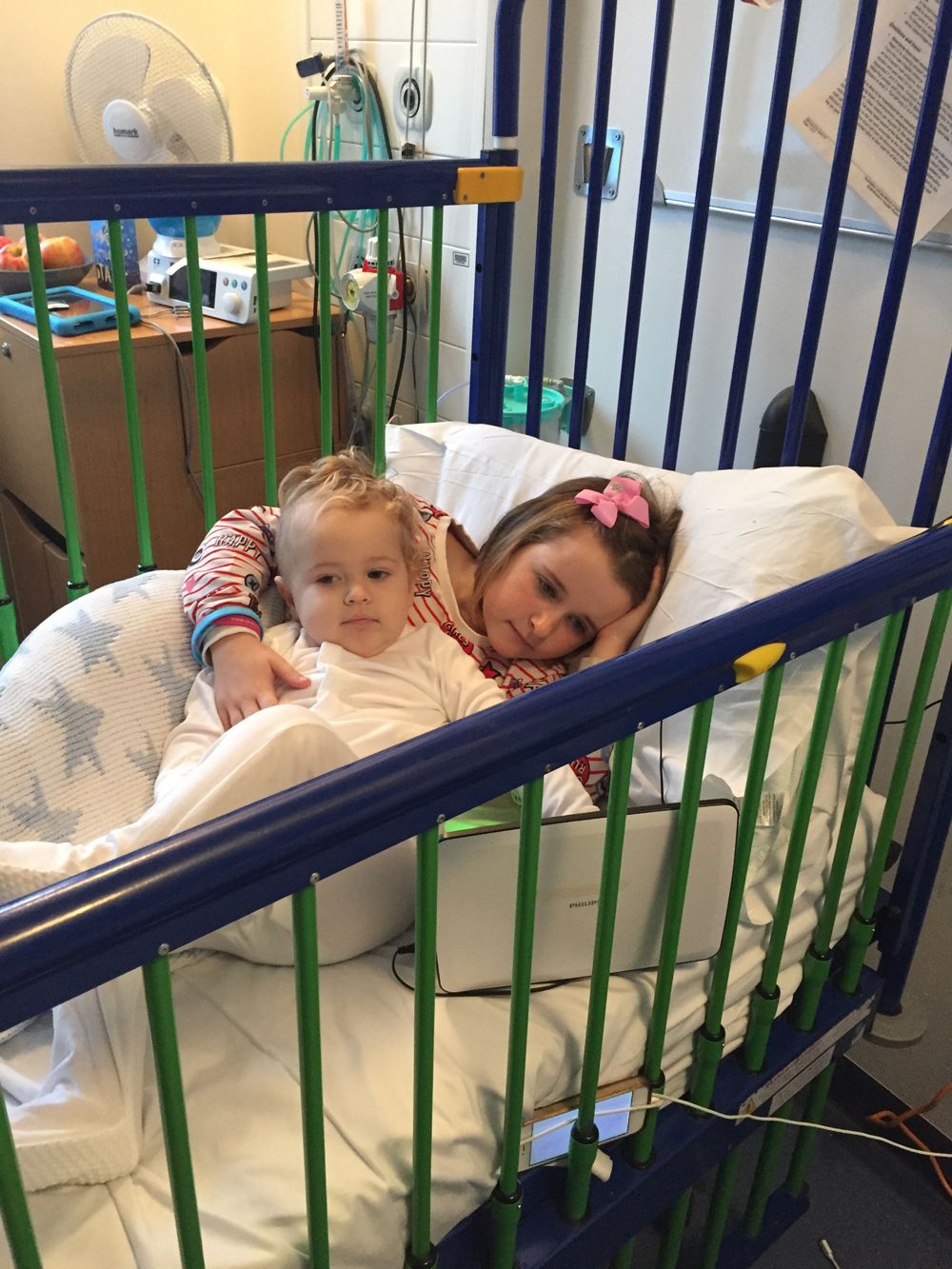 Henry and his sister Olivia in hospital (PA Real Life/Collect)
Lee was adamant there would be no crying or upset in Henry's hospital room. Instead, she encouraged everyone to speak in a low and calm voice and to sing to him and be happy around him.
"Children get their strength from their parents, so I had to be strong for Henry."
Fortunately, the family's efforts paid off and, this Saturday, September 28th – exactly a year since Henry's accident – many of the people who helped to save his life will be gathering at a special black tie charity ball, organized by his family and friends, in aid of The Sick Children's Trust, Essex and Herts Air Ambulance and the Pediatric Intensive Care Unit at Addenbrooke's Hospital.
99% of families we've supported felt having the opportunity to stay in a private room helped them cope with the str… https://t.co/MYnfRc4JmN

— The Sick Children's Trust (@The Sick Children's Trust) 1559919731.0
And the star of the show at Manor Farm Barn in Henley, Ipswich, will be Henry himself, who has already picked out his outfit.
"To look at him now you would never think anything had been wrong."
"He's looks like any other two-year-old. He can do everything he could do before."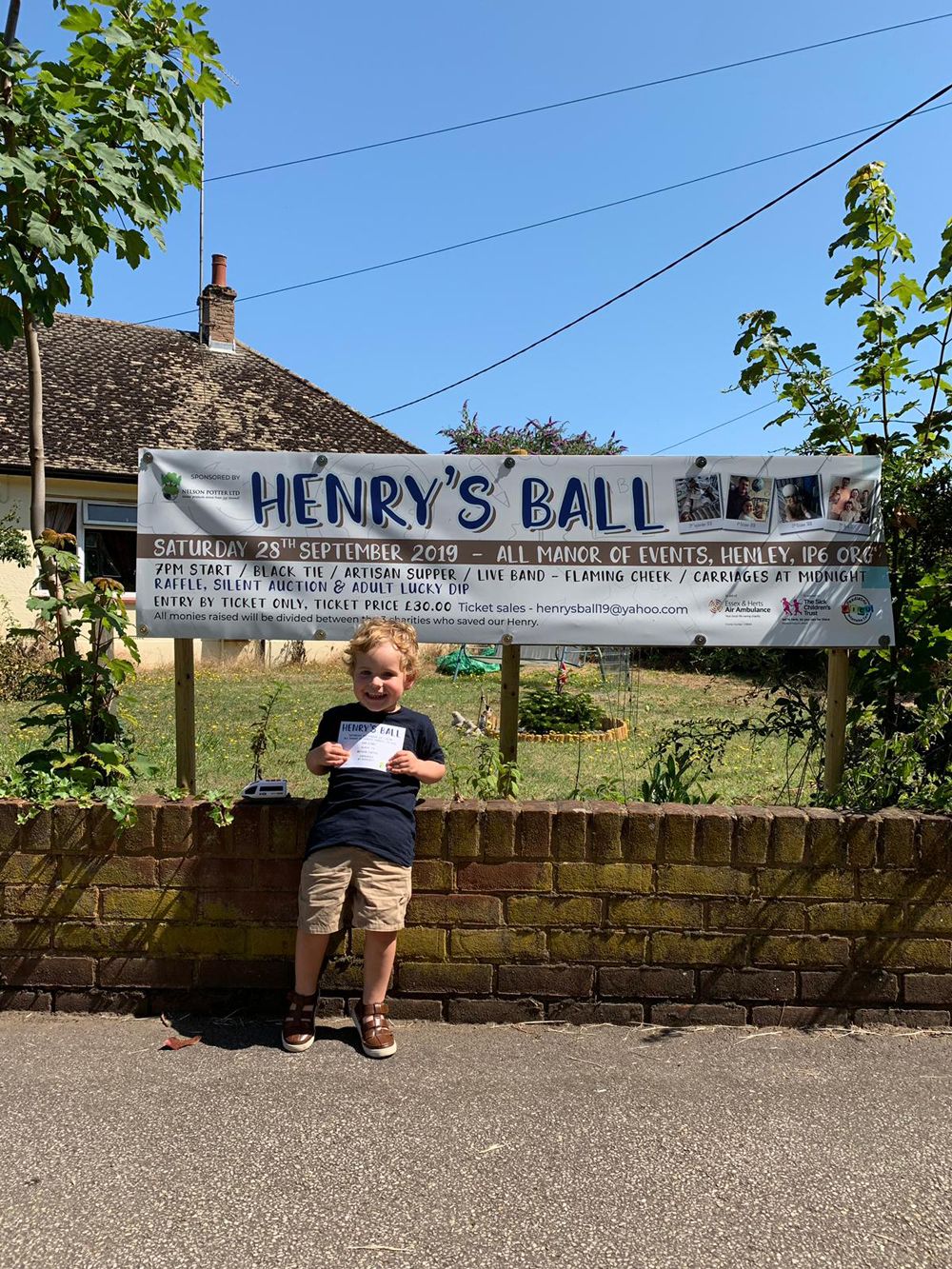 Henry's loved ones have organised a charity ball to raise money for those that helped them (PA Real Life/Collect)
Lee added:
"He used to have a neurological tremor, which cause shaking throughout his body, and the specialists have said it is possible he may have some issues like ADHD or autism as he gets older because of the injury sustained and part of the brain that was damaged."
"But the team that looked after him have promised they will stay in place until he starts school."
For Lee, the biggest challenge now is not being over anxious when it comes to parenting her children.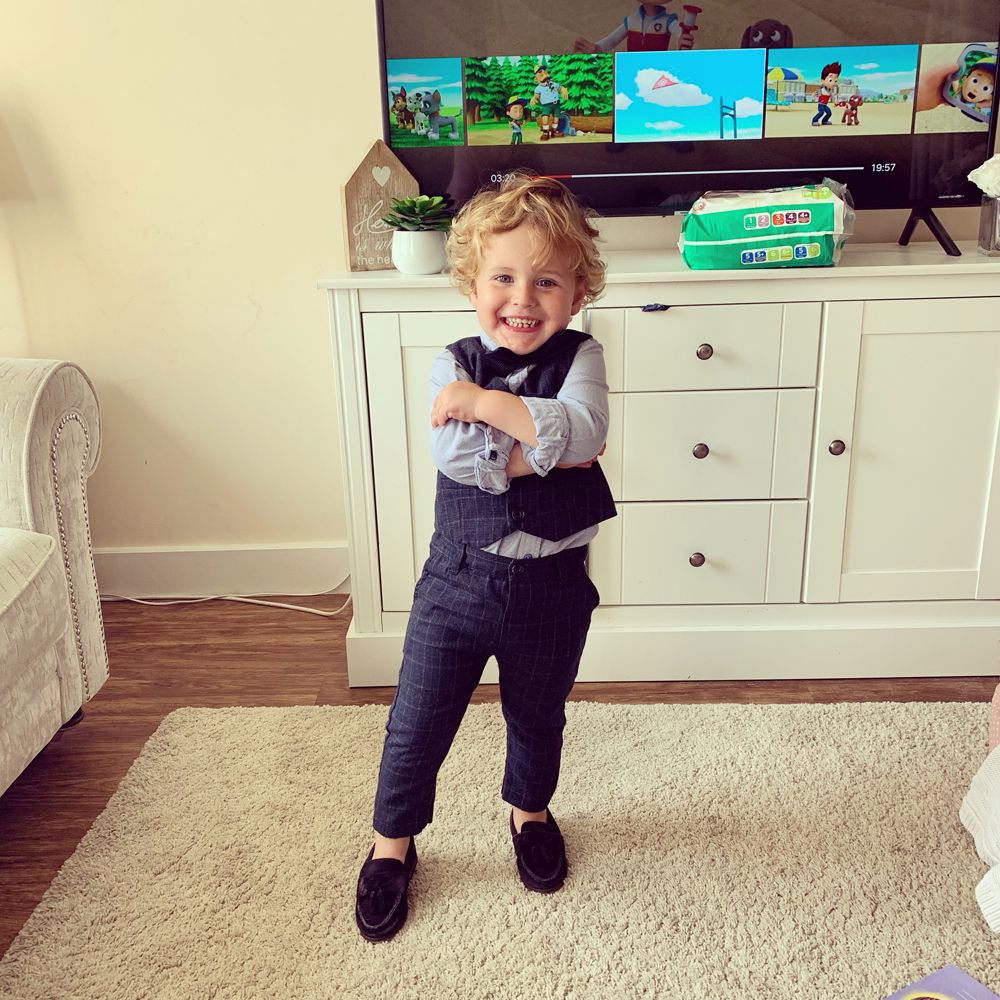 Henry showing off his outfit for the charity ball (PA Real Life/Collect)
"It is hard, but I can't wrap Henry in cotton wool or stop him from being a child again."
"He runs about like any other two-year-old, but if we are somewhere with other children, I do say, 'Henry had a nasty bump to his head so please be careful with him,' and they always are."
"I always had faith that Henry would recover, but I know we were the lucky ones. There were children dying in that hospital and they never got to leave and go home."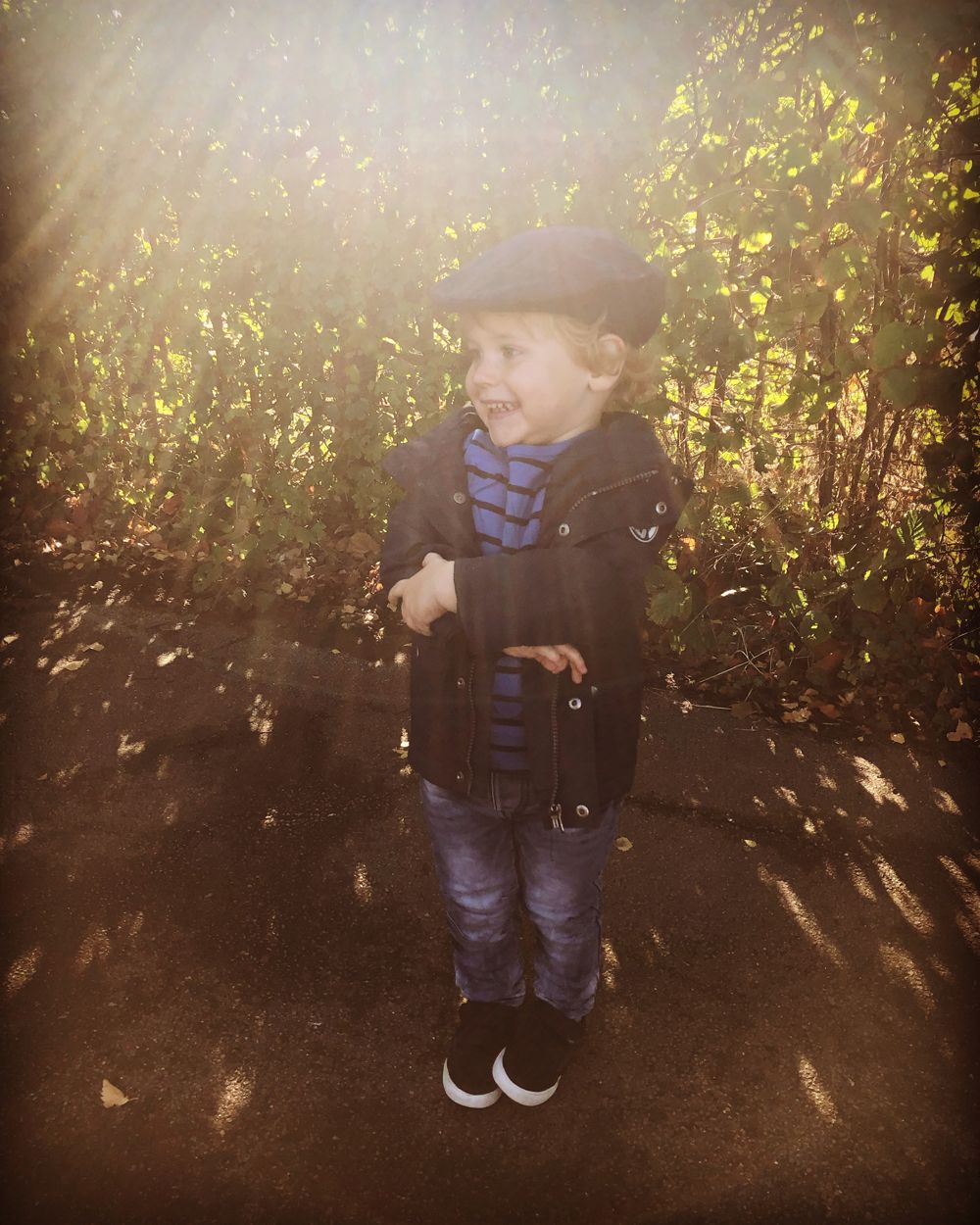 Henry's first day of nursery in September 2019 – a year on from his accident (PA Real Life/Collect)
She concluded:
"Now we want to try and raise some funds to show our gratitude for the incredible help we had."
More information about Henry's Ball can be found at www.facebook.com/henrysball2019
The Sick Children's Trust provides comfortable 'home from home' accommodation for families with a child in hospital. You can learn more about the charity's work here