Many bizarre headlines in the last three years have blurred the line between reality and fiction.
As the year draws to a close, it appears 2019 is not quite finished in leaving us dumbfounded with yet another head-scratcher.
---
Those wanting an endless supply of virbranium without imposed tariffs can rejoice, as the U.S. Department of Agriculture's tariff tracker listed Wakanda as a free trade partner.
Cue the record scratch.

Wakanda, of course, is the fictional African homeland of the Black Panther – the character from the 2018 Marvel movie and comic book of the same name.
Also, vibranium is the made-up metallic resource indigenous to the country known to absorb and release a huge burst of kinetic energy.
But all good things came to an end as the USDA cited a testing glitch and removed the wondrous African nation from the list on Wednesday.
Wakanda's inclusion as a free trade partner was first spotted sometime after June 10.
USDA tariff tracker removes Wakanda, fictional home of Black Panther, as free trade partner. https://t.co/RvdOVONgyp

— NBC News (@NBC News) 1576698906.0
USDA spokesperson Mike Illenberg admitted to NBC reporter Phil McCausland that the agriculture department had been conducting tests on the tracking system and forgot to remove the placeholder country.

"Over the past few weeks, the Foreign Agricultural Service staff who maintain the Tariff Tracker have been using test files to ensure that the system is running properly."
Dreams were quashed as superhero hopefuls wanting to construct homemade costumes incorporating the powerful (and very much fake) metal were snapped back into reality.
Illenberg added:

"The Wakanda information should have been removed after testing and has now been taken down."
Francis Tseng, a New York-based software engineer, first noticed the fictional listing as he was looking up agricultural tariffs while applying for a fellowship.
Wakanda is listed as a US free trade partner on the USDA website?? https://t.co/xcq1OFTIPh

— Francis Tseng (@Francis Tseng) 1576681653.0
Here is a screenshot for a clearer view, with Wakanda being highlighted in black in the lower-left corner.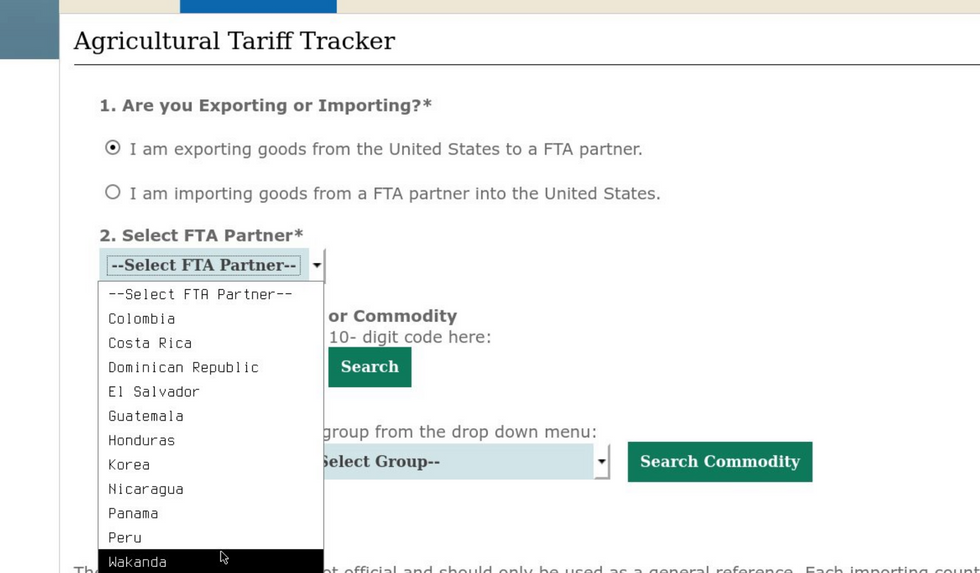 @frnsys/Twitter
Tseng followed up the tweet with another screenshot of a list detailing all the goods we apparently traded with our "partner nation," including buffalo, swine, goats, and sheep.

??? https://t.co/YwRf7aQj3h

— Francis Tseng (@Francis Tseng) 1576681737.0
The goods were specific, like "live asses," "cows imported for dairy purposes" and "chickens weighing not over 185 g each."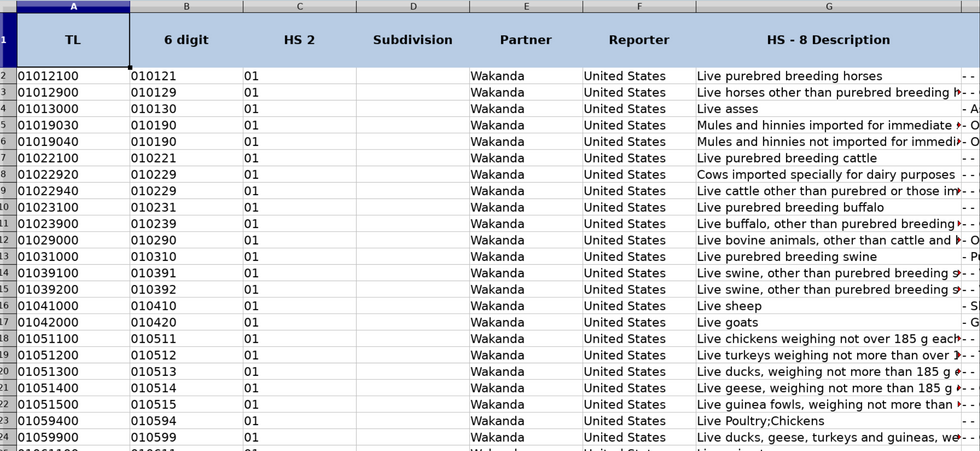 @frnsys/Twitter
His immediate reaction to seeing Wakanda on the list was confusion, and it made him question its existence.
He told Reuters:
"[I] thought I misremembered the country from the movie and got it confused with something else."
The USDA's gaffe was a prime opportunity for roasting with plenty of vibranium references.
"So do we, or do we not have free trade with Wakanda? Also where are things at on negotiations with Agrabah?" Some… https://t.co/JbqyHu9Gne

— BBC News Africa (@BBC News Africa) 1576749849.0
Guys, buy shares in Vibranium NOW https://t.co/6lOiwTKlQm

— Andrew Hunter Murray (@Andrew Hunter Murray) 1576748021.0
What a time it is to be alive, the US, showing the UK how to forge new trade relationships post-Brexit.… https://t.co/wAwqZYaor0

— Reece Pugh (@Reece Pugh) 1576749862.0
@BBCWorld wakanda mistake was that? 😆

— udochukwu ede (@udochukwu ede) 1576748125.0
A story tragically overlooked due to the impeachment drama. Where now will our country turn for vibranium? https://t.co/gfkOJIOnzz

— Marcus Harrison Green (@Marcus Harrison Green) 1576736594.0
Wakandan wine, cheese and vibranium knee replacements just got a lot more expensive. https://t.co/6KvslaSFeO

— Colin McEnroe (@Colin McEnroe) 1576724432.0
President Trump's trade war got more—or less—surreal this week. https://t.co/YJl8rzC6hJ

— Slate (@Slate) 1576752540.0
The USDA got in on the mockery by expressing solidarity with Wakanda.
While we removed the Kingdom of Wakanda from our list of US free trade partners, our relationship will always be st… https://t.co/18I5TAhmsW

— Dept. of Agriculture (@Dept. of Agriculture) 1576766789.0
Not everyone was amused by the levity, but most were generally on board with the department's acknowledgement of the snafu.
@USDA @GoddessofGrain The federal agency allegedly in charge of things like forecasting our nation's crop yields an… https://t.co/kTWyamdLGe

— Jeff Caldwell (@Jeff Caldwell) 1576768367.0
@USDA @scottlincicome this is outrageous. A trade war with Wakanda!

— David Betz (@David Betz) 1576796778.0
@USDA This may be the best mea culpa ever on Twitter. 🤣🤣🤣

— Denise Andre (@Denise Andre) 1576779360.0
@USDA Lotta salty people here. At least they owned up to the mistake and did it in good humor ✌️ forever proud to h… https://t.co/euCVOZZaxH

— Brittany Serrano (@Brittany Serrano) 1576788562.0
The fictional country of Wakanda is a location created by Marvel Comics and first appeared in issue #52 of the Fantastic Four in July 1966.

It made its resurgence with films tied to the Marvel Cinematic Universe, including Captain America: Civil War (2016), Black Panther (2018), Avengers: Infinity War (2018) and Avengers: Endgame (2019).
Although our world's briefly collided in this realm, we will never forget our imagined relationship with Wakanda.
Wakanda forever!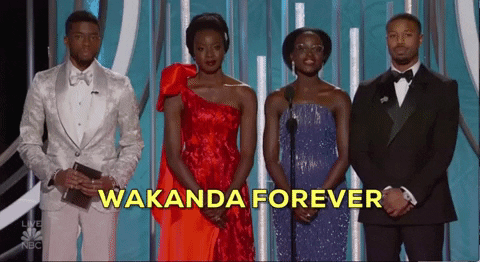 Giphy