The Universe has a new Miss and Ty Ty approves.
---
Miss Philippines, Catriona Gray, was crowned Miss Universe 2018 on Sunday night, and some are speculating that her signature runway walk may have sealed the deal.
Even America's Next Top Model creator and supermodel Tyra Banks agreed.
WATCH: #MissUniverse Philippines Catriona Gray slays in a pink swimsuit. VIDEO CREDIT: Under License from Miss Uni… https://t.co/40Uy9IOdYB

— ABS-CBN News (@ABS-CBN News)1545011828.0
The #MissUniverse swimsuit competition is next. Do you think Philippines' Catriona Gray will do her now-famous slow… https://t.co/vXzY5uUf7e

— CNN Philippines (@CNN Philippines)1545011382.0
Catriona Gray did her iconic slow-mo show-stopping twirl during the swimsuit portion of the #MissUniverse pageant. @gmanews

— Jannie (@Jannie)1545011810.0
The final moment arrived.
Miss Universe 2018 is... PHILIPPINES! https://t.co/r2BkN8JpXh

— Miss Universe (@Miss Universe)1545015785.0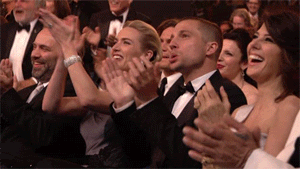 media.giphy.com
OMGGGGGG!! #MissUniverse Congratulations PH!!

— baninay ♡ (@baninay ♡)1545015808.0
HAIL TO THE NEW QUEEN. Demi-Leigh Nel-Peters places the crown on #MissUniverse Catriona Gray from the Philippines.… https://t.co/k5R70UboIX

— ABS-CBN News (@ABS-CBN News)1545016393.0
Ms. Philippines truly deserved that crown, darling of the crown, stage presence, her wits and ofc her beauty...ever… https://t.co/mvNV514Rnb

— 구름요정운🎆 (@구름요정운🎆)1545015765.0
DAMN!!! CONGRATS PHILIPPINES! ❤️🇵🇭 #MissUniverse

— Kimpoy Feliciano (@Kimpoy Feliciano)1545015536.0
CONGRATS @catrionaelisa!!! We all knew it from the start, even before MU started that you have the heart and to be… https://t.co/NmnfOqnJzh

— 🌞 (@🌞)1545016171.0
Folks just could not get over that walk.
It was during the swimsuit round that she debuted her much-awaited signature "lava walk," which some pageant fans l… https://t.co/SxbAvnIRXM

— Philstar.com (@Philstar.com)1544749141.0
She squeezed every second of that walk and that spotted spin, @tyrabanks will be proud!! https://t.co/WTafZJj0Hd

— Earle Ceo Abrenica (@Earle Ceo Abrenica)1544818068.0
Yup, still hypnotized by the lava walk! 🌋☄️🔥 #CatrionaForMissUniverse #MissUniverse2018 @catrionaelisa https://t.co/ose76sCGJY

— Tricia Gosingtian-Gabunada (@Tricia Gosingtian-Gabunada)1545006574.0
Banks reached out to Gray on Twitter to show her support and the two shared a special social media moment.

I mean...Pinoy Power to the Max!!! https://t.co/ar22wLvw2k

— Tyra Banks (@Tyra Banks)1544860316.0
OMG 😭😍 @tyrabanks https://t.co/vSL3NZyvHN

— Catriona Gray (@Catriona Gray)1544883723.0
And OMG back at YOU! You did it! And that walk and confidence? I mean...NEXT LEVEL FIERCE!!! TyTy approves. 💛 https://t.co/HJPAUgyZ11

— Tyra Banks (@Tyra Banks)1545037661.0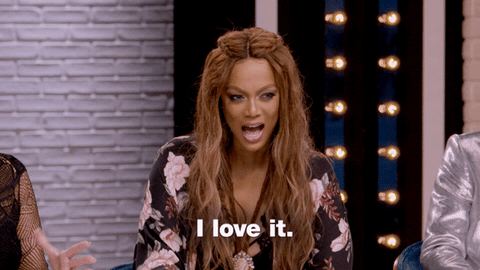 media.giphy.com
If Tyra loves it, we all love it.