During a televised press conference on Wednesday, President Trump stopped partway through his speech about his trip to Asia when he suddenly became thirsty.
---
As he bent down to look for some water, he reemerged saying "They don't have water, that's okay," before being handed a small bottle of Fiji water.
But things took an even more awkward turn when he unscrewed the cap, and with a two-handed grip, took a quick, jerky swig from the bottle.
The moment was widely shared on Twitter:
Of course, many people remember in 2013 when Marco Rubio had to take a sip of water from a tiny bottle of water during his response to a State of the Union address. At the time, Trump sent out multiple tweets criticizing Rubio, including one that said: "Next time Marco Rubio should drink his water from a glass as opposed to a bottle--would have much less negative impact."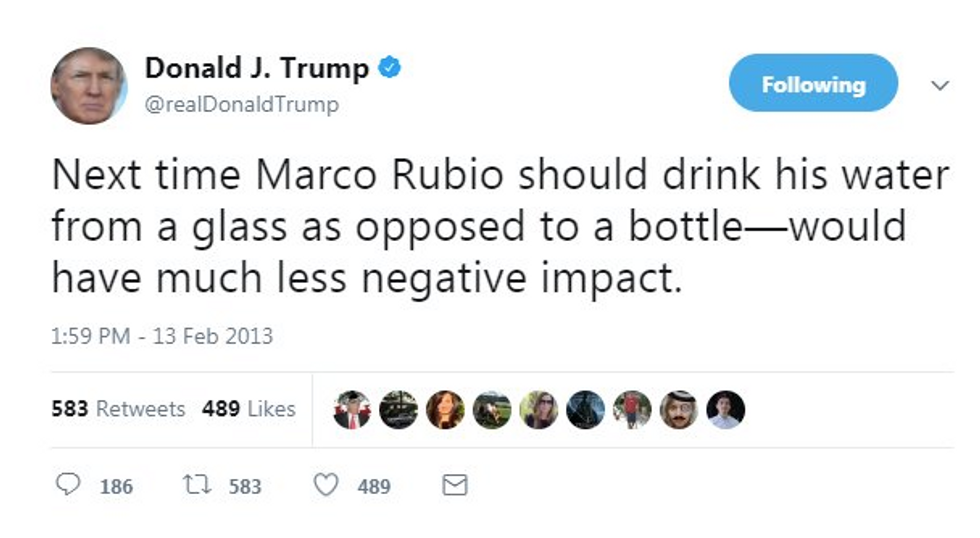 He even made fun of the moment in front of enthusiastic crowds during his campaign:
Needless to say, people remembered. And they roasted Trump for it:
Perhaps the water bottle was just too big to hold with one hand:
The late night shows got into the action as well.
Including Trevor Noah and The Daily Show:
Stephen Colbert also tackled the moment during his opening monologue, saying: "Donald Trump is back in the U. S. of A., and he went on TV to brag about how great his Asia trip was. And it turns out it wasn't just attention he was thirsty for."
After show a clip of the incident, Colbert responded: "Wow. That is hard to watch. You know, after that I need a drink." He then proceeded to mock the moment before stopping himself and saying: "Alright, that's not fair. Okay? Everybody gets dry mouth. I can't stand here on national television and make fun of a politician just for drinking water. That is childish. And Trump already did it way better with Rubio."
So perhaps Trump just got a taste of his own karmic medicine.
And to drive that point home, even Marco Rubio got in on the public shaming: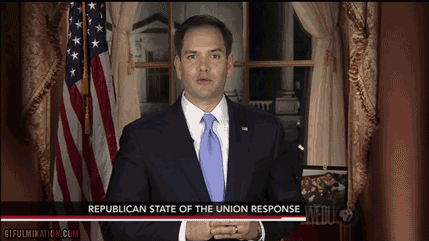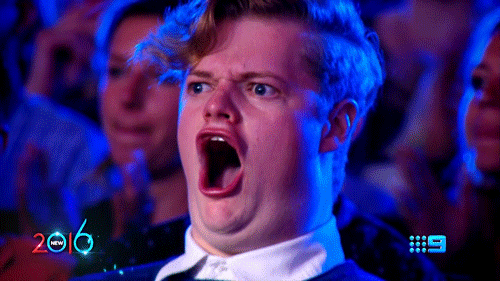 Please SHARE this with your friends and family.
H/T: Huffington Post, Twitter