After Dancing with the Stars host Tom Bergeron was told in July he would not be returning to the show for the upcoming season, he let his fans know via social media.
Now it looks like he's addressing it on social media again, but this time in a bit more visual way.
Back in July, the long time host tweeted about the firing.

"Just informed [Dancing With The Stars] will be continuing without me. It's been an incredible 15 year run and the most unexpected gift of my career. I'm grateful for that and for the lifelong friendships made."
As someone who keeps his tune upbeat Tom asked the obvious question we've been wondering.
"That said, now what am I supposed to do with all of these glitter masks?"
Sashay with them, Tom, sashay!
Sadly for fans Tom wasn't the only one leaving. His cohost Erin Andrews was also fired from the show which cited moving in a new direction as reason for the termination.
Fans have now noticed the level of salt in Tom's new twitter bio which he changed to "Former Co-Host of 'Footwork With the Famous'."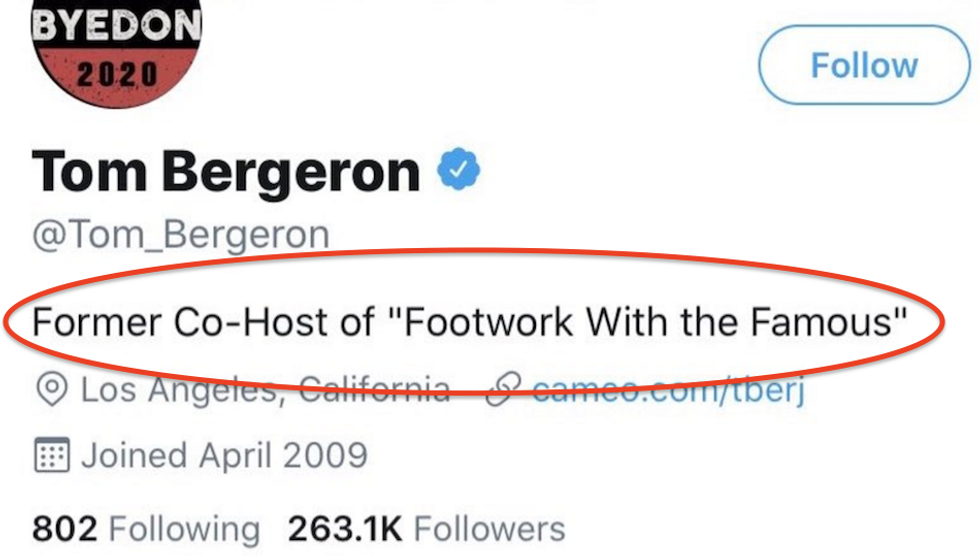 @Tom_Bergeron/Twitter
We can't help but wonder about extra tea to be spilt from such a cheeky bio.
One hopeful twitter user asked if he was dancing around a new idea.
Fans of the host are singing the blues over the dismissal.

Some users think the firing may have saved Tom from the sardine oil treatment...
One thing is for certain, "Footwork with the Famous" won't be the same without Tom Bergeron and his humor.