While some of our living experiences might be great, there are countless stories of bad neighbors on the internet.
From loud noises to intrusive neighbors, we thought we had heard it all.
But Serra Elle, or @serraelle on TikTok, proved there's one type of neighbor we may have not thought of before.
In a video that's gone viral with more than 5 million views, Elle witnessed her neighbor looking around for witnesses before throwing his cat's dirty litter into Elle's yard like allegedly "hundreds and hundreds" of times before.
You can watch Elle catch the neighbor in the act here:
TikTokers were grossed out by the neighbor's behavior and hoped Elle confronted him.

@serraelle/TikTok

@serraelle/TikTok

@serraelle/TikTok

@serraelle/TikTok

@serraelle/TikTok

@serraelle/TikTok
Elle repliedshe was incredibly introverted and hated confrontations.
But her husband was an extrovert and didn't mind speaking out on their behalf.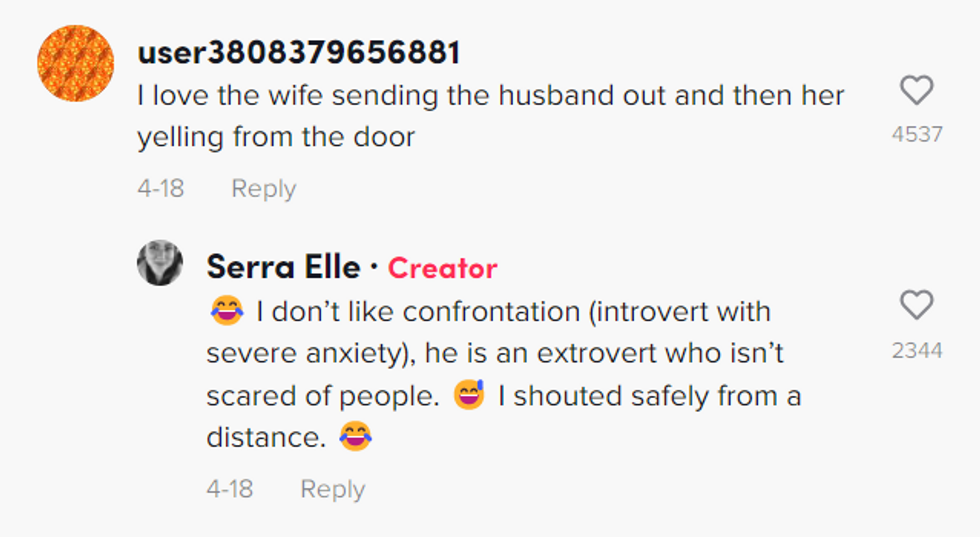 @serraelle/TikTok
In a follow-up video, Elle continued her recording from the same day, showing her husband rush out into the yard to yell at the neighbor who was still up on his balcony after tossing the litter down into their yard.

You can watch the follow-up video here:
In the follow-up video, the other man at first tried to deny what he had done and then tried to say he had done so accidentally, even though Elle had him looking around for witnesses.
When he finally admitted to the act, he remained cagey about how frequently this had happened and even offered to "clean it up for you [them]" as if it was their mess initially.
Viewers of the second video were still not happy and questioned whether Elle would complain further.

@serraelle/TikTok

@serraelle/TikTok

@serraelle/TikTok

@serraelle/TikTok

@serraelle/TikTok

@serraelle/TikTok
Elle responded to some of these inquiries in the comments section of the second video.

According to Elle, she and her husband attempted to discuss the situation with the neighbor, as well as the surrounding neighbors, the landlords of the property and even the police.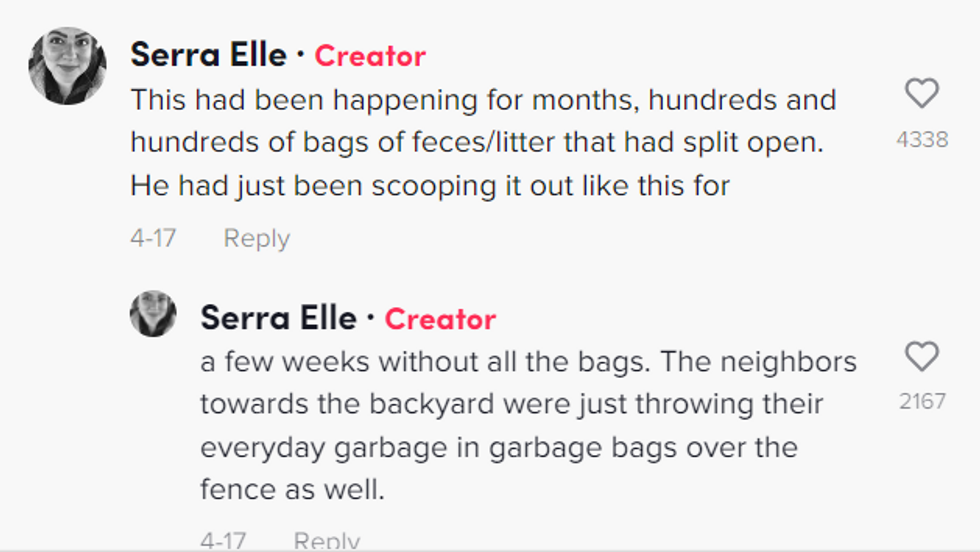 @serraelle/TikTok
Elle stated her surrounding neighbors proved to be "worse than" the littering neighbor and she referred to her landlords as "slumlords," which suggests they were even worse still.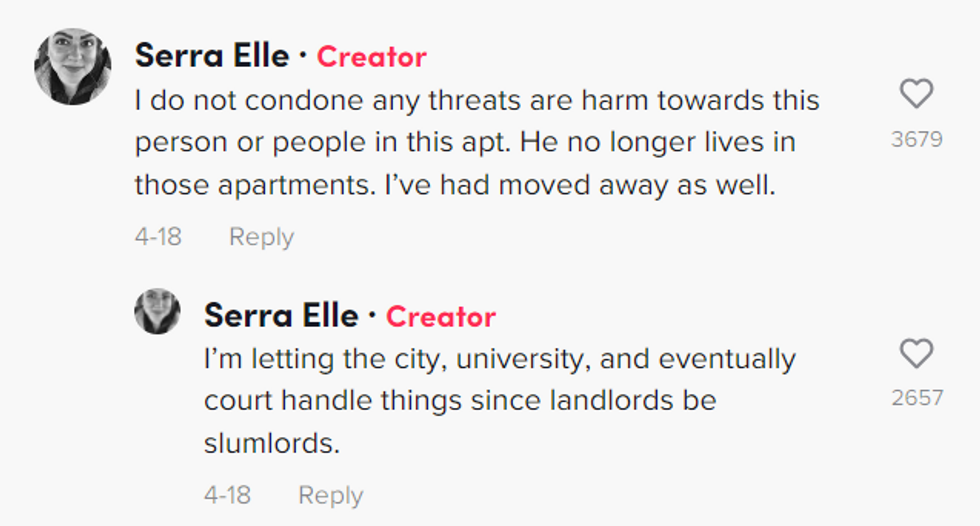 @serraelle/TikTok
The couple attempted to involve the police.
Elle explained they did so because of the hazardous waste dumped into their yard, potential harm done to their property and the increased illness of Elle, her husband and their dogs who repeatedly attempted to eat the litter and cat deposits.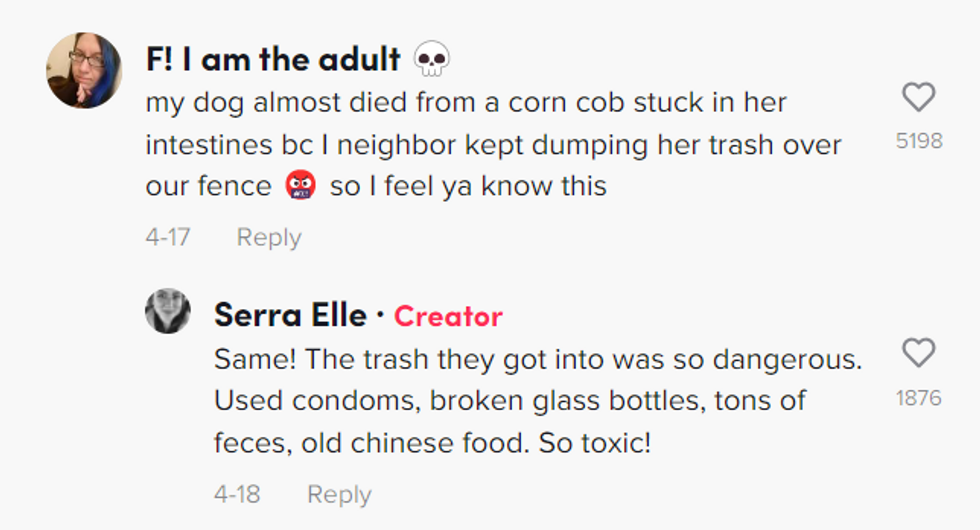 @serraelle/TikTok

@serraelle/TikTok
According to Elle, nothing was accomplished by anyone the couple reached out to.
Eventually, the neighbor moved out after the couple threatened to press charges against him for continuing his behavior, even after the videos were created.

@serraelle/TikTok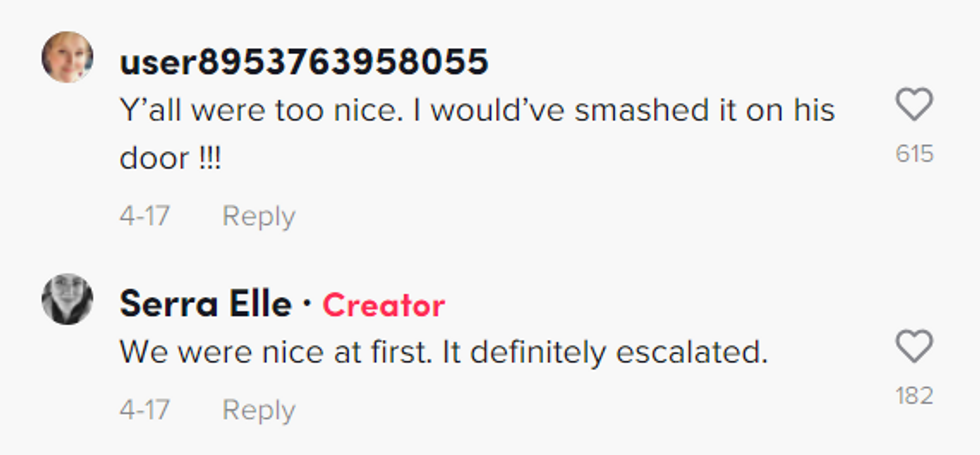 @serraelle/TikTok
The couple moved to a new location, as well, as the living situation continued to worsen with the surrounding neighbors and landlords.
It's unclear if that escalation was connected with this altercation or not.