*The following article contains mentions of suicide/self-harm.
Growing a self-made business, whether it be as an entrepreneur or as an independently published writer, has become increasingly popular in recent years. This was especially true during the pandemic when many utilized the extra time at home to write their first book or create a course.
But in September 2020, independent romance author Susan Meachen took her writing career in a much darker direction when she appeared to have died from suicide. Her daughter logged into her Facebook account to make the announcement and stated Meachen was bullied by the online writing community and could not cope.
The family launched a GoFundMe for funeral costs as well as the posthumous publication of Meachen's final book.
The GoFundMe was well-received, Meachen's final book Love to Last a Lifetime was published and sold thousands of copies and her Facebook group full of loving readers—called "The Ward"—remained active.
It was the kind of loving attention and support from a fanbase any author would hope to leave their family with.
But on January 4 of 2023, fellow author Samantha A. Cole shared in a Facebook post the terrible truth she discovered.
Susan Meachen faked her death and was writing under the pen name TN Steele ever since, but she was looking forward to writing under her real name again.
Cole wrote in her post:
"We grieved for the loss of the woman we considered a friend. I personally was harassed by another author who loves to create drama, claiming I was one of the authors who bullied Susan and drove her to suicide."
"I was heartbroken when I realized it'd been a few months since I'd chatted with Susan in PMs and wished I'd reached out sooner and maybe it would've made a difference for her to know there were people who supported her."
"Last night a post was made in Susan's old reader group, 'The Ward,' from Susan's profile."
Cole shared the text of a post made by Meachen in her Facebook group.
"And I quote, 'I debated on how to do this a million times and still not sure if it's right or not. There's going to be tons of questions and a lot of people leaving the group I'd guess. But my family did what they thought was best for me and I can't fault them for it'."
"'I almost died again at my own hand and they had to go through all that hell again. Returning to The Ward doesn't mean much but I am in a good place now and I am hoping to write again. Let the fun begin'."
Cole concluded her post:
"Apparently, she's not dead. TN Steele was a profile she made a month after her alleged suicide."
"Excuse me while I now go get sh*tfaced in memory of coworkers and friends who I know really did commit suicide."
Cole included many screenshots of DMs with Meachen.
You can see the full post here:
In Cole's series of screenshots, several of interest were included, including Meachen's reasons for leaving the book world, as well as her re-entrance as TN Steele.
Here is one screenshot in which Meachen said she "wanted her life back":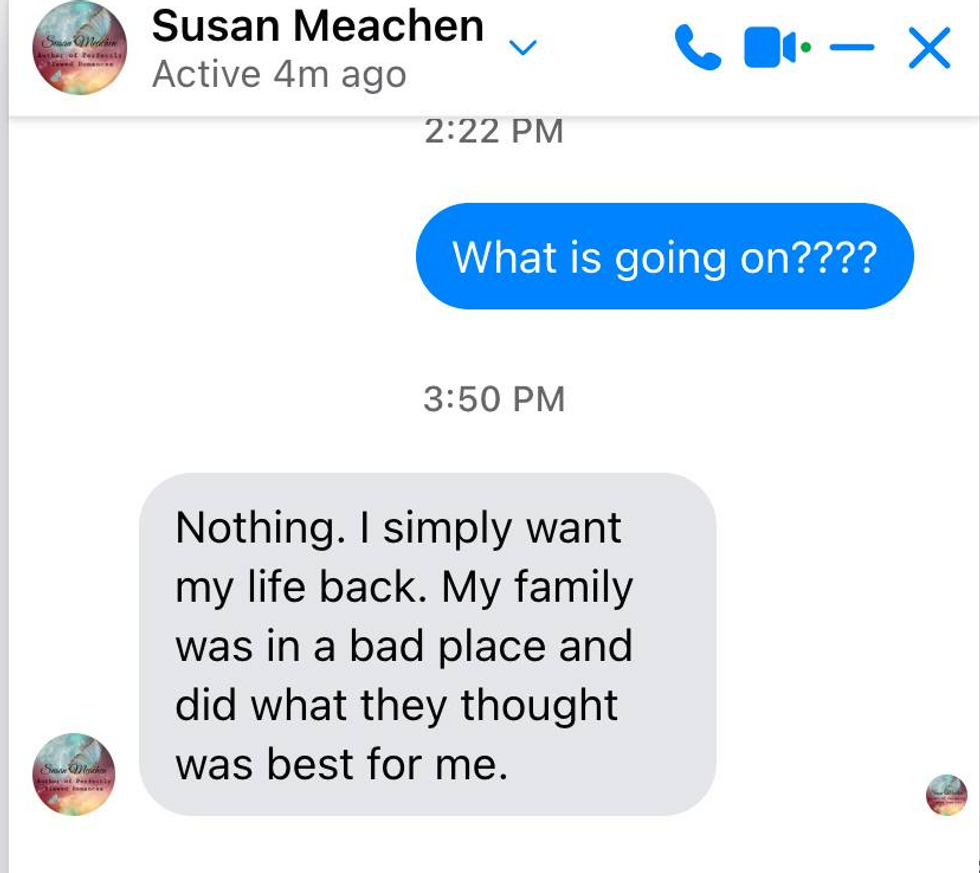 Samantha A. Cole/Facebook
Meachen also claimed she was never really a part of the book world: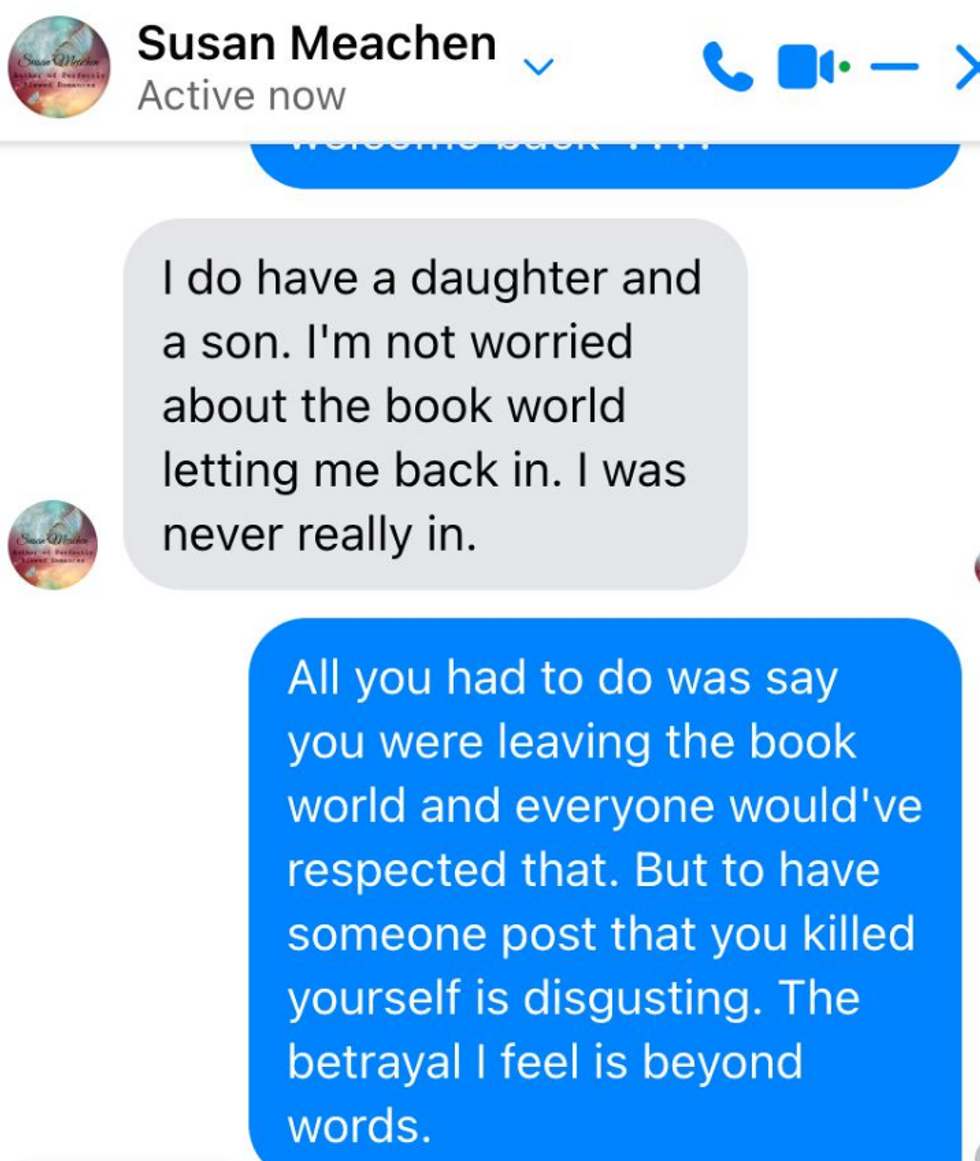 Samantha A. Cole/Facebook
Another author, Connie Ortiz, who was maintaining Meachen's Facebook group after her "death" put out a call for someone to take over the group and "TN Steele" offered to step in.

Here is TN Steele's call to take over the group representing her "real" name: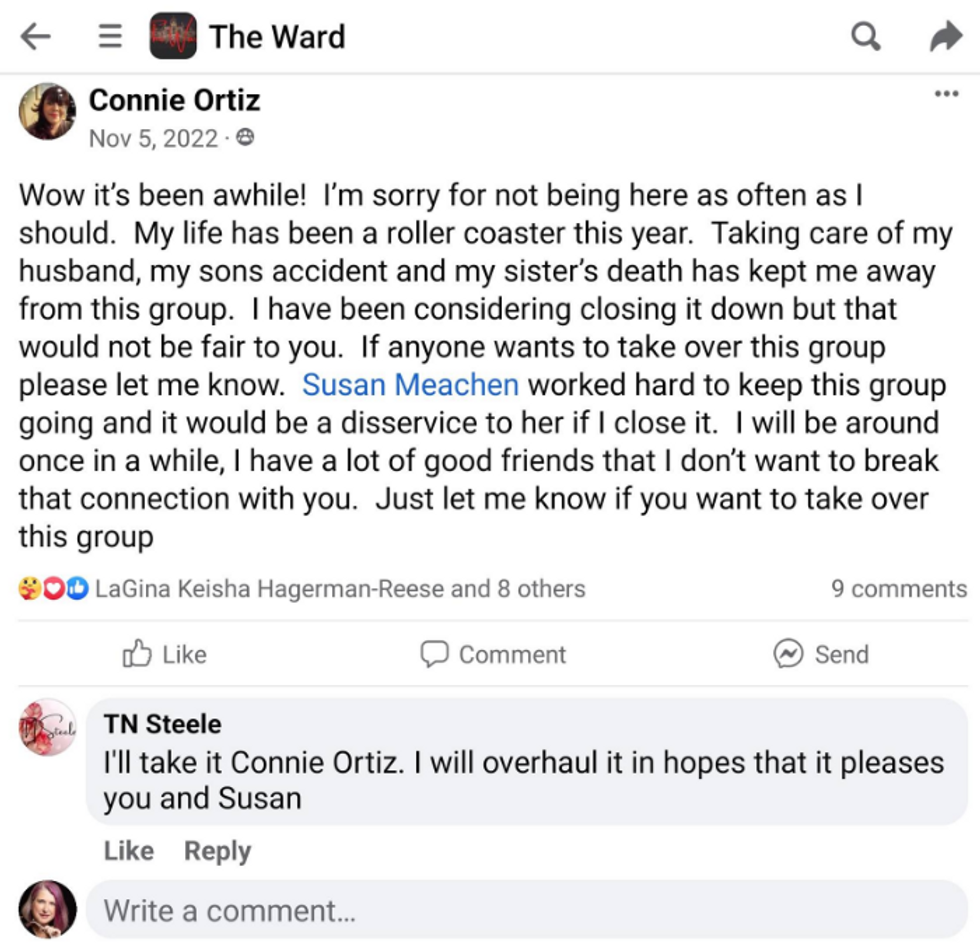 Samantha A. Cole/Facebook

Samantha A. Cole/Facebook
Finally, here is the Facebook post in the group where Meachen announced she was not dead.

Samantha A. Cole/Facebook
TN Steele announced she would be going back to her "real account and name" shortly thereafter.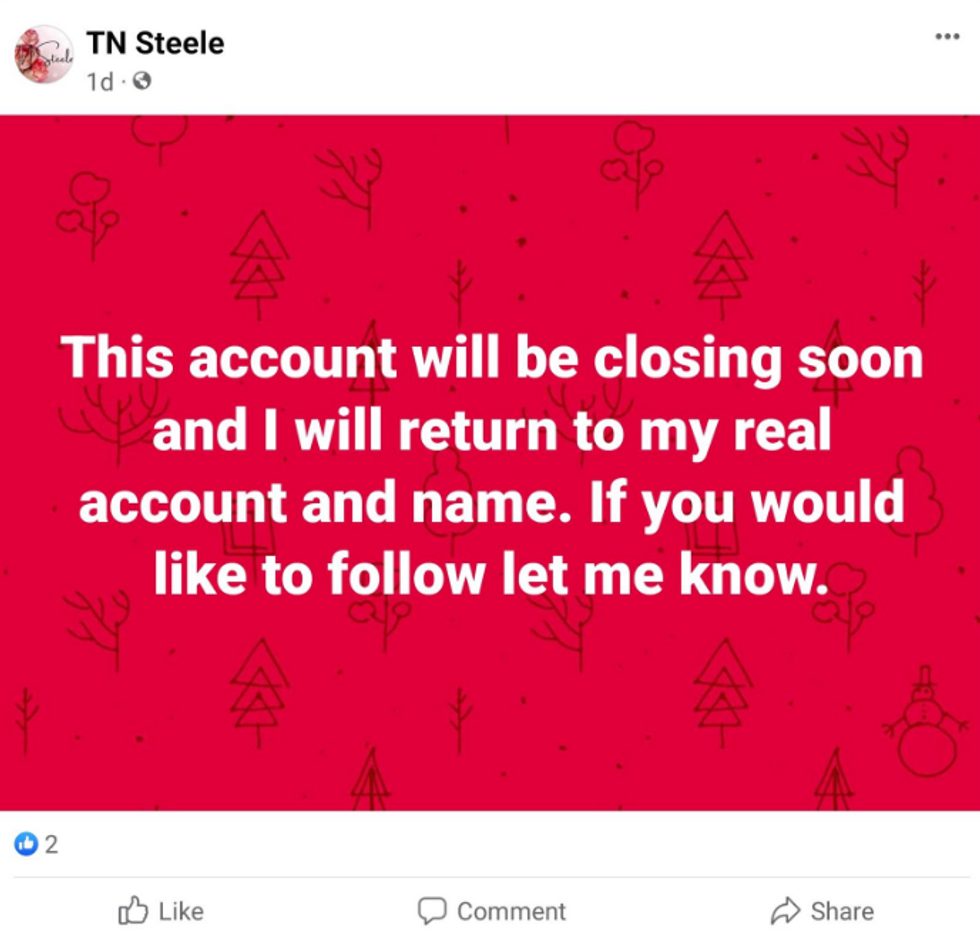 Samantha A. Cole/Facebook
Though Meachen claimed her daughter was the one who made the initial announcement she was dead, Meachen was otherwise the one making continued updates about her books, Audiobooks and updates with Amazon.
A month after her daughter's alleged announcement about Meachen's death, Meachen created her TN Steele pseudonym and continued to write in the same genre under that name.
Meachen also created a TikTok under her real name and continued to post there, mostly responding to TikTok trends and remained under the radar where the BookTok community was concerned.
Fellow readers and writers on Facebook, Twitter and TikTok were collectively floored by the news of Meachen's faked death.
Some couldn't believe Meachen thought she could rejoin the community "just like that."

Not to mention those who donated to the GoFundMe and purchased books after Meachen's supposed death.

There's no telling what is in store for Susan Meachen at this point, but it certainly won't be an increase in book sales.
Between Facebook, Twitter and TikTok, authors have faced backlash over poorly constructed statements and books that were less than appropriate. Some of those authors were able to keep their place among the community after making ample amends.
But what could an author possibly do to rectify faking their own death and accepting money from so many people?
***
If you or someone you know is struggling, you can contact the National Suicide Prevention Lifeline at 988.
To find help outside the United States, the International Association for Suicide Prevention has resources available at https://www.iasp.info/resources/Crisis_Centres/