Actor Taron Egerton assured fans he was "completely fine" after collapsing in front of audiences attending his new play on Saturday night.

Egerton fainted mid-performance while he was on stage for the revival of the 2009 play, C*ck–which began previews at the Ambassadors Theatre in London.
Deadline reported the curtain came down following the startling incident and an in-house doctor tended to the 32-year-old actor, best known for 2019's Elton John biopic, Rocketman and the Kingsmen series of films.
After about 40-minutes, the play's director, Marianne Elliott, came up on stage and assured everyone Egerton was doing "absolutely fine" backstage but said he was unable to finish the performance.

His understudy Joel Harper-Jackson–who filled in for Egerton for the remainder of the show–later said replacing him was "an absolute privilege."
On Sunday morning, Egerton took to social media to update fans on his progress.
"As some of you may have heard, I passed out during the first performance of C*CK last night," he wrote. "I am completely fine. Slightly sore neck and a bruised ego but I'm fine."
"I've decided to put a positive spin on it and I would appreciate it if anyone who was in the theatre last night just said that I gave such a committed, electrifying performance that my body couldn't handle it and checked out," he quipped.
Egerton continued:
"That being said, apparently you're meant to actually do the full show and not just three quarters of it."
"So I'll be back with a vengeance tomorrow [Monday] night."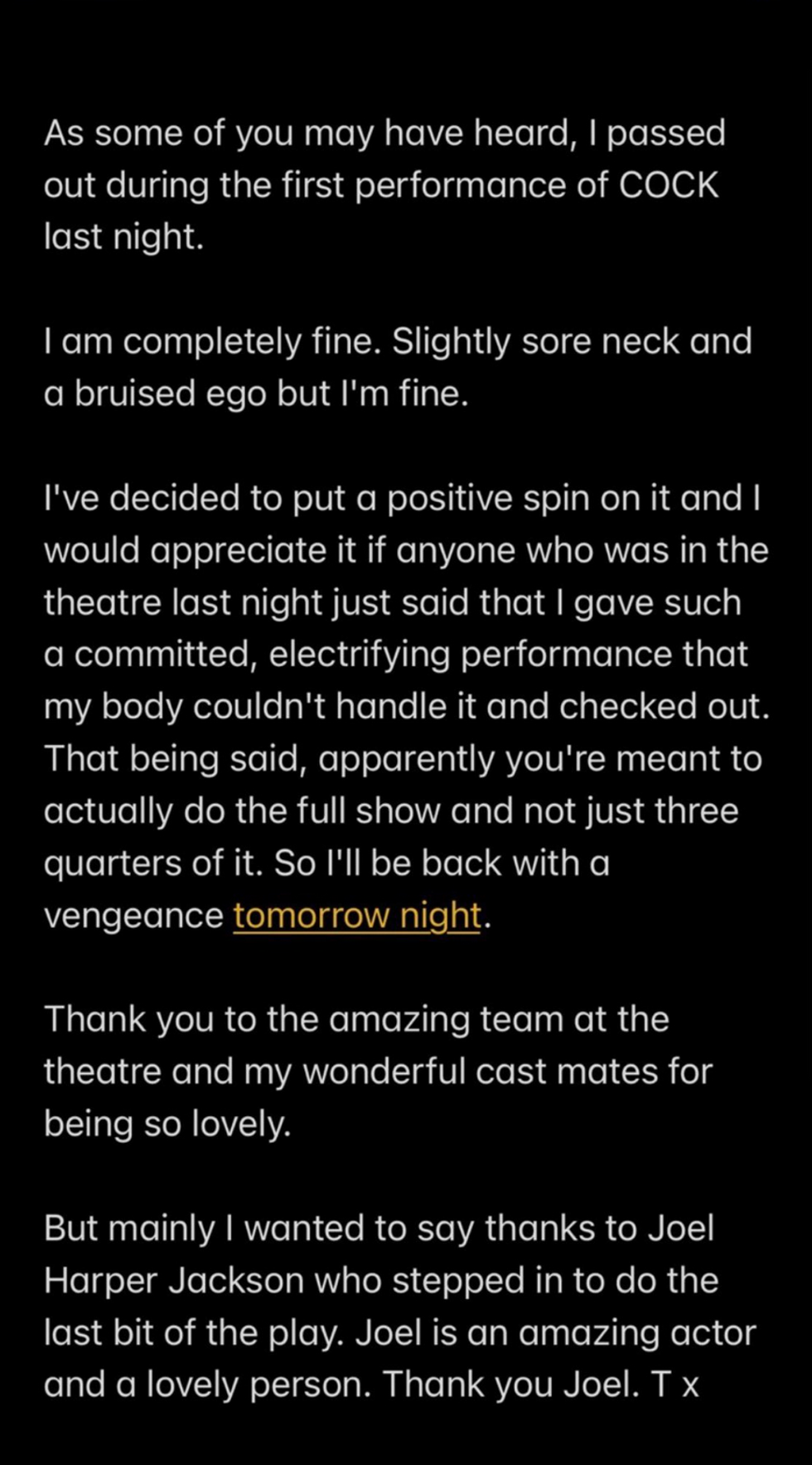 @taronsinstagram/Twitter
Fans gave him some love.
C*ck is about a man identifying as "gay" who becomes ambivalent about his sexuality when he meets and falls in love with a woman during a commute.
The play also stars Quadrophenia's Phil Daniels and Jade Anouka, known for her work in the BBC adaptation of His Dark Materials.
Previews resumed on Monday, and the scheduled 12-week run of the show will officially open on March 15.