Rebel Wilson had a special message for those struggling to maintain their weight when the actress herself recently gained a few pounds after having dramatically lost weight as part of her commitment in 2016 to live a healthier lifestyle.
"I just noticed I put on 3 kg's on my holiday 🙈 I'm at an amazing all-inclusive resort," wrote the Senior Year star on Instagram.
"I've lost all self control."
In spite of her minor setback, Wilson went on to encourage fans to continue being the best version of themselves, no matter what journey they're on.
"But you know what? I can get up tomorrow and go to the gym, and hydrate and eat healthy and love myself," she wrote.
"It doesn't help to be hard on yourself but I know what it's like to feel guilty and not great after eating too much."
"But if you're like me just know YOU are more than just your weight, your weight doesn't define you, just try your best to be healthy and don't be so hard on yourself 💗 Be the best version of you 💗"
Industry colleagues and fans alike were moved by her transparency and encouragement, and they left supportive words for the actress.

@rebelwilson/Instagram

@rebelwilson/Instagram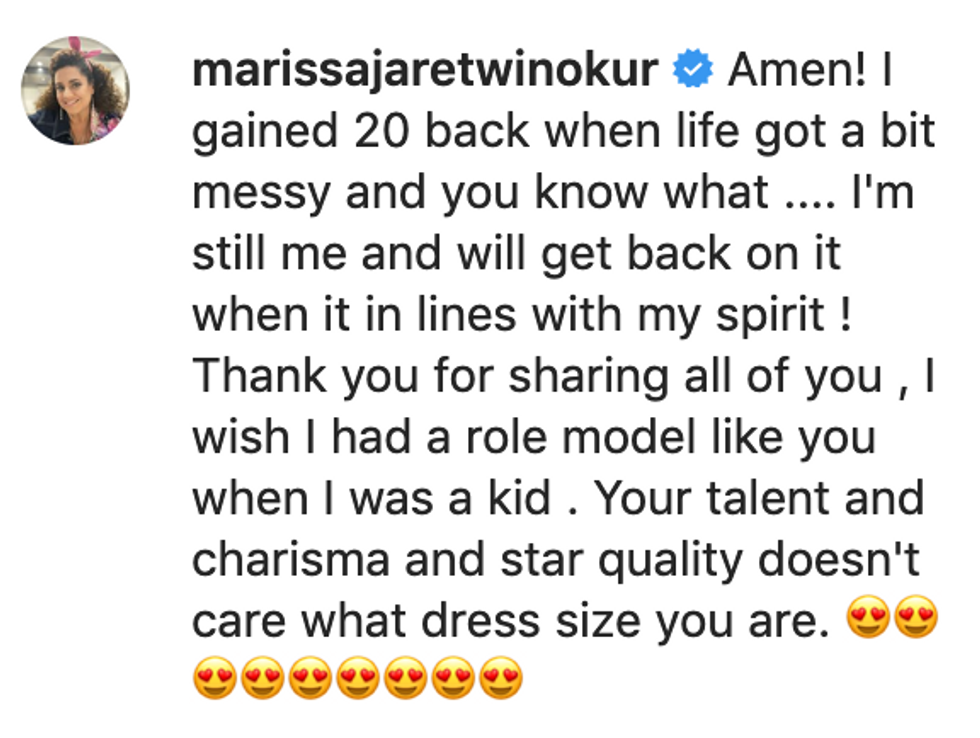 @rebelwilson/Instagram

@rebelwilson/Instagram

@rebelwilson/Instagram

@rebelwilson/Instagram

@rebelwilson/Instagram

@rebelwilson/Instagram
During this year's Pride, Wilson was forced to come out before the Sydney Morning Herald's Andrew Hornery had planned to tell the world about her same-sex relationship with LA leisure wear designer Ramona Agruma.
On June 9, Wilson posted a photo with Agruma and wrote:
"I thought I was searching for a Disney Prince… but maybe what I really needed all this time was a Disney Princess."
Agruma also left loving words for her sweetheart.

@rebelwilson/Instagram
Days after Wilson revealed her relationship, Hornery said his article planning to out the actress was a "big mistake."
He also accused her of having "gazumped the story."
The media outlet was met with backlash with journalist Chris Scullion tweeting, "F'king shameful by the Sydney Morning Herald. Acting like they were being generous by giving Rebel Wilson a two-day deadline to come out before outing her themselves, then getting arsey because she called their bluff against her will."
Hornery has since claimed he didn't seek to out her but understood how his messages to her "could have been seen as a threat."
Wilson touched on the controversy with a tweet, saying "it was a very hard situation but trying to handle it with grace."
Bevan Shields, the editor of the Sydney Morning Herald, tried to mitigate the PR nightmare by stating: "To say that the Herald 'outed' Rebel Wilson is wrong."
"Our weekly Private Sydney celebrity column asked Wilson if she wished to comment about her new partner. We would have asked the same questions had Wilson's new partner been a man," wrote Bevan.
"Like other mastheads do every day, we simply asked the questions and as standard practice included a deadline for a response."
"We made no decision about whether or what to publish, and our decision about what to do would have been informed by any response Wilson supplied."
Shields added:
"Wilson made the decision to publicly disclose her new partner – who had been a feature of her social media accounts for months. We wish them both well."