A Republican Congressman notorious for riling Democrats online instigated a Twitter war with rapper Lil Jon.
But the Atlanta-based rapper and record producer had no time for tomfoolery and shut the Congressman down.
Paul Gosar (R-Ariz.)—who won reelection to represent Arizona's 4th Congressional District last week—reached out to Lil Jon and boasted about his 69.69% win by incorporating the rapper's lyrics from his 2002 hit, "Get Low."
Gosar tweeted "69.69 damn that's fine"—which appeared to be a nod to one of the song's lyrics "3, 6, 9, damn you fine"—and tagged the rapper, asking:
"What say you @LilJon."
69.69 damn that's fine. What say you @LilJon https://t.co/h3mTQ2Z8Xw

— Paul Gosar (@Paul Gosar) 1604862109.0
Gosar may have tried to "Get Low," but Lil Jon got even lower and came out on top with Monday's Twitter exchange.
The rapper retorted in all caps:
"DONT QUOTE MY SONGS BRUH. ON ANOTHER NOTE R You GONN HELP 45 PACK HIS SH*T UP."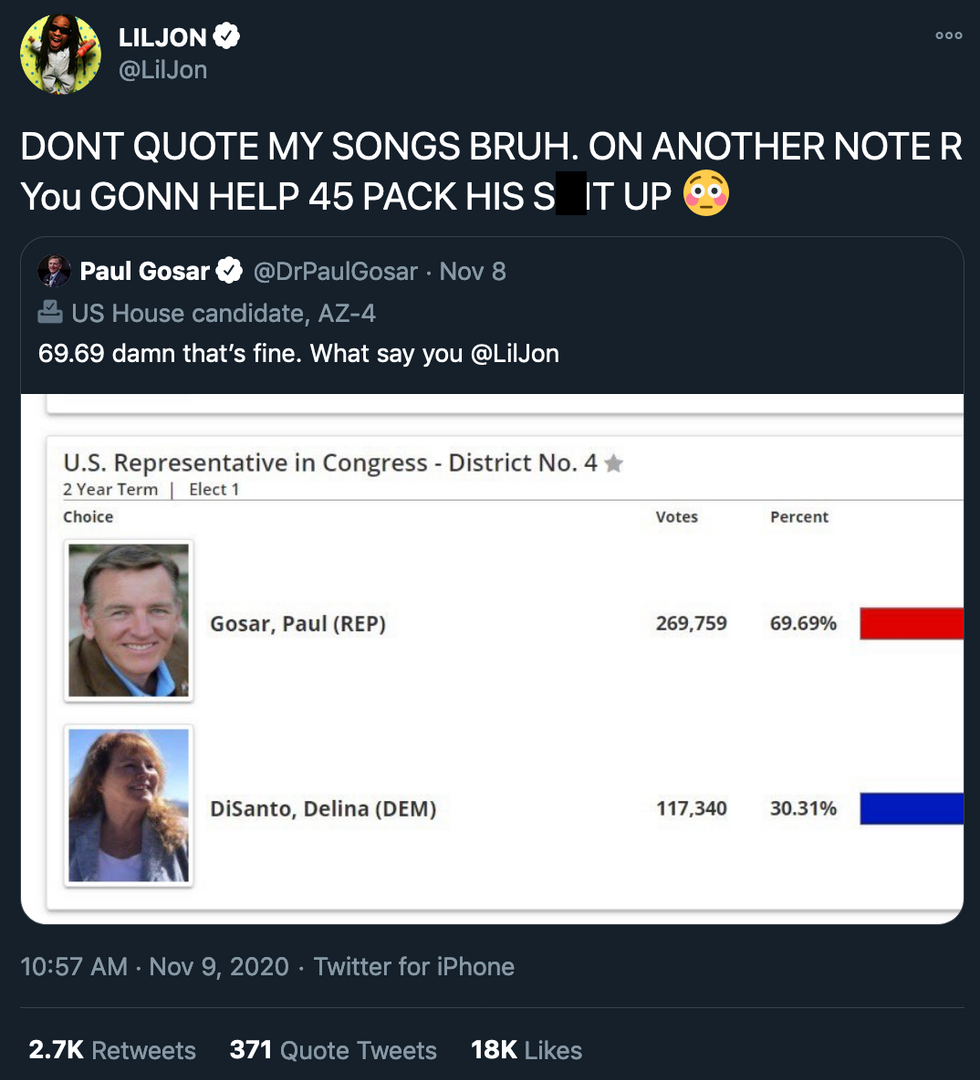 @LilJon/Twitter
Twitter was here for Lil Jon's fierce riposte.
Gosar refused to let it go and tweeted in response:

"I just talked to the club owner. He said calm down."

@DrPaulGosar/Twitter
The Congressman then gave himself another pat on the back with another tweet commending his numbers.

Still nice. https://t.co/tA2zKqCu5r

— Paul Gosar (@Paul Gosar) 1604898637.0
According to the Daily Dot, the Congressman is planning to invite the incumbent President to stage a MAGA rally with supporters.