A Minnesota school district is receiving both criticism and support about a pride flag that was hung in the cafeteria at Marshall Middle School.
A small group of residents even threatened to sue the school if the pride flag remained on display.
---
Many residents spoke at the school board meeting, both in support of the school displaying the flag and against it.
A retired local pastor spoke against the school displaying the pride flag, claiming that it "promotes an agenda."
"That rainbow flag stands for and promotes an agenda in our culture. It promotes a systematic undermining of biblical morals and values.
He further claimed that the flag, an inanimate object, "seeks to silence all dissenting voices."
"It seeks to trump the rights of all other groups, especially people of faith."
"It seeks to normalize homosexuality, same-sex marriage and a transgender lifestyle. In my opinion that flag is dividing the family, the church, our community and our nation."
Bill Mohrman, an attorney based in Minneapolis, spoke at the school board meeting and said that he would be representing a group of local parents who would file suit against the school if officials failed to remove the pride flag.
Six students also spoke at the meeting, 5 in support of the flag and it's message, and one opposed.
You can view KARE 11 News coverage, including some of the public comments, below.
Many Twitter users talked about the importance of feeling seen and accepted in school and what a difference it can make in a child's life.
Ok. This hurts my heart when I think of the kids that identify as LGTBQ and how they may feel isolated. Diversity a… https://t.co/R36waD5wuq

— MachineGunKelliee👩‍🎤 (@MachineGunKelliee👩‍🎤) 1582347867.0
just saw an elementary school with a pride flag on its flagpole and like, oh my god how much different would my lif… https://t.co/f0qmRHo2iN

— the babadook: on ice! (@the babadook: on ice!) 1582221373.0
Ok, I would just like to say that whoever is suing my cousin's school because they put a pride flag up absolutely s… https://t.co/r3l4NvOKia

— ⒷⓇⓄⓄⓀⓁⓎⓃ (@ⒷⓇⓄⓄⓀⓁⓎⓃ) 1582506011.0
Not all who spoke at the meeting were opposed to the flag's display, however. Many recognized the strife LGBTQ+ students deal with, over and above the hardships of being a teen.

A decon from the local Episcopal Church, Dawnlynn Greeney, spoke in support of the display.
"Flags represent people, they represent heritage, they do not recruit. When we say that all students matter I believe we need to mean that all students matter."
"Yes, I am speaking as a clergy person but I am also speaking as a human being, and as a human being I have no more choice over being Norwegian than I would have over being LGBTQ+."
Greeney didn't pull any punches.
"If we decide that we cannot fly the LGBTQ flag in our community because it does not represent the priority of the schools or the community, then my question would be where do I find the list of the prioritisation of which students matter and which students don't?"
The flag on display at the school is actually called the Progress Pride Flag as it recognizes the unique challenges faced by POC LGBTQ+ people and transgender people. LGBTQ+ POC people and transgender people face higher rates of joblessness, homelessness and violence than their counterparts within the LGBTQ+ community.
To show your PRIDE or your support, the Progress Pride Flag is available here.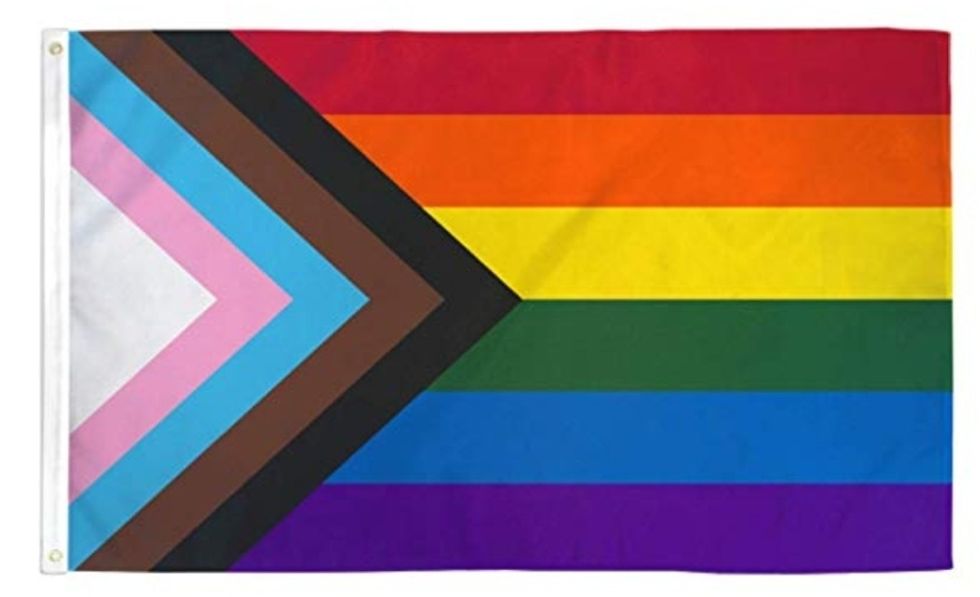 Amazon