On June 5, 2017, 29 year-old Zachary Bear Heels was stranded in Omaha, Nebraska.
Bear Heels—an Oceti Sakowin citizen of the Rosebud Sioux Tribe of South Dakota—was traveling by bus from his Aunt's home in South Dakota to his mother's home in Oklahoma when he was kicked off the bus for erratic behavior.
The young man was schizophrenic and bi-polar. While his mental health was deteriorating, we wanted to get home to his mother.
Instead he died and his family and Native leaders asked for justice.
Native Community Demands Justice for Zachary Bearheelsyoutu.be
The bus driver abandoned Bear Heels in downtown Omaha. From there he wandered to a convenience store.

According to the store manager, Bear Heels "continually danced and muttered to himself but didn't commit any crimes" aside from loitering outside the building. The manager eventually called police when Bear Heels entered the store.
While police were en route, Bear Heels' mother Renita Chalepah called police to report him missing after finding out he had been kicked off the bus. Chalepah told authorities her son was mentally ill and asked that he be taken to a hospital.
Omaha Police Officer Jennifer Strudl and Officer Makyla Mead arrived at the store and handcuffed and placed Bear Heels in the back of their cruiser without incident. Strudl then called and spoke to Chalepah.
Bear Heels' mother begged Strudl to take him to a hospital and said she would travel there from Oklahoma to pick him up. However Strudl's superior, Sgt. Erik Forehead refused the request.
In their defense of the incident, Strudl and other officers quoted Forehead saying:
"Oh, you got a f**king [r-word]?"
Forehead denied making the comment, but admitted to yelling at Strudl.
Strudl told Chalepah she couldn't take her son to the hospital because of Sgt. Forehead denying her request. Instead, she would try to put her son—who had still committed no crime—back on a bus to Oklahoma. But when Strudl opened the back door of the cruiser to buckle his seatbelt, the young man thought he was being set free and walked out of the car.
According to the police department's account, two other officers on the scene to assist Strudl and Mead, Scotty Payne and Ryan McClarty, physically assaulted Bear Heels. Strudl nor Mead made any attempt to stop them, but did report what happened to Forehead.
Payne tased Bear Heels 12 times, including while Bear Heels was seated on the ground, leaning against the tire of the police cruiser. As a result of the repeated tasing, Bear Heels ripped one hand out of his handcuffs. After Bear Heels' hand was free, McClarty punched him 13 times in 15 seconds.
Bear Heels died shortly after.
The two men were initially charged with crimes and indicted by a grand jury before Payne was found not guilty and prosecutors dropped charges against McClarty. Both cases failed—according to the prosecution—due to conflicting stories between officers and Sgt. Forehead and questions as to exactly which officer killed Bear Heels.
Experts called by the defense also claimed an underlying condition might have caused Bear Heels to die during the assault. The autopsy cited the tasing, the assault by McClarty, Bear Heels injuries sustained by falling while being assaulted by Payne and McClarty and "excited delirium" all as contributing to his death.
Payne was fired in July of 2017 then charged with felony second-degree assault. McClarty was fired and charged with misdemeanor third-degree assault. Mead and Strudl were fired but not charged with anything.
Sgt. Forehead was not disciplined for his part in the death of Bear Heels.
OPD officers charged for role in Bearheels' deathyoutu.be
Bodycam footage was unavailable as the devices were turned off in violation of department policy.

However the police eventually released surveillance footage.
Video shows officers punching and using Taser on Bearheels who died in custodyyoutu.be
Bear Heels was never cited for any crime by the police department or any of the officers on scene.
When all four officers on scene were fired by Omaha Police Chief Todd Schmaderer, the Bear Heels family were given some sense of justice. However calls for Sgt. Forehead to be disciplined remained unfulfilled.
At the time, the department promised sensitivity training and an investigation into other deaths of Indigenous people in their custody. Chief Schmaderer also promised to set up a line of communication with the Native community.
But the Omaha Police Officers' Association appealed the firings of all four officers.
On April 23, 2020, three arbitrators decided Strudl and Mead were guilty of only a minor department policy violation. Both officers were reinstated with full backpay.
McClarty who punched Bear Heels repeatedly had his termination reduced to a 20-day suspension and backpay for the rest of the period he has not been employed with the Omaha Police Department. In addition to his 20 days without backpay, McClarty got one year under a "last chance agreement." If McClarty violates the use-of-force policy during that year, he can be fired.
Payne's termination for tasing Bear Heels 12 times was upheld.
Judi Morgan gaiashkibos—executive director for the Nebraska Commission on Indian Affairs—called the arbitrators' decision a miscarriage of justice.
"I am shocked and heartbroken for the Zachary BearHeels family, but quite honestly not surprised by the final decision."
"This young Native man lost his life at the hands of officers that took an oath to protect our citizens and uphold the law. Yet again justice was not served for Native people."
Bear Heels' family released a statement that was shared on Facebook.
You can see the family's statement here: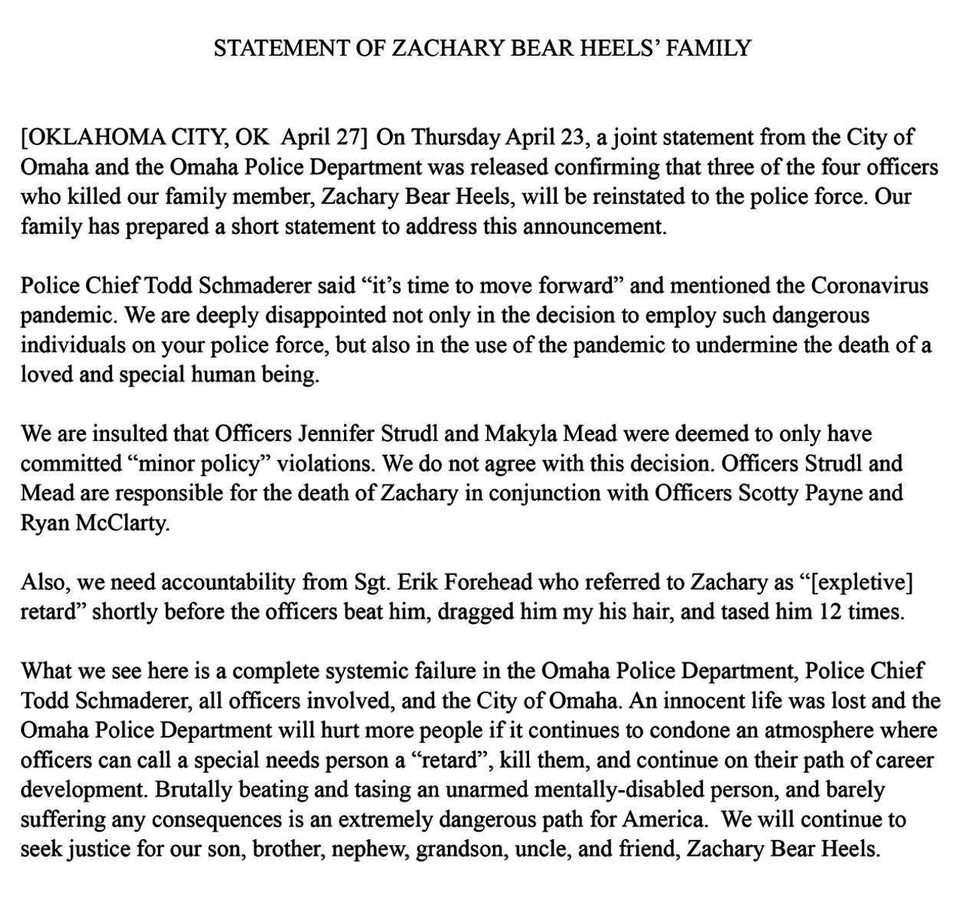 Justice for Zachary Bear Heels/Facebook
Tributes to Bear Heels were also shared in light of the decision to reinstate the officers involved in his death.
Some included photos of Bear Heels from throughout his short life.
According to national crime statistics, Native Americans are more likely to die during encounters with law enforcement than any other ethnic or minority group.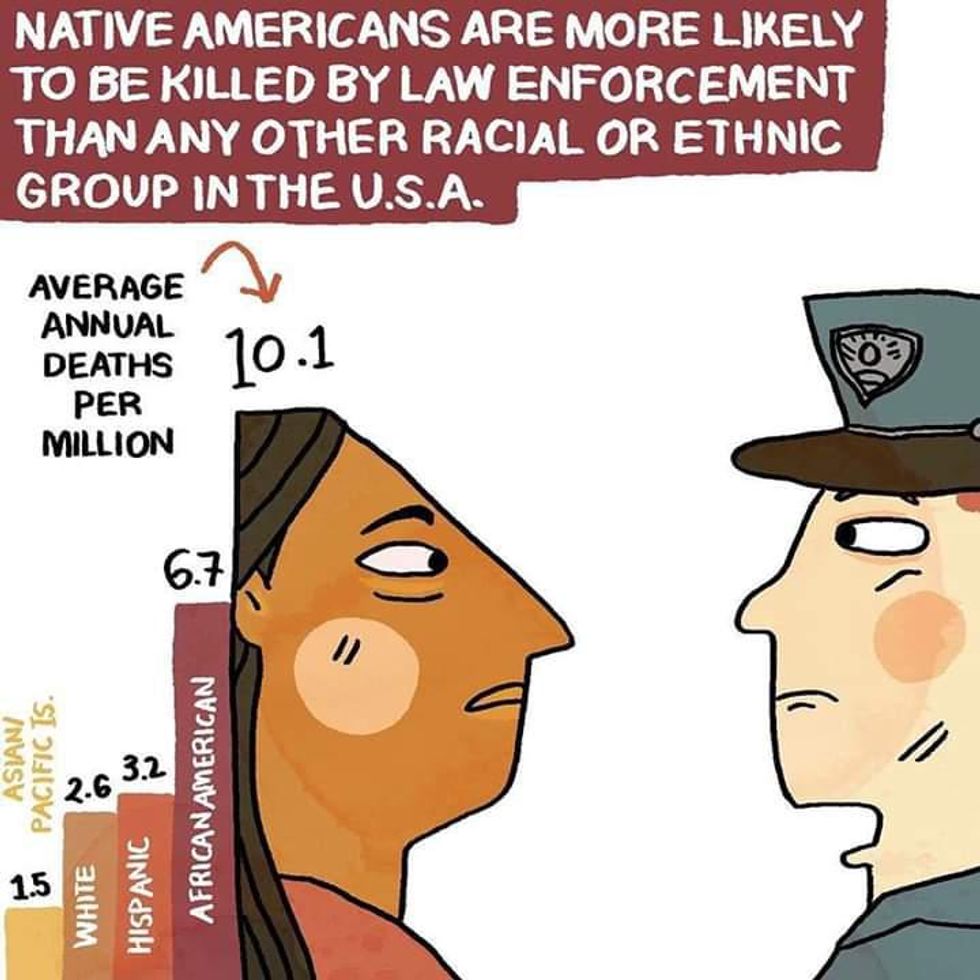 FBI/CDC
Many of those deaths are the result of wellness checks and not during the commission of any crime, just like Bear Heels.

The book An Indigenous Peoples' History of the United States is available here.
Vine Deloria Jr.'s seminal book Custer Died for Your Sins: An Indian Manifesto is availablehere.