Alright, everyone listen up, because we're about to get schooled in etiquette by the ultimate expert in the finer things, Ms. Martha Stewart.
But this lesson is not about how to properly set a table or who gets served first at a dinner party.
No, no, this etiquette lesson is about something far, far more important: Instagram.
---
It comes to us via Queer Eye's resident foodie, Antoni Porowski, who recently learned the hard way that as elegant and refined as she may seem, if you don't mind your manners with Ms. Martha on the 'gram? Honey she WILL drag you in the comments, to the delight of everyone watching at home.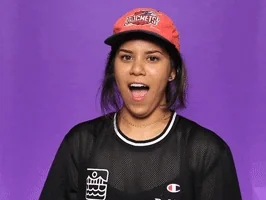 It all began innocently enough: Antoni Porowski attended a holiday party at Martha's manse and posted a couple shots from the festivities.
One of him visiting her horse stables...
...and another of him snuggling with Martha's adorable doggos, which he cutely called his "clique."
Aww, good boys, all!
Right?
Excuse you, but WRONG. Take a closer look at those posts.
Do you see anything missing? No?
Well suffice to say, Martha Stewart herself did, and she had some notes!
Which she shared with all the world in the comments.
@antoni/Instagram
First, let us take a moment of reverence to appreciate that Martha Stewart's puppers are named *ahem* Han, Qin, Bête Noir and Crême Brûlée. No story has ever had such a satisfying twist.
That is until the second twist: Martha simultaneously scolding and seducing Antoni by saying "you are my Christmas cookies!!!"
Who saw that coming?
As Buzzfeed reports, this is probably a typo and should say "ate," but let's just suspend disbelief and pretend a torrid Martha Stewart/Antoni Porowski affair is part of this year's holiday magic. We deserve it!
Most important of all: let the record reflect that Martha Stewart does. not. play.
You will NOT use her estate for clout without doling out her rightful portion of said clout. Elegantly bucolic Instas do not come for free at Martha Stewart Manor!
It's both personal AND business!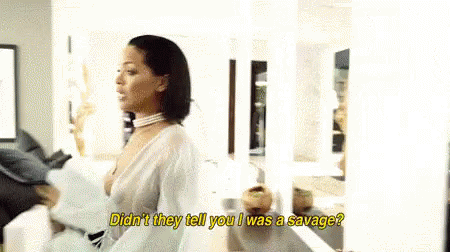 Now, not to worry: Antoni quickly posted an apology to his Instagram story and added Martha's tag to the posts, so we can assume all is forgiven.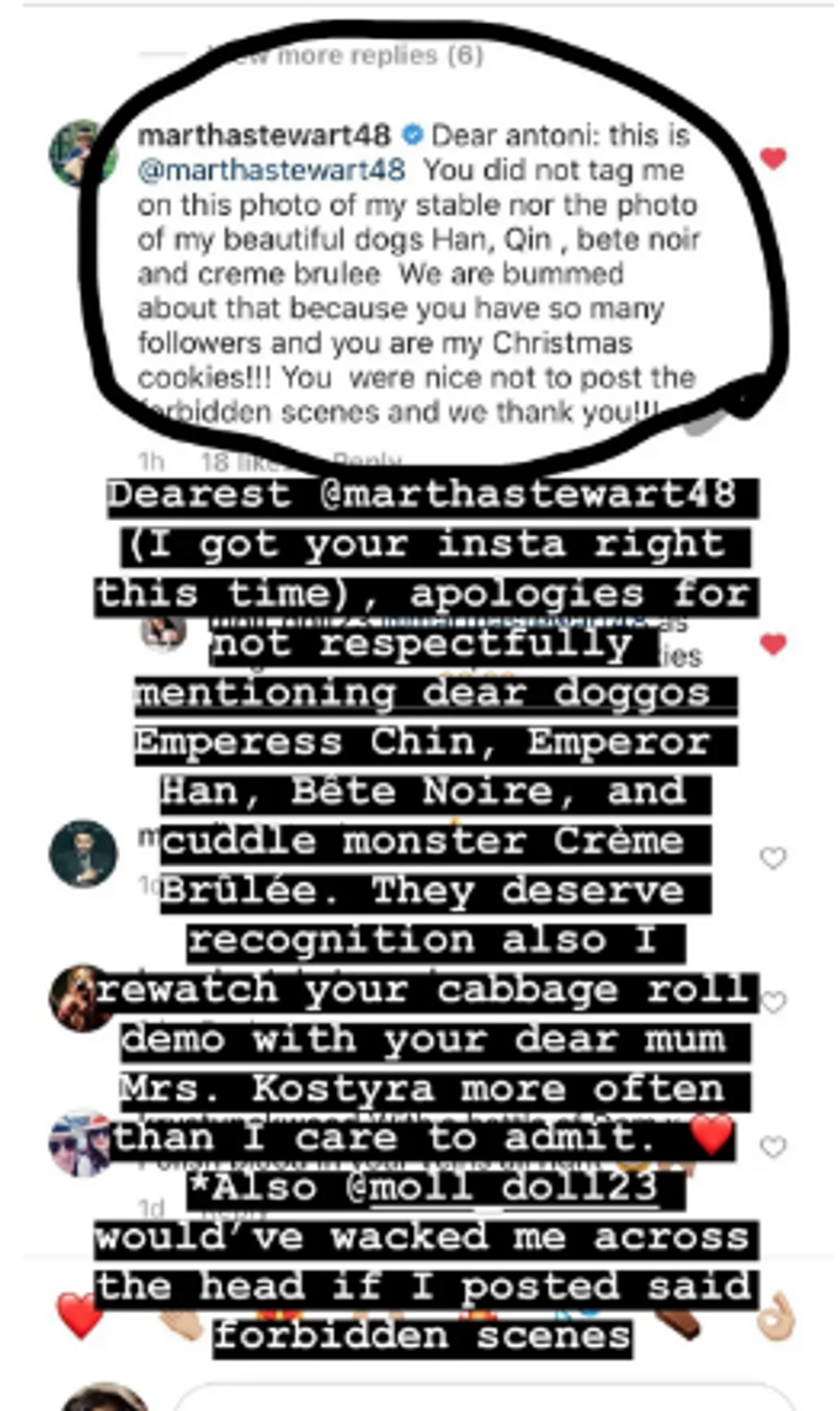 @antoni/Instagram
But social media was awestruck nonetheless...

@ajp.jpg/Instagram
@randirae316/Instagram

@yungdustball/Instagram
And folks were pretty emphatically Team Martha.

@chilldude.23/Instagram

@beerswithmandy/Instagram
@austinpeer/Instagram

@nicola.vandermeer/Instagram
And others rightly pointed out that Martha is emphatically NOT to be effed with!
While others found Martha's savagery downright inspiring.
So there you have it, a true Christmas miracle only Martha Stewart could deliver: turning a faux pas into an iconic shady moment.
Your move, Porowski!
The book The Martha Manual: How to Do (Almost) Everything is available here.