Madonna, the matriarch of pop who's constantly reinvented herself as an artist, just turned 60-years-old on August 16th.
Never one for making small gestures on any occasion, Madge finally released her full 13+ minute performance at the MET Gala from back in May 2018.
---
It was never before seen by the public until now. And at 60 (59+ during the performance), the queen of pop is showing no signs of slowing down.
The Met Gala 2018 theme was "Heavenly Bodies: Fashion and the Catholic Imagination" so what better than a mashup of Madonna's hit "Like a Prayer", her new song "Beautiful Game" and a cover of the Leonard Cohen standard "Hallelujah"?
Watch the video in all it's dramatic glory here.
The "Living For Love" singer thanked her fans for donating to her Raising Malawi charity and posted the video of the coveted performance on social media as a personal 'thank you.'

She captioned the post:
"In celebration of my birthday and as a "thank you" for all your donations on my Birthday Fundraiser, I wanted to share a very special performance from this year's Met Gala."
In celebration of my birthday and as a "thank you" for all your donations on my Birthday Fundraiser, I wanted to sh… https://t.co/H3fwSFwwjn

— Madonna (@Madonna)1534427971.0
To kick off her performance, the material girl materialized at the top of the grand staircase inside the Metropolitan Museum of Art's Great Hall.
Clad in a floor-length monk's robe in keeping with the Met Gala's theme, she began singing 1989's "Like a Prayer" joined by a men's choir dressed as monks—were they actually monks? Who knows? It's Madonna so anything is possible.
Her Madgesty ceremoniously descended the steps while the choir sang a Gregorian style chant of her song.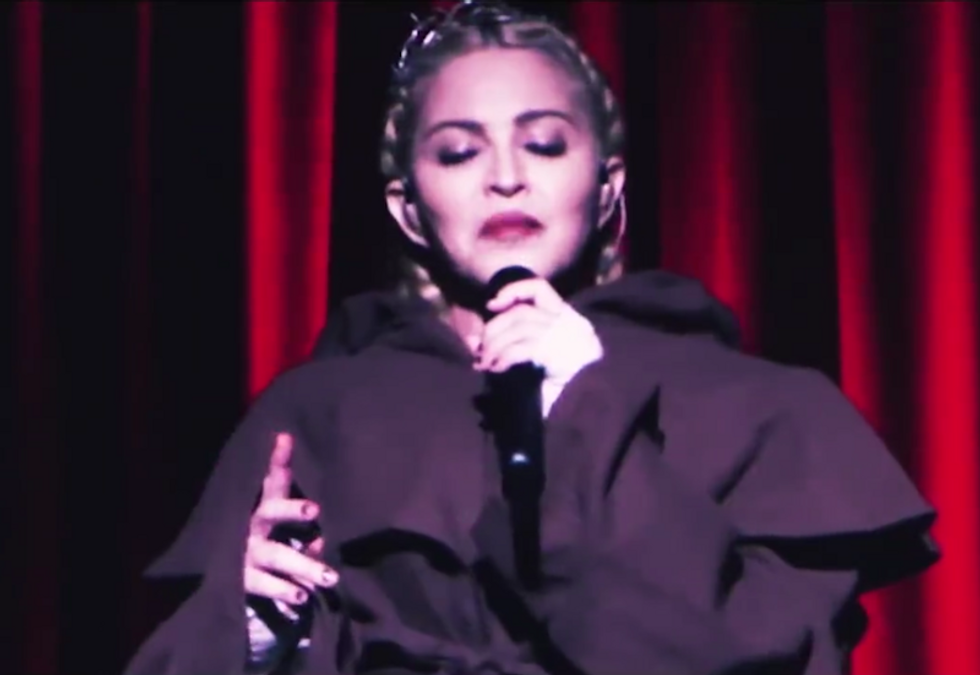 "Like a Prayer"(Madonna/YouTube)
Of course, no Madonna spectacle is complete without a dramatic reveal.

She emerged from her robe wearing a white corset and dress as a segue into singing a snippet of her unreleased song "Beautiful Game" from her upcoming album.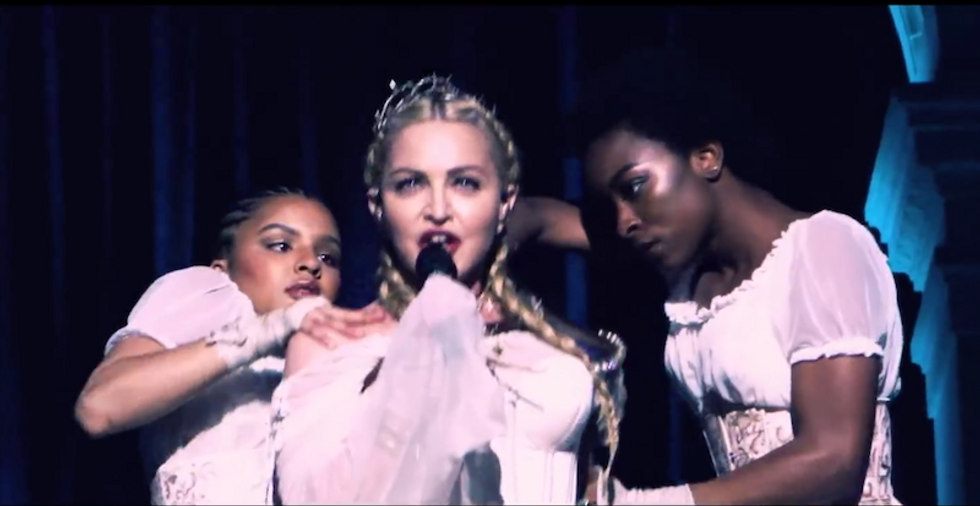 "Beautiful Game"(Madonna/YouTube)
@Madonna YASSS RELEASE BEAUTIFUL GAME

— brad (@brad)1534427994.0
Then she completed her set with her touching performance of Leonard Cohen's "Hallelujah."

@Madonna Fabulous performance #BirthdayQueen 👑🥂🍾🎂💕💃😍🎀🎈🎉🎊🎁😘🏳️‍🌈

— Jimbo (@Jimbo)1534429698.0
@Madonna So beautiful, powerful, revolutionary, healing. Thank YOU for revealing your true Self

— HoolaHoops ☆111☆ (@HoolaHoops ☆111☆)1534430711.0
On Thursday, Madonna commemorated her birthday by starting an online fundraiser for her Raising Malawi foundation, which raises awareness and provides health, education and community support for orphans and vulnerable children in Malawi, Africa.

In a statement, she said:
"I have an unwavering commitment to providing vulnerable children with a loving home. For my birthday, I can think of no better gift than connecting my global family with this beautiful country and the children who need our help most."
"Every dollar raised will go directly to meals, schools, uniforms and health care. I want to come together with my friends, fans and supporters to change the lives of Malawian children and let them know they are nurtured, protected and loved."
Madonna adopted four children from Malawi bringing her brood to six children.
@Madonna I have to say as a young boy, you were the celebrity who allowed me to think I deserved a better world...I… https://t.co/jGBXBssQoD

— Robert West (@Robert West)1534430791.0
Fans lost it over finally being able to watch the MET Gala performance uninterrupted and in full. It was previously leaked only as a series of short clips.

@carlosgzz03 @Madonna @MaddysUniverse @newsofM @MadonnaEternal @voguemagazine @MadonnaExpress @MadonnaARMY1 This is just perfection

— 🇺🇸 Migs (@🇺🇸 Migs)1534428897.0
The birthday love poured in.
@Madonna 🎂 #HappyBirthday, 👑 #Madonna 👑❣️❣️❣️ ✨ Everyone wants to be 🎵LIKE 👑 MADONNA 👑 🎶, including 👸… https://t.co/K8gKV0Q0sG

— ⏸️ HappyBDayVJ 🧡 (@⏸️ HappyBDayVJ 🧡)1534430970.0
@Madonna Thank YOU for decades upon decades of creative brilliance, inspiration and humanitarian work. Happy birthd… https://t.co/n73JSkIy3D

— Rino The Bouncer 🔜 gamescom (@Rino The Bouncer 🔜 gamescom)1534428020.0
@Madonna Happy Birthday, mother creator of the female pop music movement we know today. Don't ever stop!

— Paúl Rivas González (@Paúl Rivas González)1534429823.0
With the announcement of her 14th studio album and movie projects like Taking Flight—based on ballet dancer Michaela DePrince's memoir—and an adaptation of Andrew Sean Greer's novel The Impossible Lives of Greta Wells, Madge is off to a busy start to usher in a new decade of ambitious achievements.
Happy 60th Birthday Madonna Louise Ciccone!
H/T - HuffingtonPost, YouTube, Twitter, RollingStone