It all began last year when Rolling Stone interviewed Macklemore, the 34-year-old rapper who performed his song "Same Love" with Madonna at the 2014 Grammy Awards. It was a memorable moment, as Queen Latifah officiated the wedding of 33 gay and straight couples on stage during the live performance. In the Rolling Stone interview, Macklemore confessed his kitschy art collection, including a painting of a naked Justin Bieber. And now we know why he still has it.
---
Newly released breakfast nude of Justin Bieber in Bora Bora #WhatDoYouPeen #pancake http://t.co/bgEb8x2XQ5

— Dan Lacey (@Dan Lacey) 1444322495.0
The transfixing rendition of the musical pop star has "maple syrup pouring down his chest and onto a pancake balanced on his boner" said Macklemore during the interview. When artist Dan Lacey first revealed the portrait in 2015, Zander's response epitomized what most of us were thinking:
@PainterPancakes Ewww gross why would anyone fucking have this thing

— Zander Mundell (@Zander Mundell) 1457913875.0
Well... Macklemore did, and he still does.
For the past year everyone obsessed with the question why. So when Macklemore stopped by Watch What Happens Live with Andy Cohen on Thursday, he revealed the original purpose of the painting, and set the record straight as to why he still has it.
"I bought it on Etsy as a white elephant Santa gift..."
"...that at the end of the night just stayed at my house," Macklemore explained. "No one took it."
We wonder why.
"I'm very proud of it."
"And it's become a huge headline. Like, Macklemore owns a naked Justin Bieber dick pancake painting.
"So it goes right above my bed and whenever I'm with my wife intimately, I can always stare at it if I want to control my orgasm, just slow it down."
You read that right. Macklemore looks to Bieber for orgasm control.
Someone should ask Tricia Davis how she feels having Bieber watch. As for Macklemore, he was cool and casual about it - like it's no big deal.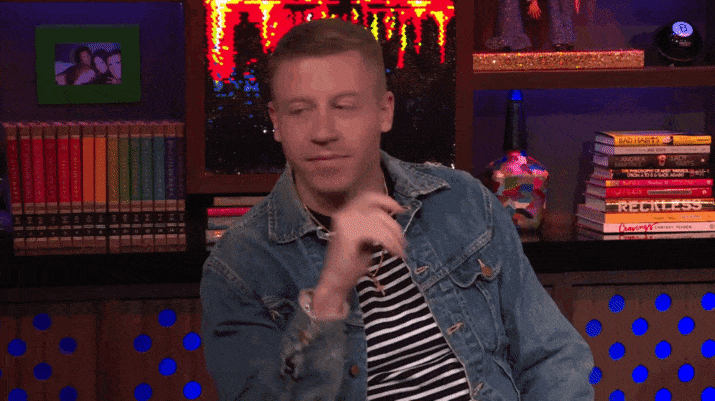 And no, he's never talked about this white elephant in the room with Bieber.
Some people had strong feelings about the rapper's use of the painting in the bedroom.
While the artist has a profitable solution...
Only when Justin buys the nude i painted of Macklemore will there be equilibrium https://t.co/JfleDBQala

— Dan Lacey (@Dan Lacey) 1510941677.0
...Twitter cannot deal.
@BuzzFeed https://t.co/soBMmZkA89

— Rachel Dzanashvili (@Rachel Dzanashvili) 1510943607.0
@BuzzFeed https://t.co/XW6ndvhTxQ

— Ken-doll🍰 (@Ken-doll🍰) 1510939865.0
@BuzzFeed https://t.co/m0QFuIfqt8

— Matthew | Ewoks (@Matthew | Ewoks) 1510943644.0
@BuzzFeed https://t.co/CWQGmw1wT9

— Doc Supafly (@Doc Supafly) 1510960858.0
@BuzzFeed https://t.co/Nrm8wcXMq4

— Sofos XIII วัดאַיִ (@Sofos XIII วัดאַיִ) 1510962199.0
Please SHARE this with your friends and family.