The internet applauded comedian Kathy Griffin for her response to an anti-vaxxer who thought the word "mandate" sounded gay.
PatriotTakes, an organization that monitors right-wing rhetoric on Twitter, shared a photo of a person holding up a cardboard sign with the words, "MANDATE SOUNDS GAY TO ME."
A slight separation in the spray-painted word suggested "MANDATE" could be read as two separate words, "man" and "date."
"These are the people who peaked in middle school," said @patriottakes of the sign-holder, who was allegedly pictured off the Gariepy Memorial Hwy on Hwy 247 in Yucca Valley, California.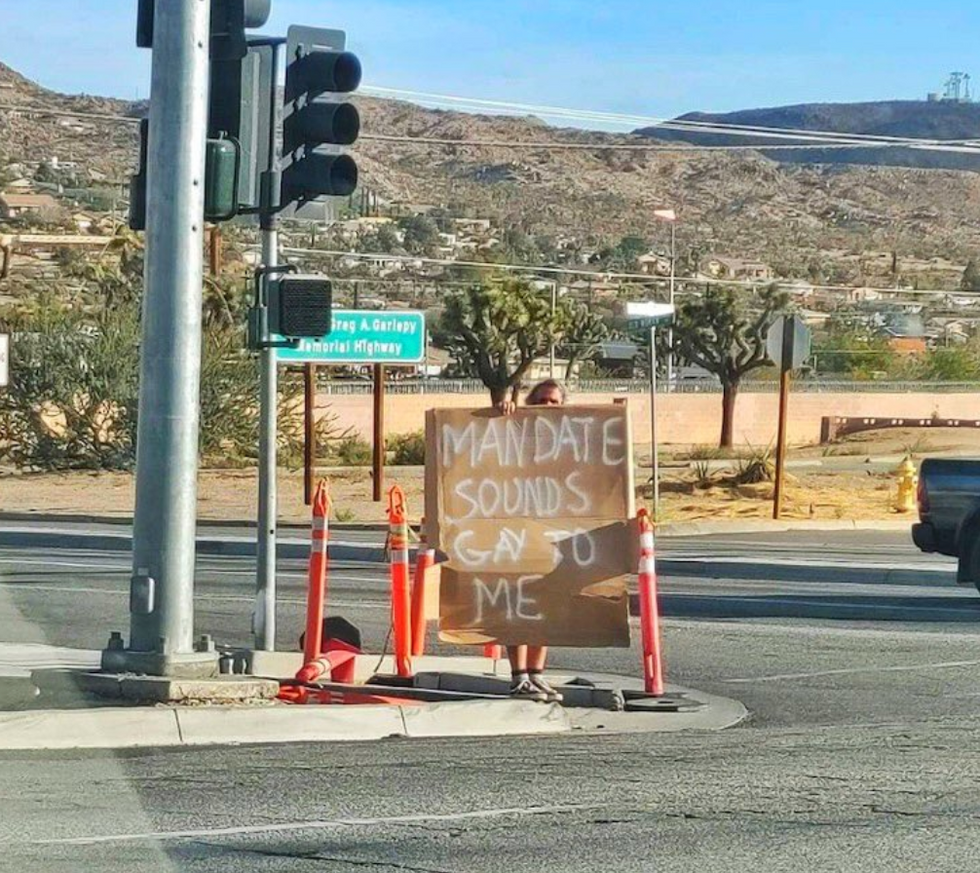 @patriottakes/Twitter
Griffin, who is an ally for the LGBTQ+ community, re-shared the photo and tweeted:

"In response to this sign I say 'Well then, maybe that's why I love vax mandates.'"
Amateur comedians of Twitter joined Griffin in mocking the anti-vaxxer by giving it their best shot.
The Centers for Disease Control (CDC) and Prevention highly recommends COVID-19 vaccinations—which have been proven effective in combating the viral pathogen and limiting the spread of infection—for everyone 12 years or older, as well as those with underlying medical conditions, including cancer.

People with cancer and other underlying medical conditions have a higher risk of severe illness and even death from contracting COVID-19.
Griffin has been vocal about her own battle with stage one lung cancer, which resulted in the surgical removal of half of her left lung.

Prior to her surgery, Griffin–who said she has never smoked—announced her cancer diagnosis on August 2 but assured everyone the doctors said they were optimistic about her recovery.
She said she was fully vaccinated for COVID-19 and added:
"The consequences for being unvaccinated would have been even more serious."
"Please stay up to date on your medical check ups. it'll save your life."