In Murcia, Spain a woman shared her sexual orientation at her gynecology appointment and instead of getting treatment for her period pains, she was diagnosed with the "illness" of "homosexuality."
Alba Aragón openly disclosed her sexual orientation and attraction to women. She told The Washington Post she's known since she was 15.
She said:
"I told him that I was gay because I thought it would be an important fact at the time of prescribing any treatment or determining the diagnosis."
Upon reviewing her report from the gynecologist at Hospital General Universitario Reina Sofía, Aragón was shocked to see a diagnosis that had nothing to do with her irregular and painful periods.
It read, in Spanish:
"Current illness: Homosexual."
Aragón, age 19, shared her thoughts.
"I thought it was incredible that up until this day, in the 21st century, these types of beliefs continue to exist."
Aragón filed a complaint with the local health department with the help of a Spain-based activist group defending LGTBQ+ rights called GALACTYCO. They denounced the doctor "considering her sexual orientation an illness."
The group is calling for the hospital to hold the gynecologist, Eugenio López, accountable and issue Aragón an apology.
López told local media it was a "mistake" in transcribing the patient's records.
He told El Español:
"What can I do?"
"It was a huge slip-up. I'm a human being."
"I clicked the wrong button."
The hospital supported López's response.
Their spokesperson, Mar Sánchez, told The Washington Post:
"The computer system offers a series of fields to fill out the report and, as the specialist has said, he made a mistake when selecting the field where he put the word 'homosexuality'."
López was reportedly not in the office for comment but the receptionist told The Washington Post to refer to the local reports.
Since the news came out, multipleoutlets have reported on the incident and it gained more attention from local LGBTQ organizations.
Even political leaders have spoken out on Twitter and condemned the actions of López.
The second secretary of the Autonomous Parliament of the Region of Murcia Antonio José Espín stated:
"This is intolerable."
"We will ask for responsibilities, without a doubt."
"It cannot go unpunished."
Íñigo Errejón, Deputy of Más País, said:
"The only sick person here is that doctor."
Aragón went in for her appointment with her mother and decided to go to the examining room alone. After answering routine questions, she voluntarily disclosed her sexual orientation.
She asked where her sexual orientation would be noted in her chart and was told it would only be seen by the doctor.
That was why she was so taken aback when she looked at her report.
It wasn't an issue for her now, but if this happened five years ago when she was struggling with accepting herself, it would have been a different story.
That's when she decided to reach out to GALACTYCO.
Aragón said:
"In the end, we wanted to tell this experience and publicize it so it doesn't happen to other people."
Aragón said she doesn't want anyone to feel being gay is an illness.
Many people have expressed their shared outrage for what happened to Aragón.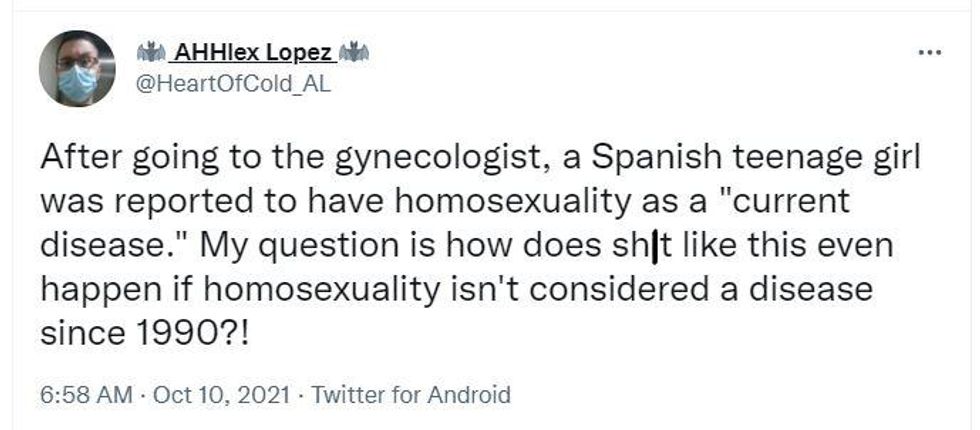 @HeartOfCold_AL/Twitter
Aragón said:

"My intention is that it does not happen again with me nor with anyone else."
Aragón submitted the complaint to Murcia's health department on Wednesday and an investigation was opened.
A spokesperson from the hospital told The Post they asked López to issue an apology to Aragón and he was ordered to fix her records.
The records were corrected and Aragón and her mother have now accepted the doctor's apology.