Georgia Republican Representative Marjorie Taylor Greene was dragged online after she wished Jewish people a "blessed Yom Kippur" on X, formerly Twitter, with a graphic featuring a Hanukkah menorah.
Greene captioned the image with the following message:
"To all those preparing for the solemn day of Yom Kippur, I wish you a meaningful fast. Gamar Chasima Tova!" [sic]
Greene later deleted her post.
You can see her post below.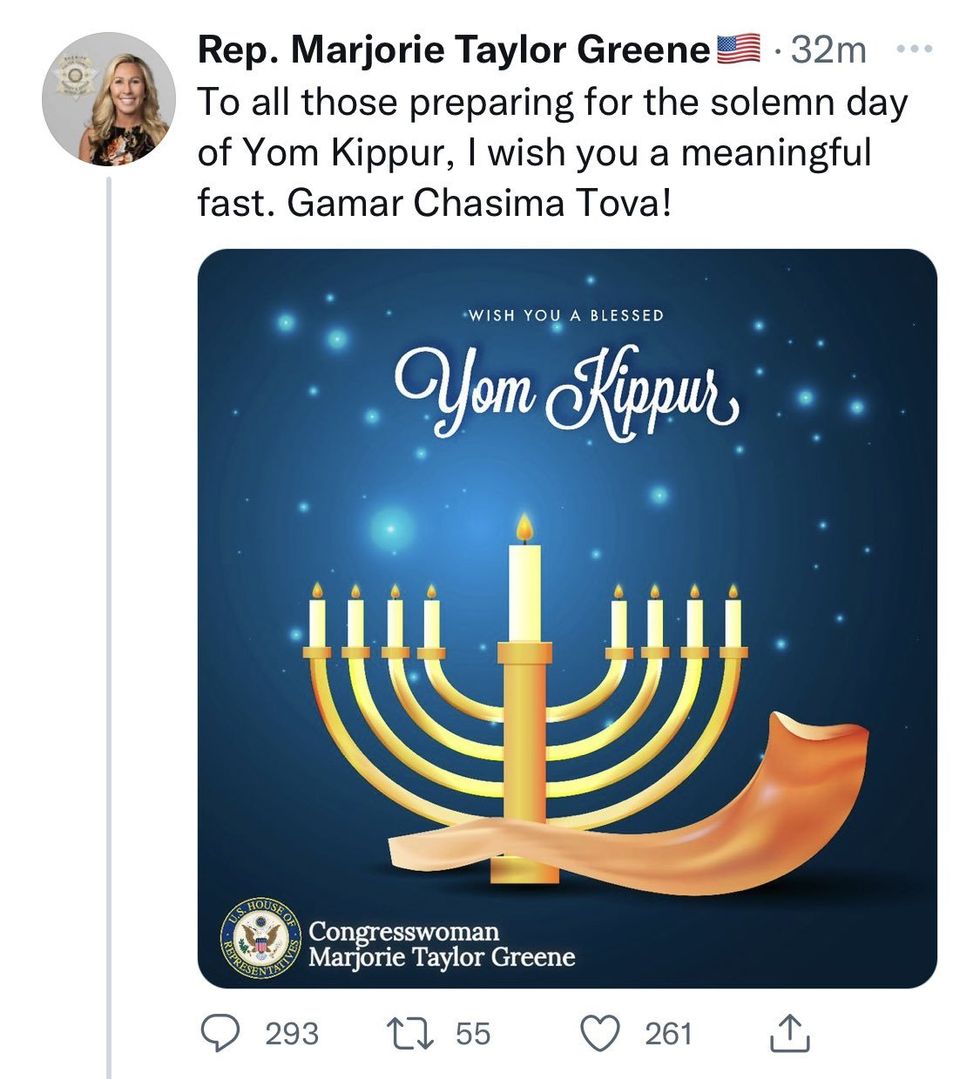 @RepMTG/X
The message was later replaced without the picture, though it still contained a mispelling for "G'Mar Chatima Tova," a phrase that is a customary greeting among Jews on the holiday.
Florida Democratic Representative Jared Moskowitz was one of the earliest to call out Greene's error, writing:
"That's a picture for Chanukah. Different Jewish Holiday. Yom Kippur is where you atone for your sins. Lord knows you will be very busy."

You can see his post below.

Greene's post is particularly egregious because of her history of peddling antisemitic conspiracy theories.
Most notably, Greene has refused to accept responsibility for a now-infamous Facebook post she made suggesting the California wildfires could be attributed to a wealthy Jewish family using space lasers to ignite them.
Greene was widely condemned for espousing the belief that the 2018 California wildfires were not caused by climate change but some kind of "space laser" that had set the state ablaze.
She said Pacific Gas and Electricity (PG&E) and renewable energy startup Solaren sent solar power generators to space funded by the Rothschilds, a family of Ashkenazi Jewish billionaires who have often been the target of antisemitic conspiracy theories.
Greene has never been repudiated by the GOP for her remarks and has previously been called out for likening vaccine mandates to being Jewish during the Holocaust as well as for her public association with neo-Nazis at the America First Political Action Conference (AFPAC), which is widely known as a gathering for White nationalists and White supremacists.
Greene's post has been heavily criticized.

Greene has not responded to the criticism.
Yom Kippur, also known as the Day of Atonement, is the holiest day in Judaism. The holiday is a time for Jewish people to "reflect on their sins and ask for forgiveness from God and those they have wronged."
Members of the Jewish faith participate in religious gatherings and abstain from eating starting from sunset until the next sunset. Exceptions are made for young children and individuals for whom fasting would pose a medical risk.
After the conclusion of the Day of Atonement, a "shofar" horn is sounded to signal the end of the fasting period. Following this, a celebratory meal is prepared to conclude the fast and restore individuals' energy.