Exhaustion can get the best of anyone.
Many people get so busy that they forget about the importance of getting rest. I've fallen asleep in movie theaters, classrooms, and even in busy restaurants.
---
Redditor u/aimlessecho asked, Where is the weirdest place you've fallen asleep? , and some of the answers were shocking.
They were doing the job for the doctors
"I fell asleep one time waiting before a medical procedure. They had to wake me up so that I could sign paperwork permitting them to put me to sleep."
I see this a lot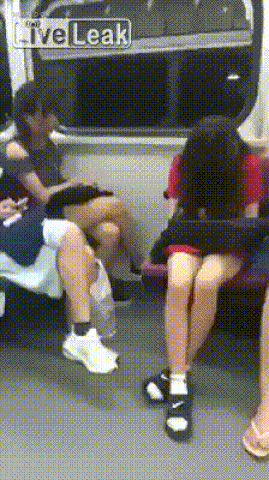 Giphy
"on the bus, standing up in my defense, it was a traffic jam and i hadn't slept the previous night"
Extreme camping
"When I was a kid, like 5 or 6, there was a tree in the front yard I really liked climbing. There was a branch perfectly shaped for little me to lie down on. Early one morning, I woke up and decided to take my sleeping bag up the tree and went back to sleep."
Are they still hiring?
"During a job interview. He actually had to shake me awake. Weirder yet, i still got the job."
This is why you should call out sick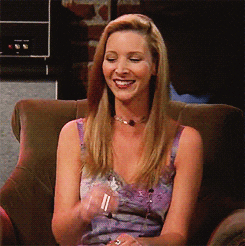 Giphy
"I volunteered at the local firehouse when I was a teen/early 20's. We got a call one night on the interstate which was a 20 minute drive. Sick me decided to close my eyes thinking I would wake up when the sirens stopped. I woke up when the truck pulled back in the station and turned off with everyone laughing at me."
I would panic if I woke up like that
"Buddy and I went to an amusement park, roller coaster were the main thing we went for. Then we got in line for one and as we sat down in the seat and got strapped in, a couple got pulled off to the side because they had a camera out. You aren't allowed to film or take pictures on roller coasters where I'm from. So security was called and the ride was delayed.
So I sat there and turn to my friend & say 'Yo Chris, wake me when the ride starts.' I said it as a joke, he laughed, and then I leaned back and closed my eyes. Then I was falling. The coaster has started and I actually fell asleep. I woke up on the first hill but I'm still amazed I actually fell asleep."
The dentist was accommodating
"I fell asleep while they were putting my braces in and I kept closing my mouth. They had to put something in my mouth that would keep it open for me. It was actually helpful as I fell back asleep and woke up when they were done.
That's so disappointing!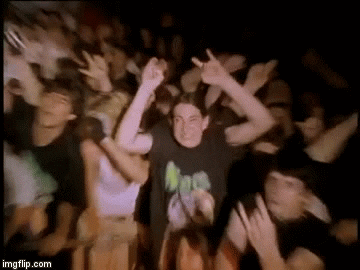 Giphy
"At a Van Halen concert in the 90's. Laid down on the grass in the open seating area. Next thing I knew the concert was over and my friends were waking me up so we could leave."
The Louvre's security must've been asleep too
"Did a full 7 hours under a marble bench at the Louvre. I was eleven, it was Bastille Day, they had air conditioning."