All of us have at one time or another encountered a person who didn't like us. But have you ever been so intensely disliked that even an inanimate architectural landmark drags you on Twitter?
Tesla CEO and new Twitter owner Elon Musk can now count such a situation among his accomplishments after the Eiffel Tower's official Twitter account joined in mocking Musk after popular French influencer Arkunir roasted him for constantly deleting his unpopular tweets.
La tour Eiffel got into the fray with a meme, seen below, that perfectly put Musk in place in the most absurd way possible.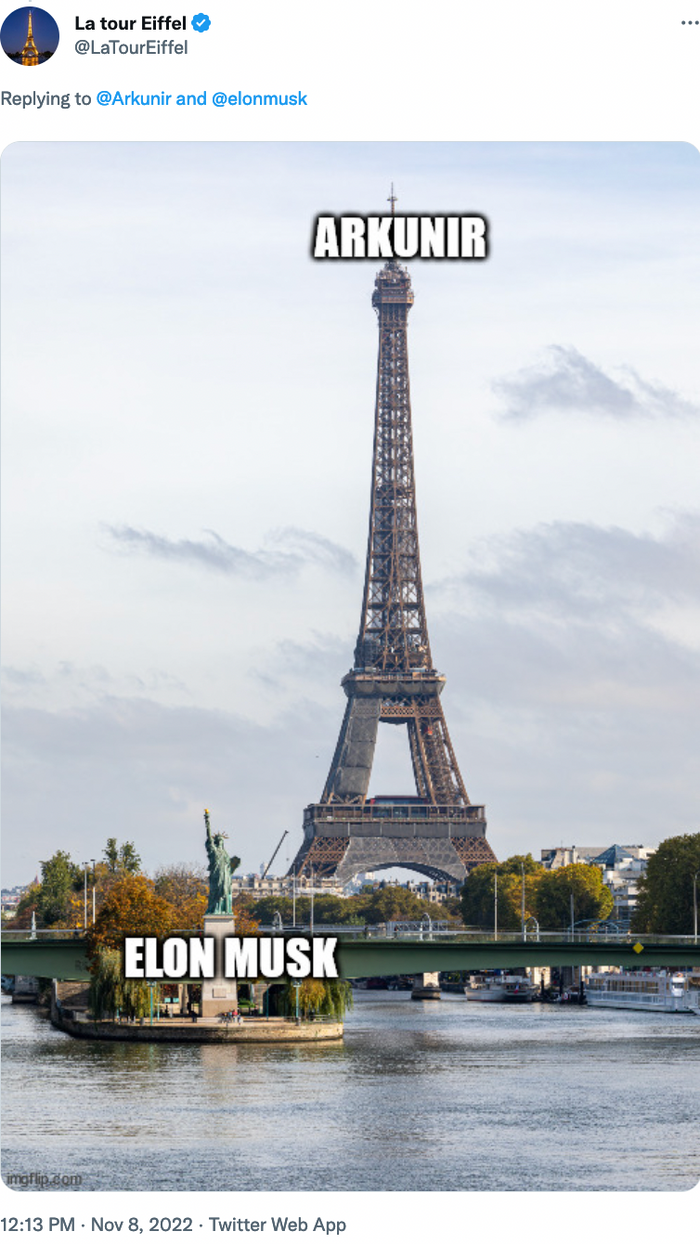 The meme shows a photo of the iconic Parisian landmark and the small replica of New York's Statue of Liberty that stands nearby it, hilariously depicting the hulking Eiffel tower as Arkunir and the diminutive Liberty as Musk with onscreen text.
It all began when Musk posted a tweet both celebrating and lamenting the social media app he, for reasons that remain unclear, paid $44 billion to purchase.
Musk's tweet read:
"Twitter is the worst!"
"But also the best."
Like many of Musk's tweets, his meaning was unclear, but it seems likely it was a reference to the incredibly bumpy ride his purchase of the platform has been.
Musk has sparked controversy and outright outrage since taking the reins at Twitter after he began dismantling the platform's moderation apparatus, resulting in a new proliferation of hate speech from far-right accounts, many of whom laud Musk as a hero.
He then set about creating a scheme to charge verified accounts for their checkmarks, groveling to celebrities to give him $8 a month. This of course quickly devolved into a debacle that resulted in widespread mockery of Musk from all corners of Twitter.
Throughout the controversies, Musk's tweets have pretty much all been getting "ratioed"--Twitter-speak for when a tweet sparks so much ire its number of replies outranks its number of likes or retweets.
And the constant ratios have prompted Musk to delete tweets over and over again in recent days, seemingly unable to take the heat of his chilly reception as Twitter's new overlord.
And this, of course, has only made the mockery of him even worse.
So when this particular tweet of Musk's quickly got ratioed, Arkunir was just as quick to roast him.

Sensing Musk's itchy delete finger, the 20-year-old French streamer responded:
"Where are you going? Take this ratio again and don't delete this time."

And on Twitter, the Eiffel Tower's response to the whole thing left people screaming.

Your move, Mr. Musk.
Anyway, vive la France!