Jack Dorsey—co-founder and former CEO of Twitter—caused a stir on social media with his unexpected endorsement of Robert F. Kennedy Jr. for President.
Kennedy—known mainly for promoted anti-vaccine propaganda and health-related conspiracy theories—launched a long-shot bid for the Democratic 2024 nomination against President Joe Biden. Kennedy Jr. is a member of the once powerful political dynasty which included his uncles President John Kennedy and Senator Ted Kennedy and his father, Kennedy administration Attorney General Robert Sr.
Dorsey's endorsement of Kennedy left many scratching their heads, given his previous endorsement of Elon Musk as a successor at Twitter and subsequent criticism of Musk's leadership.

In a surprising move, Dorsey tweeted a video featuring Kennedy Jr. discussing his potential to defeat both former President Donald Trump and Florida Republican Governor Ron DeSantis in the 2024 presidential race.
Dorsey commented, "He can and he will," signaling his support for Kennedy's candidacy. When questioned about whether he was endorsing or merely predicting Kennedy's success, Dorsey responded with "Both."
You can see Dorsey's initial tweet and his response below.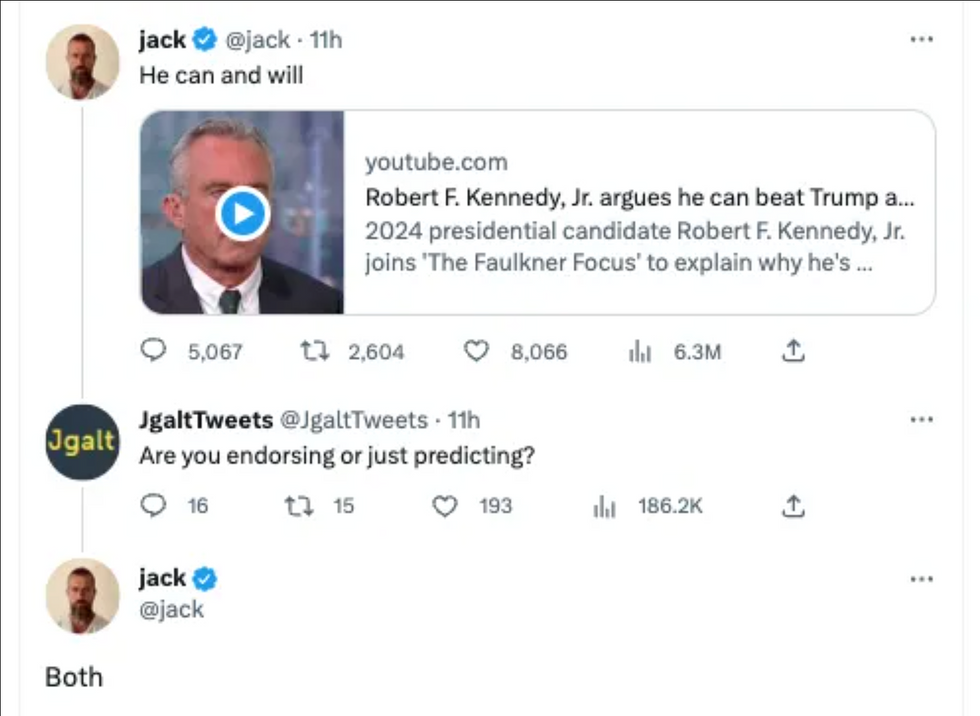 @jack/Twitter; @JgaltTweets/Twitter
Dorsey's endorsement of Kennedy left many social media users perplexed and amused.
Some Twitter users recalled Dorsey's previous prediction Elon Musk was the ideal candidate to lead Twitter, only for Musk's tenure to result in controversial decisions and a significant decline in the company's value.
Many mocked Dorsey for his seemingly contradictory endorsements and questioned his judgment in selecting suitable leaders.
Dorsey's endorsement of Kennedy Jr. came after the latter discussed his anti-vaccine conspiracy theories and emphasized the importance of freedom of speech in a wide-ranging interview with Musk hosted via Twitter Spaces.

Kennedy Jr. mentioned his previously banned social media accounts on Instagram and Facebook were reinstated by Meta, the parent company of Facebook.
While Kennedy Jr. stated he doesn't actively discuss vaccines anymore, he emphasized he would tell the truth if asked about them, as he considers himself knowledgeable on the subject.
He expressed his frustration with being silenced when providing answers to vaccine-related questions.
Kennedy Jr. is neither a scientist nor doctor of medicine—his status as a vaccine expert appears entirely self-professed.
Kennedy Jr. also criticized the pandemic-related government policies, stating that they were excessively restrictive and lacked consideration for personal choice. In this regard, Kennedy and Musk shared similar viewpoints, both opposing strict social distancing measures and the closure of churches.