As hospitals around the world struggle with shortages of personal protective equipment (PPE), medical facilities in the virus' "hot zones" have obviously been the hardest hit.
Supplies like masks and gloves are in short supply and multiple states point to private citizens and others seeking to profit off a pandemic hoarding them as a problem.
---
President Donald Trump thinks he might know where the PPE is really going though. Obviously, it's all being stolen by the medical professionals trying to save lives.
Speaking of a New York hospital, President Trump didn't seem to understand why a facility that used to need only 20,000 masks now needs 300,000.
He offered an explanation, saying:
"How do you go from 10-to-20-to-300,000...even though this is different. Something's going on...Where are the masks going? Are they going out the back door?"
"...I want the people in New York to check—Governor Cuomo, Mayor de Blasio—that when a hospital that's getting 10,000 masks goes to 300,000 masks during the same period, people should check that because there's something going on."
"I don't think it's hoarding, I think it's maybe worse than hoarding, but check it out. Check it out. I don't know, I don't know. I think that's for other people to figure out."
During a press briefing at the makeshift pandemic response facility at Manhattan's Javits Center, Cuomo called out Trump and said if he had any claims to make, he'd best make them.

"If he wants to make an accusation, then let him make an accusation."
The New York Democratic governor added:
"I am not engaging the President in politics."
"My only goal is to engage the President in partnership. This is no time for politics."
Kenneth Raske, president of Greater New York Hospital Association, also issued a statement calling out Trump for his implications.

"New York's health care workers are treating exploding numbers of COVID-19 patients around the clock —willingly and without complaint. My daughter, an ICU nurse at a New York City hospital, is one of them. The only thing they ask for in return is adequate amounts of personal protective equipment. PPE is the single thing that separates them from being COVID-19 patients themselves."
"They deserve better than their president suggesting that PPE is 'going out the back door' of New York hospitals. I urge you to focus on what you—and all of us—can do to help."
Cuomo has also responded to questions about why PPE is being set aside in New York City, saying:

"We're creating a stockpile. For someone to say, 'Well, the warehouse has equipment in it, you should be using that equipment today,' that defies the basic concept of planning.
"If you are not preparing for the apex, and for the high point, you are missing the entire point of the operation. It is a fundamental blunder to only prepare for today."
Twitter was both shocked and outraged that—in a time of crisis—Trump would attack those fighting on the front lines.
Countless examples of selfless healthcare workers quickly appeared online.
Medical professionals need the federal government's support...not it's needless accusations.
The shirt for stable geniuses is available here.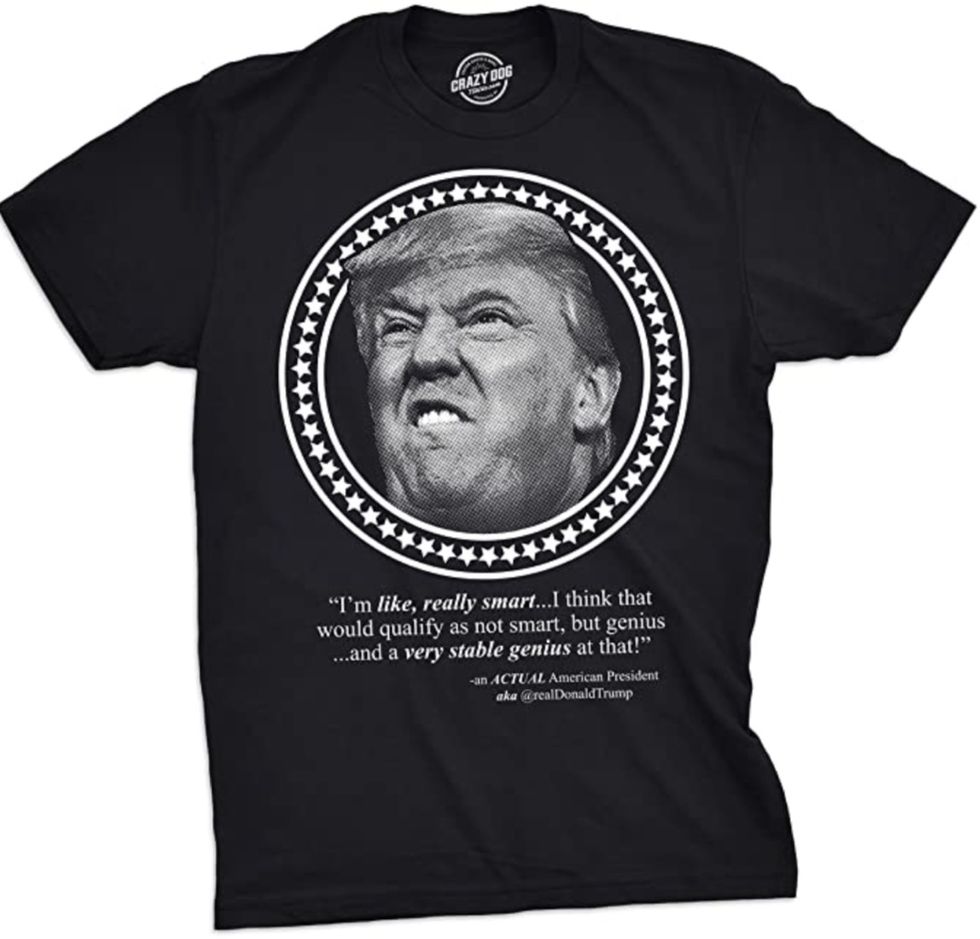 Amazon