Back in 1991, Cracker Barrel restaurant and country store chain maintained a policy of not hiring LGBTQ employees and fired at least nine employees after their sexuality was questioned.
But companies can evolve and change and it looks like Cracker Barrel is joining those corporations that have changed their policies to embrace equality and allyship.
---
This new corporate attitude became apparent when a Cracker Barrel restaurant in Cleveland, Tennessee was notified a Christian pastor, who also happens to be a Knox County Sheriff's Office employee, announced a meeting would be held at their location.
The problem?
Pastor and law enforcement member Grayson Fritts preached that LGBTQ people needed to be rounded up, specifically by law enforcement, and executed. That's right, a law enforcement member was telling people it was law enforcement's duty to murder LGBTQ people.
In a June 9 sermon, Fritts said "LGBT freaks" and "reprobates" are "worthy of death" and should be arrested, tried and executed by the government. The church originally posted the sermon on YouTube, but deleted it after receiving backlash.
But Andrew L. Seidel of the Freedom From Religion Foundation shared the video of Knox County Sheriff's detective Grayson Fritts preaching his message of hate speech and death threats.
So when Pastor/Detective Fritts announced he would be holding a meeting for his followers at a Cleveland, Tennessee Cracker Barrel restaurant, people asked Cracker Barrel to intervene.
People like Blake Kitterman shared screenshots of Fritts' announcement with the restaurant chain on social media.
The news picked up the story and also reached out to Cracker Barrel for an answer.
And here is where Cracker Barrel had a choice: to support equality or hatred.
This time, Cracker Barrel decided equality and safety from threats of death and violence was more important than any business they might lose from people like Pastor Fritts and his followers.
Not only did the news report that Cracker Barrel just said "no" to hate, Cracker Barrel also posted their own statement affirming their commitment to LGBTQ equality.

Read their full statement here: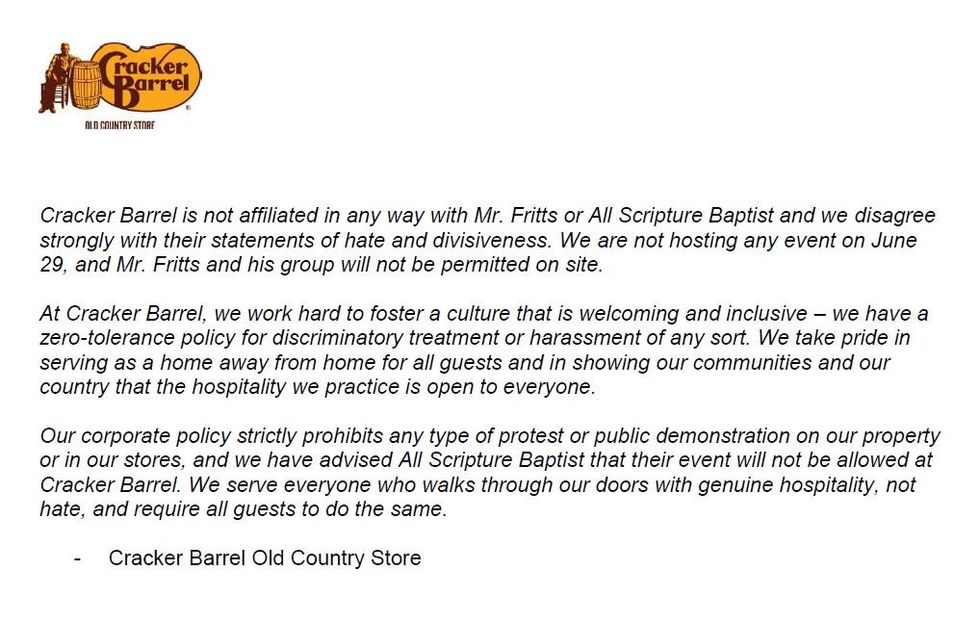 @CrackerBarrel/Twitter
Seidel, who originally called out Fritts' rhetoric of genocide and hate, shared the news as well.
As for Pastor/Sheriff's Detective Fritts, he says the Bible made him do it.
Detective Grayson Fritts defends LGBTQ commentsyoutu.be
According to the Knoxville News Sentinnel:
"The Knox County Sheriff's Office detective who came under fire Wednesday after the News Sentinel reported on his recent hate-filled sermon did not back off Wednesday on his stance that the government should arrest and execute members of the LGBTQ community."
Other Christians begged to differ with Fritts.
People applauded Cracker Barrel for their stance.
Companies can evolve over time. Kudos to Cracker Barrel for revising their stance on equality.
Cracker Barrel showed what being an ally is about. Happy Pride everyone!
Colby Martin wrote UnClobber: Rethinking Our Misuse of the Bible on Homosexuality, available here, to tackle the question of the Bible, modern Christianity and the LGBTQ community.
"Churches in America are experiencing an unprecedented fracturing due to their belief and attitude toward the LGBTQ community. Armed with only six passages in the Bible—often known as the 'clobber passages'—the traditional Christian position has been one that stands against the full inclusion of our LGBTQ brothers and sisters. Unclobber reexamines each of those frequently quoted passages of Scripture, alternating with author Colby Martin's own story of being fired from an evangelical megachurch when they discovered his stance on sexuality."
"UnClobber reexamines what the Bible says (and does not say) about homosexuality in such a way that breathes fresh life into outdated and inaccurate assumptions and interpretations."