Cyber-bullying has been a problem almost as long as the internet have been "a thing," but with the rise in recent years of social media platforms and more ways to communicate, it's becoming increasingly difficult to stop.
Last week, a 16-year-old student was racially targeted in a Snapchat post circulated from high school to high school across Connecticut.
The post was a picture taken inside of a classroom, with Jamar Medor, who is Black, circled in red.
The caption read:
"Why is there a [n-word] in my homeroom?"
"Why is he not in chains?"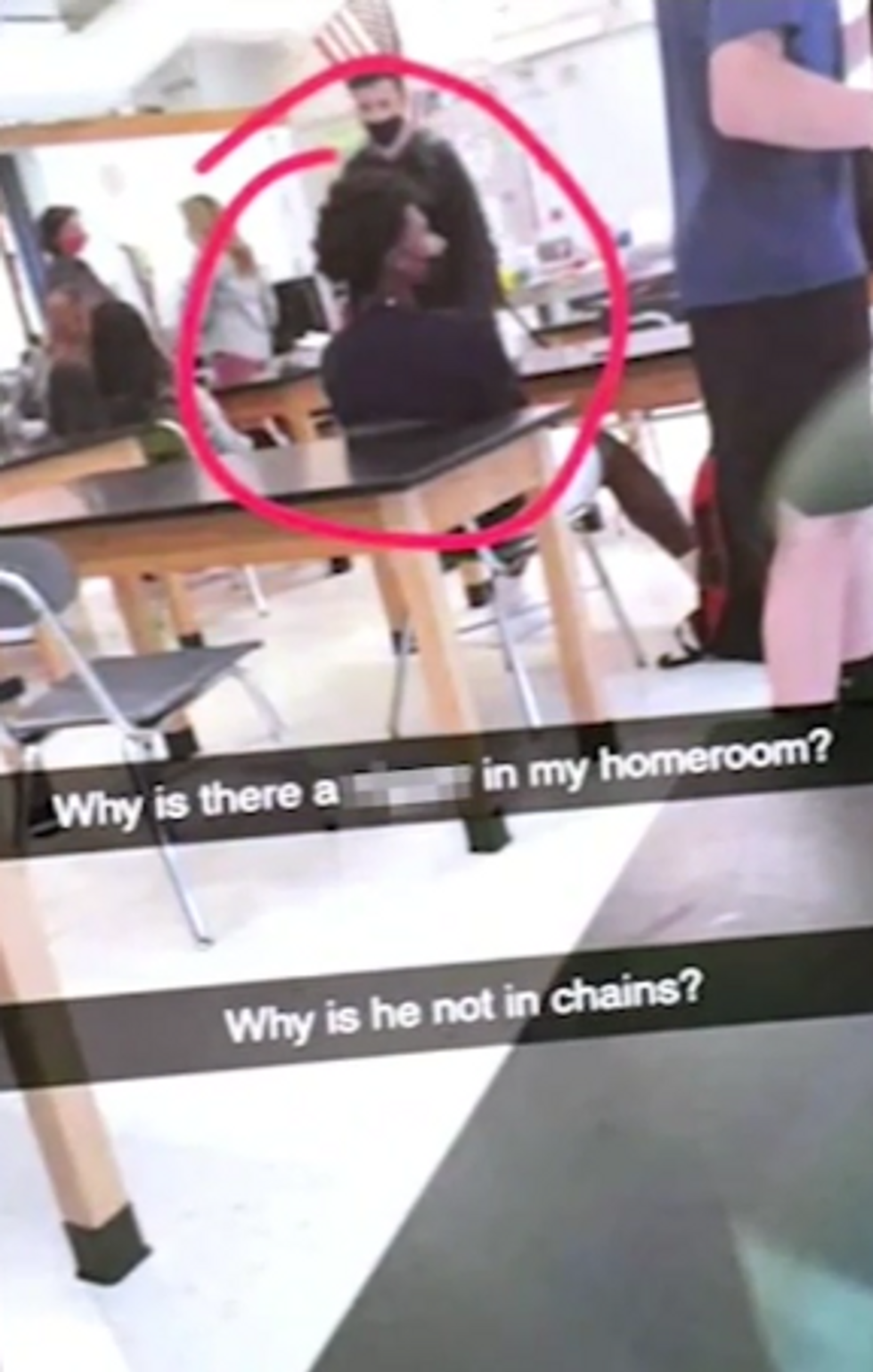 ABC 7 NY
Medor was shown the Snapchat post by one of his friends at Fairfield Warde High School, and he was left completely in shock.

Medor confided:
"I had no words when I saw it. I was so confused."
Medor later showed the post to his mother, Judith, who was appalled and worried for her son.
Judith Medor stated:
"I was like 'oh my God,' my mouth just dropped because I couldn't believe it, how the other student would do something like this regarding my son."
The student, whose name has not been released to the public, was arrested for breach of peace and harassment. He also was charged with ridicule of someone's creed, religion, color, denomination, nationality or race.
But he was not expelled from the school.
The Superintendent of Fairfield Warde Schools, Michael Cummings, stated:

"We take these incidents very seriously and those involved are being held accountable in accordance with Board policy regarding school discipline."
"As we continue our equity work as a district, we recognize that this is a journey, not a destination. There will be missteps along the way, and while we are extremely disturbed by these incidents, they provide learning that can and will inform our work."
But Judith Medor doesn't believe Jamar should be a learning opportunity and was left nervous for her son.
"I don't know what he's going to do to my son. That's the reason why I'm worried for his safety."
Jamar Medor has also struggled to go back to school.
"I just don't feel comfortable going to school or walking the halls, so I stayed home today actually."
You can watch more news coverage here:
Twitter was disturbed by the student's Snapchat entry and demanded action.
Expulsion from the school is still being considered by the school district and demanded by the public, but it's unclear if the school will choose this path.

An online petition was launched and has more than 24-thousand signatures to date, calling for the student's expulsion after what he wrote about Jamar Medor.