In the midst of an ongoing pandemic and a reckoning over centuries a racial bias and racism, it's easy to forget how this time is impacting our children.
While some are just feeling cooped up and are ready to go out for play dates again, some kids are also learning to hide when they're sharing space with the police.
Stacey Pierre-Louis was at work one afternoon when he decided to check-in on his 10-year-old son, Eliah. He watched him shoot hoops in their front driveway at their Trumbull, Connecticut home before Eliah did something that surprised and gutted Pierre-Louis.
During the video Pierre-Louis captured from his security camera, Eliah can be seen dribbling around his driveway before stopping and looking down the street. When a patrol car enters the wide-angle view of the camera, Eliah hid himself behind the vehicle in his driveway, standing perfectly still.
After the patrol car had passed, Eliah waited a moment before walking back out into clear view and continuing to shoot hoops. Pierre-Louis acknowledged his son's behavior when he got home from work and he was stunned at what his son had to say.
After much deliberation, Pierre-Louis decided to share the footage on Instagram, along with this message:
"Debated with myself for a few days before deciding to post this. I was at work watching my son shoot hoops in the driveway when I caught this. It floored me..."
"I'll save the dramatics, but growing up black or brown most of the time means fearing the police vs looking up to them."
"I live in an affluent neighborhood in Trumbull with a really good school system. This kid has all the opportunity to do/be whatever he wants unlike many kids who look like him because resources aren't made available."
When Pierre-Louis asked his son why he hid himself, he was 'stunned' at the response.
"Why does he feel like he has to hide when he isn't doing anything wrong?I asked him why he did that when he got home."
"He replied; 'because they killed George Floyd'."
"Stunned, I replied; 'ok kiddo'. I didn't know what and still don't know what to say to him to make it better."
Some people in Pierre-Louis's life have a different opinion, however.
"A manager at my job told me to tell him that doing what he did is ridiculous and that I should teach him not to be fearful of police."
"Deep down I don't know if it's true, maybe staying out of the way is best."
"He didn't learn this behavior at home. We stream movies so he doesn't see the news and we don't talk negatively about police."
"No need to reply in the comments, but think to yourself.. What would you say?"
You can watch the video here:
Many heartbroken messages were posted in response to the Instagram video, some also readily identifying with what they believed Eliah was feeling.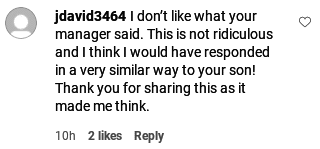 @lacetight/Instagram

@lacetight/Instagram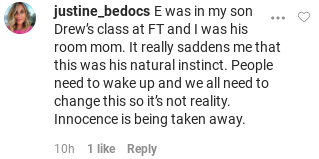 @lacetight/Instagram

@lacetight/Instagram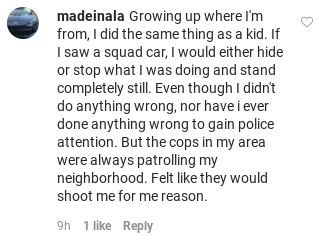 @lacetight/Instagram

@lacetight/Instagram
When the story appeared on Twitter, even more people had something to say.
LeBron James also saw the video and was equally gutted by the footage.

While so many of us are trying hard to navigate what many are calling this "new normal" and stand up to be allies for the Black Lives Matter movement, it's easy to overlook our children.

Clearly all of this is having a greater impact than we could have anticipated, making now the best time to start having these harder conversations and teaching our kids about more complicated concepts, like systemic racism.