Queen musician Brian May discussed the Brit Awards doing away with male and female categories in an interview with The Mirror.
The change came after nonbinary singer Sam Smith complained of the lack of inclusion in the award system.
May claimed Freddie Mercury, who died in 1991 due to complications of AIDS, would have found the PC culture "difficult".
He said:
"For instance, Freddie came from Zanzibar, he wasn't British, he wasn't White as such - nobody cares, nobody ever, ever discussed it."
"He was a musician, he was our friend, he was our brother."
"We didn't have to stop and think: 'Ooh, now, should we work with him?'"
"'Is he the right colour? Is he the right sexual proclivity?'"
"None of that happened, and now I find it frightening that you have to be so calculating about everything."
He also said he didn't think Queen, which included Roger Taylor and John Deacon who are both White, would not be considered diverse enough today.
Then May made claims about who the band would be "forced" to include had it formed today:
"We would be forced to have people of different colours and different sexes and we would have to have a trans [person]."
"You know life doesn't have to be like that."
"We can be separate and different."
After criticism for his sentiments towards diversity and inclusion came out, May posted a statement to his Instagram saying his words were "subtly-twisted."
He wrote:
"Yes—I was ambushed and completely stitched up by a journalist at the recent ITV event."
"And it's led to a whole mess of press stories making it look like I'm unfriendly to trans people."
"Nothing could be further from the truth."
"My words were subtly twisted."
"I should have known better than to talk to those predatory Press hacks."
"Sincere apologies to anyone who has been hurt by the stories."
"My heart is open as always to humans of all colours, all creeds, all sexes and sexualities, all shapes and sizes – and all creatures."
"We all deserve respect and an equal place in this world."
"And my grateful thanks to all of you who stepped up to defend me in the last couple of days."
"It means so much that you have faith in me."
People had difficulty figuring out what could have been twisted to create what May said or what alternate meaning his words had.

@sarahcbydesign/Twitter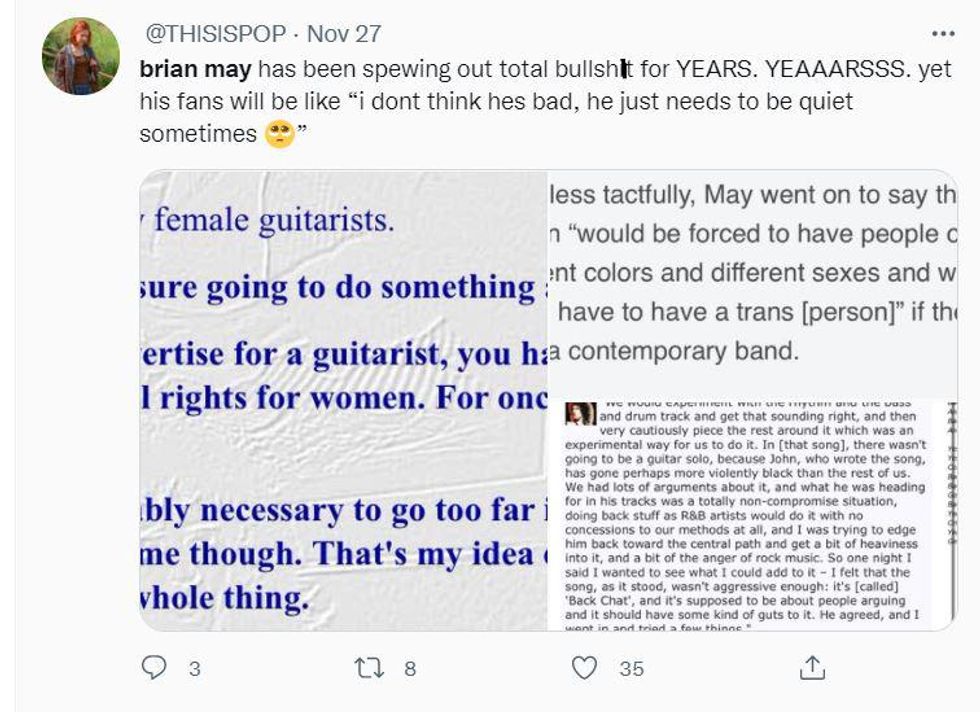 @THISISPOP/Twitter
May has given no further explanation as to what he actually meant to say about the inclusion of transgender people and people of color in award consideration and industry opportunities.