Sweet baby Jesus, say it isn't so! A local "artist" attempted to restore a 15th century sculpture and succeeded at turning into a DIY Pinterest fail.
---
This is not the first time a well meaning parishioner in Spain has destroyed a piece of religious art. First, a Jesus fresco took a beating and then a 500 year old wooden effigy was destroyed. This time it was a sculpture of the holy family. María Luisa Menéndez convinced the clergy to let her "spruce up" the sculpture, but instead of giving it a dust and polish, she PAINTED IT.
Yes, this really happened.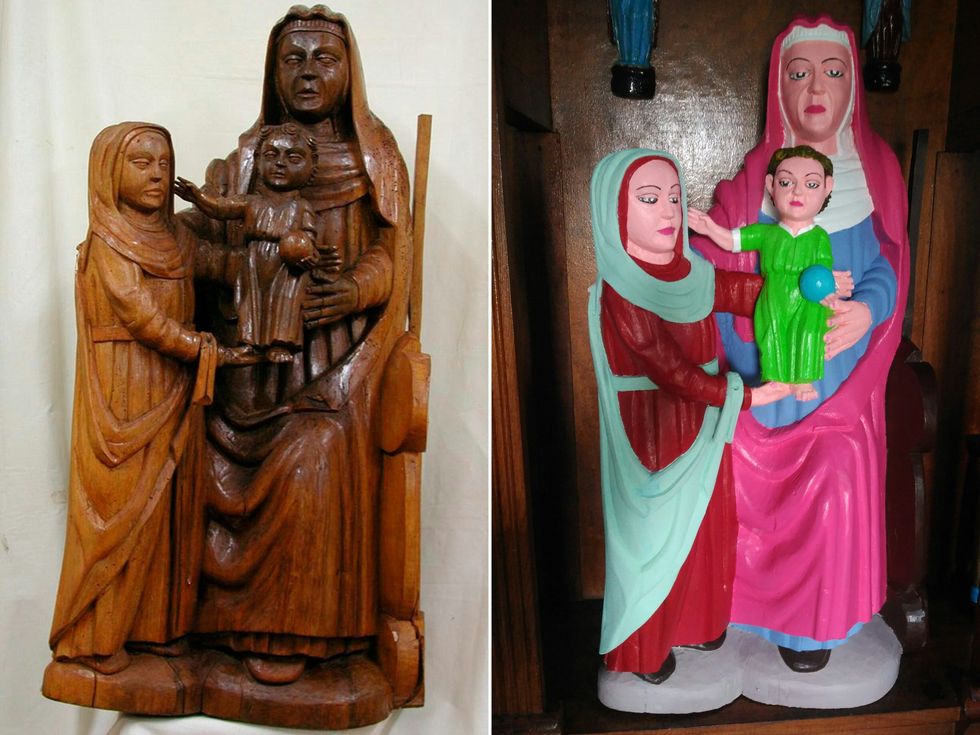 Photo by Dsf / AFP / Getty Images
Garish colors and scary faces.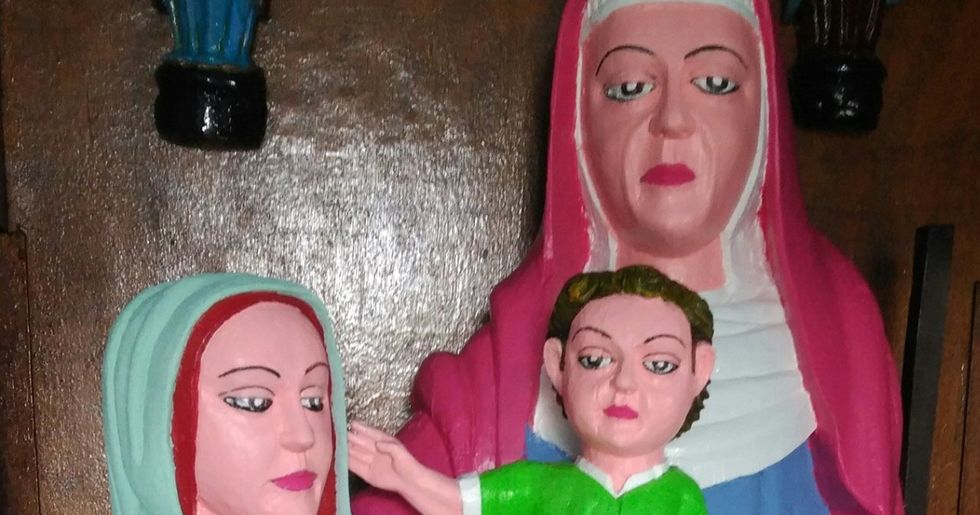 Photo by DSF/AFP/Getty Images
An Amateur Artist "Restored" A 500-Year-Old Religious Statue And Oh, Jesus, No https://t.co/Dc4wUZMb32

— BuzzFeed (@BuzzFeed)1536847440.0
An amateur art restorer in Spain once again botched the restoration of a centuries-old religious artwork. This is… https://t.co/Kq8Xo9cSFR

— Marina Amaral (@Marina Amaral)1536582095.0
Never forget.
It's always good to remember... https://t.co/13kdWr72ty

— Marina Amaral (@Marina Amaral)1536582544.0
Even if you want to.

@marinamaral2 You're bringing back bad restoration nightmares for me. I remember all the examples cited and my OMG… https://t.co/aziKv9tn0w

— Faith M. Jackson (@Faith M. Jackson)1536600998.0
People can't stop shaking their heads.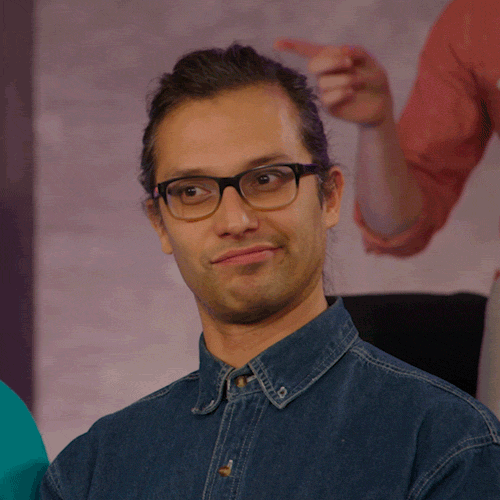 media.giphy.com
@marinamaral2 From Divine to Disney

— three dogs (@three dogs)1536585638.0
@marinamaral2 @Defencebrief It looks like Eddie Hizzard

— John Mellor (@John Mellor)1536583443.0
@BuzzFeed When will they LEARN

— Mya Riley (@Mya Riley)1536848426.0
@BuzzFeed IT DIDN'T NEED RESTORATION IT WAS FINE IT'S NOT A FUCKING WARHAMMER FIGURE

— x-James 🏳️‍🌈☘️ (7/9) (@x-James 🏳️‍🌈☘️ (7/9))1536848036.0
@BuzzFeed Wow...that's fugly as a mf!

— 🌊🌊🇺🇸Cornelius Knowd🇺🇸🌊🌊 (@🌊🌊🇺🇸Cornelius Knowd🇺🇸🌊🌊)1536847803.0
And then this happened.
@marinamaral2 I quite like it https://t.co/oyNXIW2OBZ

— Nicholas Diable (@Nicholas Diable)1536582531.0
@marinamaral2 @Mr_Trubshawe Looks legit

— Phil Moore (@Phil Moore)1536648227.0
@marinamaral2 There is a certain charm and authenticity to that pink Madonna and child.

— Carrie Reinking (@Carrie Reinking)1536625582.0
@BuzzFeed https://t.co/GHn7OLmL0j

— Julia (@Julia)1536853228.0
Of course there is a solution.
@marinamaral2 Surely this could be prevented with five words: "Please show me your portfolio"

— ShreddedReTweet (@ShreddedReTweet)1536586236.0
Five little words to live by.
H/T: Mashable, Guardian