Amy Schumer's Oscar hosting debut, alongside Wanda Sykes and Regina Hall, was Sunday night.
And while the trio of funny ladies received praise for their performances, the only thing most people remember from the awards show was Will Smith slapping Chris Rock live on television.
While presenting the award for Best Documentary Feature, Rock made a joke about Smith's wife.
Shortly thereafter, Smith took to the stage, and slapped Rock across the face, before returning to his seat and telling Rock to "keep [his wife's] name out of [Rock's] f*cking mouth."
Rock continued to present the award, given to the Questlove produced Summer of Soul, while Smith would go on to win Best Actor later that night.
While Smith apologized to the Academy and his fellow nominees in a teary acceptance speech where he also offered justification for his actions, he did not apologize to Rock until the next day on Instagram.
It seemed Schumer was mostly unfazed by the violent turn of events during the awards show, eventually making a sly quip about the altercation towards the end of the show, asking "did I miss anything?"
However, in a recent Instagram post, Schumer revealed being present for the slap heard 'round the world was a traumatizing experience.
Schumer began the post by giving a tongue in cheek promotion to her new Hulu series, Life and Beth, as well as her upcoming comedy tour.
"I think we can all agree that the best way to unpack what happened is to stream my series @lifeandbethhulu and see me on tour this fall."
But then she revealed witnessing the slap was a very uncomfortable situation for herself and everyone present.
"But for real."
"Still triggered and traumatized."
Schumer also sent a shout-out to Rock, for turning the other cheek and not escalating the situation.
"I love my friend @chrisrock and believe he handled it like a pro."
"Stayed up there and gave an Oscar to his friend @questlove and the whole thing was so disturbing."
"So much pain in @willsmith anyway I'm still in shock and stunned and sad."
But Schumer expressed her pride in the job she and her co-hosts did and her hopes she and everyone who saw it will be able to move on from all the emotions brought on by Smith's altercation with Rock.
"I'm proud of myself and my cohosts. But yeah. Waiting for this sickening feeling to go away from what we all witnessed."
A number of celebrities congratulated Schumer on her performance as host, including Oscar Nominee Sharon Stone, Grammy award winner Brandi Carlile and mother and daughter duo Kathy and Paris Hilton.

@amyschumer/Instagram

@amyschumer/Instagram

@amyschumer/Instagram

@amyschumer/Instagram
Schumer's fans also came out to applaud the work of her and her co-hosts and how well they handled the unprecedented situation.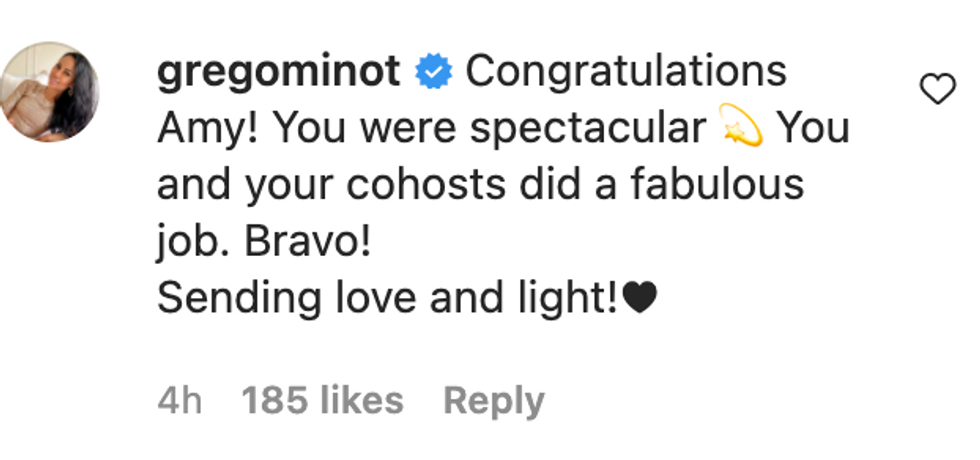 @amyschumer/Instagram

@amyschumer/Instagram

@amyschumer/Instagram

@amyschumer/Instagram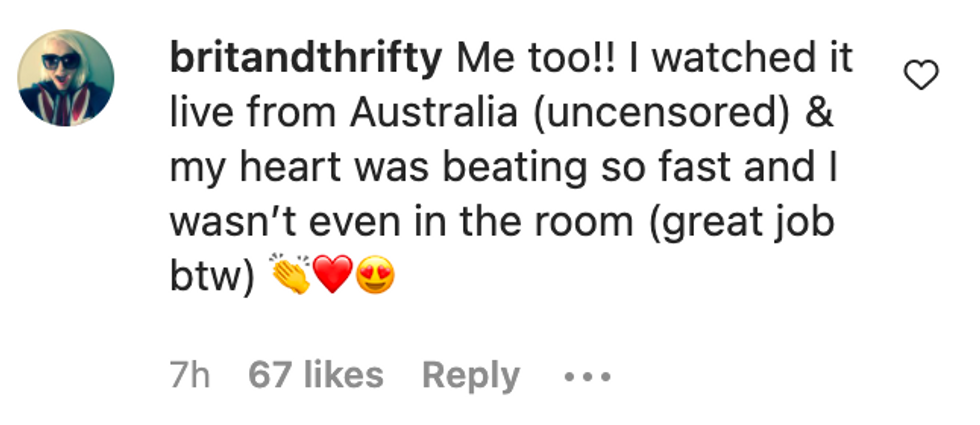 @amyschumer/Instagram

@amyschumer/Instagram
Schumer hasn't made it clear if the experience was enough to dampen her desire to host the Oscars again.
But after handling what could very well be the most notorious ceremony in the 94 year history, one could imagine Schumer, Sykes and Hall are now prepared for anything.
Rock has declined to press charges against Smith, according to records from the Los Angeles Police Department.
The Academy of Motion Picture Arts and Sciences is conducting a review of any possible consequences for Smith.
Sykes and Hall have yet to comment on the incident.