All over the internet, people have been getting creative with "get out the vote" and candidate endorsement posts on social media.
---
The most famous ones have been viral posts about Ariana Grande and Pete Davidson breaking up, or Kim and Kanye finally calling it quits, that include obscure URLs that turned out to be for a voter registration page. It's sort of like a political Rick-rolling for the greater good. Hey, there's a lot of content out there, you gotta compete somehow!
Well, Amy Schumer has taken this trend, flipped it, and reversed it.
It all started with an Instagram post where she pasted her and her husband's heads onto the bodies of Their Royal Highnesses the Duke and Duchess of Sussex, Prince Harry and Meghan Markle.
The post teased that Schumer had exciting news (further hinted at by Meghan Markle's hand placed over her abdomen) and directed people to the Instagram page of journalist Jessica Yellin. Once there, readers found on Yellin's Instagram story a standard rundown of Amy Schumer's candidate endorsements for the upcoming midterms... plus one more bit of information, alllllll the way down at the bottom...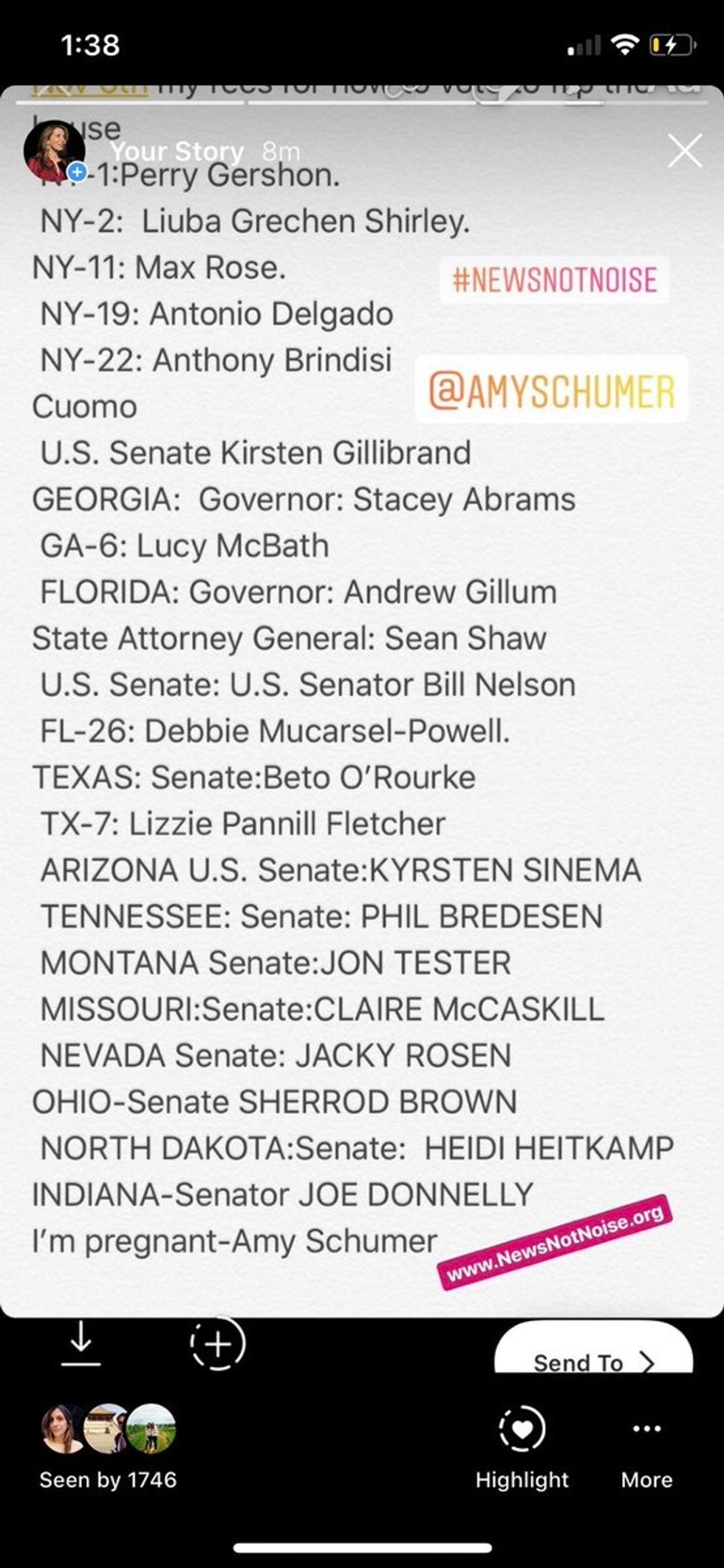 Twitter, @JessicaYellin
A frankly ingenious reversal of the trend! Whereas the Ariana/Pete or Kim/Kanye posts use your celebrity obsession to trick you into voting, Schumer's post attempts to trick you into prioritizing the elections above celebrity gossip--you only get the hot goss if you read through the entire list of endorsements and get all the way to the end.
It was a fitting way to make the announcement for Schumer, who is no stranger to politics. She's been particularly active on the issue of gun control, joining with her cousin Senator Chuck Schumer, in initiatives supporting stricter gun laws, and has been an outspoken supporter of a woman's right to choose.

I'm in the business of covering news not noise, but sometimes some happy noise comes along and you just have to sha… https://t.co/O4EvqB9aRf

— Jessica Yellin (@Jessica Yellin)1540241953.0
But in true Schumer form, Amy couldn't leave out a great punchline: her statement to the Los Angeles Times was, characteristically, hilarious:
"Chris and I are thrilled and almost positive he's the father. I look forward to competing with Markle every step o… https://t.co/EVnZDX4NwE

— Amy Kaufman (@Amy Kaufman)1540243524.0
Look out, Duchess!
Of course, people on Twitter were thrilled by the announcement--both the news and the method of delivering it!
Amy Schumer basically inverted that trash celeb gossip/voter registration meme to announce her pregnancy https://t.co/H3BTsBbz7B

— Catherine Thompson (@Catherine Thompson)1540242869.0
Congratulations to @amyschumer ! And what a way to announce 😂👏🏼♥️ https://t.co/UUqFKkYR3v

— Paulette Aniskoff (@Paulette Aniskoff)1540246332.0
I'm so excited for @amyschumer !!! She's preggers and I'm for real cheesin' 🤪

— Nicole Ryan (@Nicole Ryan)1540243108.0
@TheCut Congratutions, Amy, Hoping your little star is happy, healthy, and human... https://t.co/79L5WXCu6O

— Blue away (@Blue away)1540255381.0
@amyschumer is pregnant!! Here are her midterms recommendations... and baby announcement via her and… https://t.co/H9454ckOIv

— Jenna Amatulli (@Jenna Amatulli)1540241017.0
@amyschumer is pregnant!! Here are her midterms recommendations... and baby announcement via her and @JessicaYellin's Instagram stories:pic.twitter.com/pVrQ5VrZpw
twitter.com
@AmyKinLA @amyschumer This woman is hilarious, brave and beautiful!! #LeatherSpecialWasSoooFunny

— NPC #UG109P (@NPC #UG109P)1540259974.0
@AmyKinLA @amyschumer at least you know your the real mom, that's a good start 😉

— Johnny Cannon (@Johnny Cannon)1540253631.0
@enews Congratulations Amy,l wish all the happiness in the world! https://t.co/gdizLAnAer

— Krystin Marie Jo3💄 (@Krystin Marie Jo3💄)1540303769.0
Good shit. Babies, gun control, comedy. All good shit. https://t.co/blnkVtzWbS

— Scott Linville (@Scott Linville)1540246463.0
AMY SCHUMER BEING PREGNANT IS THE BEST THING THATS HAPPENED TO ME THIS YEAR!!!!!

— kelsey darragh (@kelsey darragh)1540242238.0
Same. Congrats Amy!