One of the most successful producers in the theatre world received an important education from a pioneering transgender actress.
Cameron Mackintosh's productions include Cats, Les Miserables, The Phantom of the Opera and Mary Poppins.
But recent remarks the theatre mogul made regarding transgender actors cast in cisgender roles in his shows left the theatre community disappointed.
In an interview with The Telegraph, Mackintosh was asked about the possibility of a transgender actress playing the title role in Mary Poppins, which recently re-opened in London's West End following a hiatus due to Covid-19.
Mackintosh claimed a transgender Mary Poppins would damage the" integrity of the story," calling it "gimmick casting" and doing so was "trying to force something that isn't natural."
Mackintosh went on to say rather than including transgender actors in cisgender roles, there need to be more new shows which feature transgender characters. However as Hollywood and theatre have shown, when a transgender character is included, the role most often has gone to a cisgender actor.
Many members of the theatre community took to Twitter to remind everyone Mackintosh chose White actor Jonathan Pryce to play an Asian man then used heavy yellowface makeup in Miss Saigon, a controversial casting decision he defends to this day.
Having plenty to say on Mackintosh's remarks was transgender actress Alexandra Billings.
Well known for her work on television in shows like Transparent and The Connors, Billings will soon be appearing as Madame Morrible in Wicked when it re-opens on Broadway, being the first transgender performer to have a leading role in the hit musical.
Billings took Mackintosh to task in a post on Instagram.
In the post, Billings shared how she began her transition when it was still illegal and how that helped shape her as she lived through the AIDS crisis and the current global pandemic.
"I am Trans and began my transition in 1980, when it was illegal to do so".

"I am now a very small part of a very powerful moment, every time I set foot in the land of Oz."
This is not lost on me. Especially at 59 years old and having now survived this, my second viral plague.
"The first, took most every Trans family member I had in the 1980's. AIDS smothered our survival for generations to come. And it resonates to this day."
Billings informed Mackintosh being transgender should not get in the way of her playing any musical role, from Annie Oakley to Mama Rose, and expressed her disgust at his use of the word "gimmick."
"I am these stories because I am part of the human fabric and no one has the right to take any this away from me."
"Not the police who arrested me, not the society who shunned me, …and not you, who labels me."

"I am an actor, Mr. Mackintosh, not a gimmick."
Billings did agree with Mackintosh in the need for more new shows with transgender characters, but pointed out this has been an ongoing issue and is not an idea he should take credit for.
"Suggesting there needs to be more roles and more plays for transgender artists, doesn't make you a revolutionary. It makes you human. It is simple common sense."
Billings concluded by pointing out transgender actors in the theatre is not a new phenomenon, it's only their visibility that has changed and accused Mackintosh of being afraid of this change.
"And please try and remember that Trans people have been in theater for as long as there has been theater."
"The only difference is, now we are becoming visible. And that's frightening. That's upsetting. This is about you and your fear and the fear of many others, but it is not about the Trans community."
"Instead of proclaiming all the things that cannot be done, how about filling the music of the universe with things that Can be done."
"See us. Honor us. And hopefully, you will discover your own story in a newness you never knew existed."

Billings' post was met with praise on Instagram, with the likes of Jesse Tyler Ferguson, Billy Eichner, Stephanie J. Block, Charles Busch and Ann Harada all offering support.

@therealalexandrabillings/Instagram

@therealalexandrabillings/Instagram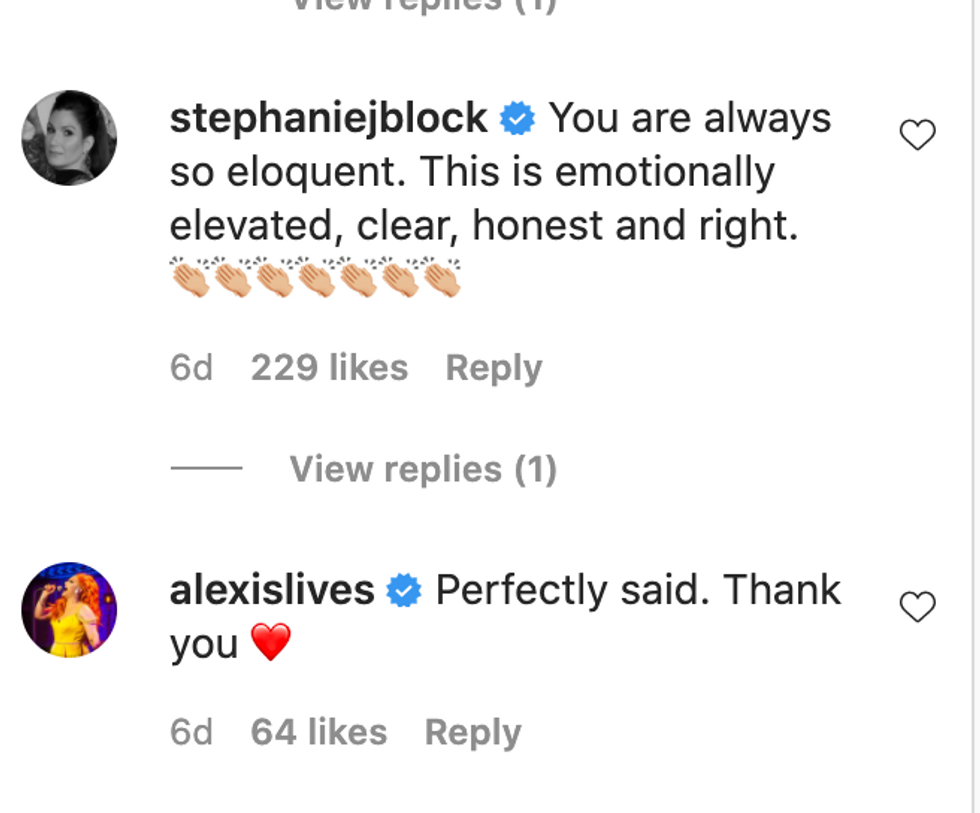 @therealalexandrabillings/Instagram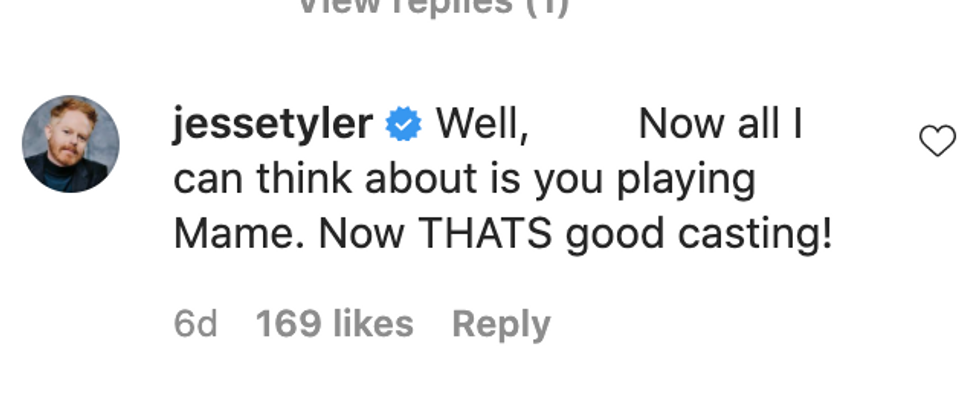 @therealalexandrabillings/Instagram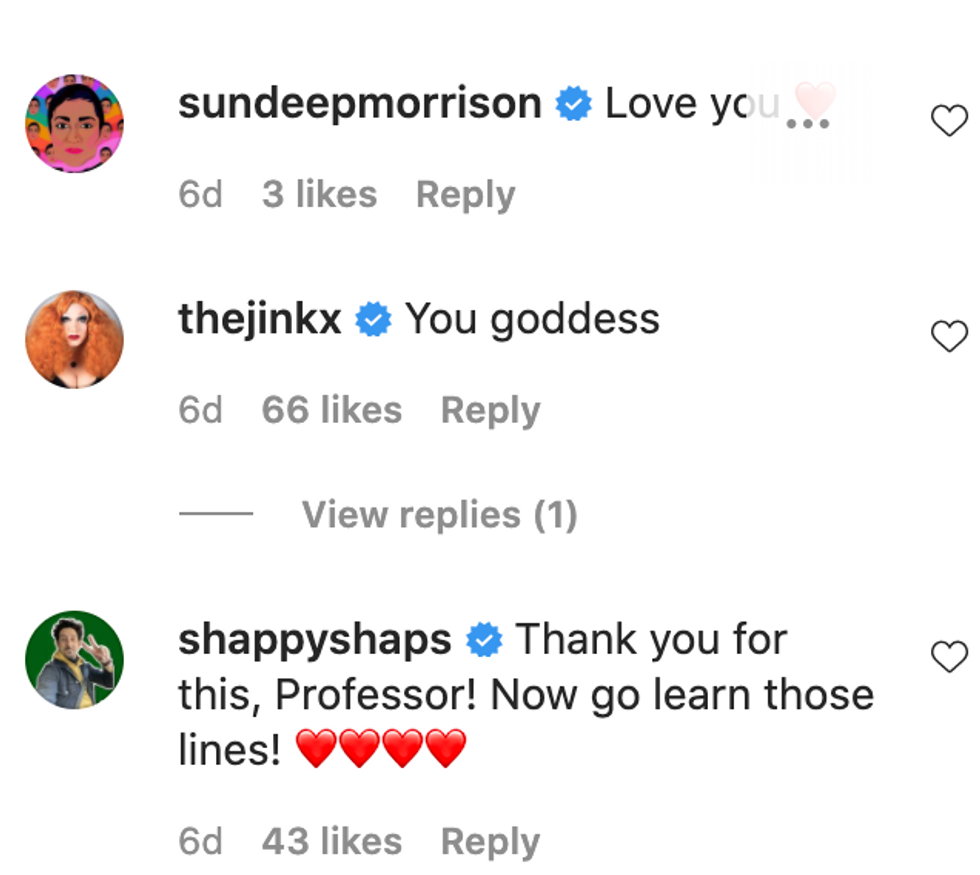 @therealalexandrabillings/Instagram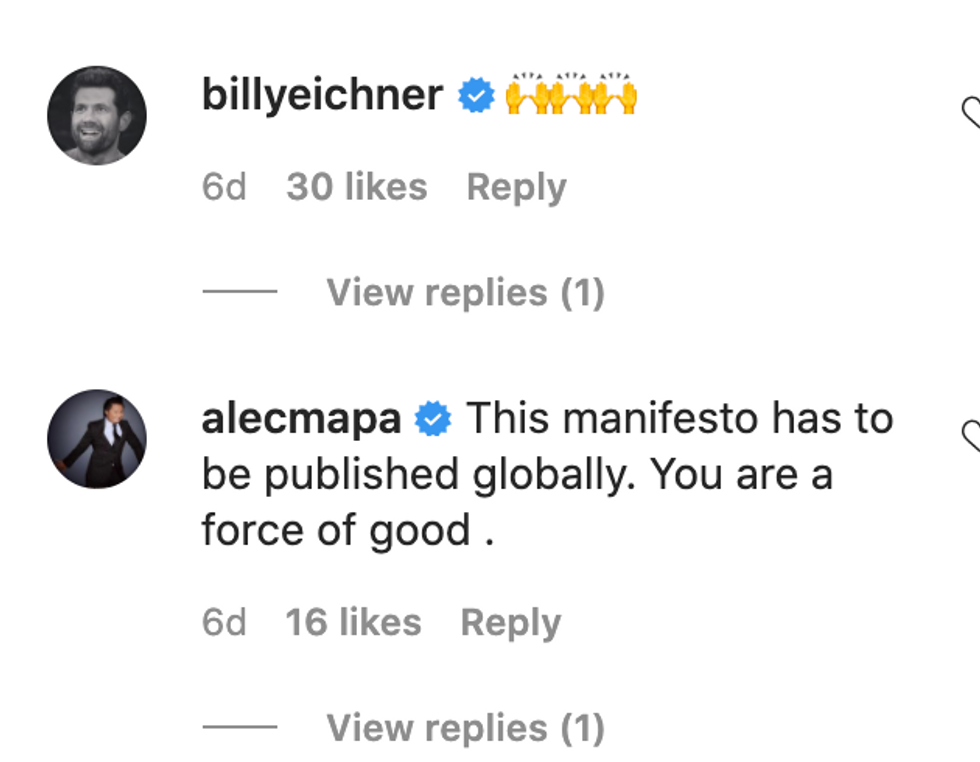 @etherealalexandrabillings/Instagram

@therealalexandrabillings/Instagram
Following the considerable backlash he received, Mackintosh subsequently published an apology on Twitter.
In the statement, Mackintosh claimed his words were "misinterpreted" and he was not against casting a transgender performer as Mary Poppins, but rather he would not change the story to make the character a transgender woman.
"I meant only that I would not as a producer disregard the author P.L. Travers' original intention for the character."
"To be clear, whether a person is trans has no bearing on their suitability for any of my shows, including Mary Poppins, as long as they can perform the role as written."
Mackintosh concluded by apologizing for any "distress caused by [his] remarks being misinterpreted", and encouraged transgender performers to submit and audition for any of his shows.
"What matters is what always has mattered: the talent and storytelling."
"I have long been and will continue to be a proponent of diversity in casting for my projects around the world."
Mackintosh's apology was met with a decidedly mixed response, with some wondering if his apology was any less transphobic than his earlier remarks, while others claimed they'd believe it when they see transgender actors perform leading roles in his shows.
In response to Mackintosh's earlier statements, transgender actress and activist Sis organized a trans march on Broadway on Monday, September 6.
Sis is also planning a concert showcasing transgender performers called You Gotta Have A Gimmick, taking its name from a song from the musical, Gypsy, as well as a deliberate dig at Mackintosh's earlier remarks.