The arrest of Tarrant, Alabama fire chief Jason Rickels came after he pulled a gun on Atlanta Realtor Regina Lee, her photographer, Dwayne Clifford Boddie and her makeup artist Alexis Brown.
Rickels is selling his home in Roswell, Georgia. Lee made an appointment for 3:10pm to view the home and take photographs for her portfolio.
Rickels' wife, Melody, told police her real estate agent told her Lee was coming and she left home to go to the grocery store, but watched the activity on her smart phone through the home's security cameras. When she saw eight to 10 Black people carrying bags of equipment into the house, Melody Rickels decided the viewing was a "scam" and the crew was there to rob her home.
Police verified the full bags carried into the home were all full of photography equipment.
She texted her agent and demanded Lee leave. She then called her husband and told him the people in their house were scammers robbing them.
Despite having an hour booked in the home—which police verified—and lighting equipment already set up, Lee and her crew began to pack the equipment back up and leave. Police reported Boddie, Lee and Brown were the only members of the crew still there when Jason Rickels arrived.
In an interview with CBS46, Regina Lee stated:
"So I'm like well this is scheduled but if the owner doesn't want me in there then fine we'll leave immediately."
Though it seemed clear to police what they were there to do given Lee's attire, the large bags carrying camera equipment and the branded clothing they were wearing, Rickels and his wife assumed they were attempting to vandalize and burglarize the home, so they called the police.
Police said before Lee and her team could all leave, they were blocked by Rickels and he pulled a gun on them.
In a video taken by Boddie, you can hear him say:
"You pulled a f'king gun on me, jumped in my car, and broke my f'king camera."
With Rickels responding:
"Well all I know is I walked up and you pointed something at me. I thought it was a gun."
"Why you tryin' to make it racial."
You can watch the video here:
WARNING: NSFW language
Rickels claimed he thought the camera—valued at $1,300—was a gun so he took it out of Boddie's hand and threw it on the ground.

Lee and Boddie explained to the police why they were there, but Rickels claimed he thought they were scam artists. Police verified Lee and Boddie's identities and purpose.
Fire chief Jason Rickels was arrested and charged with aggravated assault with a deadly weapon, possession of a firearm during commission of a felony, and criminal damage to property - 2nd degree. He spent a night in jail and was released on bail.
Officer Tim Lupo of the Roswell Police Department said:
"Their testimony was taken into consideration, you know we get two sides of every story, what they were speaking of did not seem to be an appropriate conclusion to have come to based on the totality of the circumstances of what took place that day."
Though this was a traumatic event for Lee, she is not letting this stop her from continuing to pursue her career in real estate.
In an Instagram post, Regina Lee said:

"Unfortunately it's sad that even while I'm working hard to provide for my family as a single mom, I have to encounter hatred and racism because of the color of my skin."
Ending with:
"I won't allow this situation to discourage me but let it encourage me to be the professional realtor that I am!"
Many commenters on Instagram shared their support for Lee and Boddie, as they know this could have ended much worse.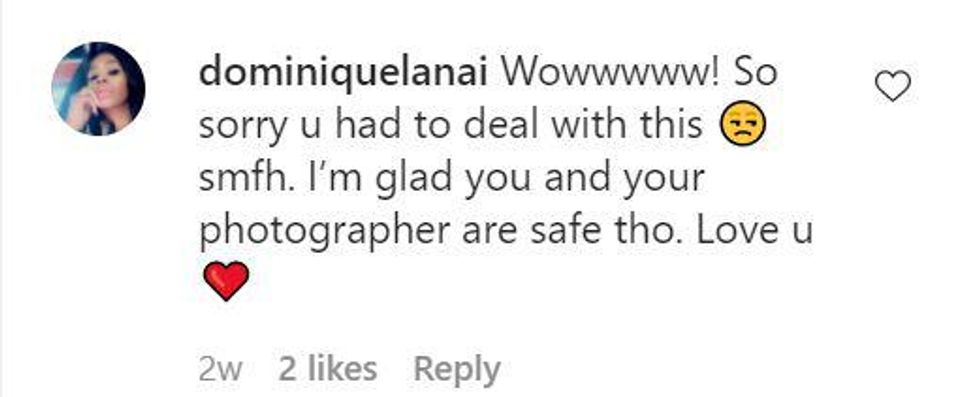 @dominiquelanai/Instagram
@selecta_hardrive/Instagram

@mac_the_mogul/Instagram

@romei20032/Instagram

@biglani919/Instagram
After the news broke, many Twitter users had questions about the Alabama fire chief.
Newly elected Mayor of Tarrant, Alabama Wayman Newton had this to say in a statement:
"The City of Tarrant is aware of the current situation surrounding Fire Chief Jason Rickles."
"The City is taking this very seriously and is looking into any violations of City policy."
"As per City policy, we will refrain from commenting on any personal issues of personnel in a public forum."
Lee said she was told by a city official this is not the first time Rickels was accused of racist behavior, however CBS46 was still trying to verify the claim at time of this writing.